Amnesty International's chief called for the release of the imprisoned Russian opposition figure Alexei Navalny.
"He needs to be freed immediately, he needs to be protected against torture, and he needs to receive medical care," Agnes Callamard, the secretary general of the UK-headquartered nonprofit, told DW on Wednesday during her first month in her new post.
Her comments come as Germany's Foreign Ministry also called for Navalny's release from "unlawful" detention.
Why is Navalny imprisoned?
Navalny, a prominent critic of President Vladimir Putin, is currently serving a two-and-half-year sentence on for violating the conditions of his bail on a 2014 fraud conviction in one of Russia's toughest prisons.
He was detained in January 2021 after arriving in Russia from Berlin where he recovered from a suspected poisoning incident with the Soviet-developed Novichok nerve agent.
He has since gone on hunger strike, protesting poor medical care.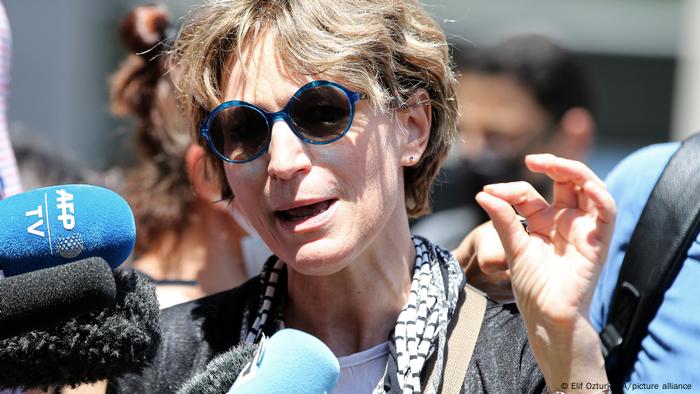 Amnesty International Secretary General Agnes Callamard spoke to DW following the release of the NGO's annual report
Callamard also addressed the impact of the coronavirus pandemic on inequality and the killing of Saudi journalist Jamal Khashoggi.
She spoke to DW following Amnesty International's release of its annual human rights report on Wednesday.
'Prisoner of conscience' status back up for review?
"We know that he [Navalny] is facing prison conditions that amount to torture, including through sleep deprivation," Callamard told DW.
She said the nonprofit knows that Navalny was not getting specific care that he needs due to his Novichok poisoning, as "one of the few people" to have survived poisoning with the nerve agent. Navalny this week complained of being offered painkillers as treatment for severe back pain and numbness in his legs.
"We know that is arbitrarily detained because of the position he has espoused and because he is a vocal critic of President Putin," Callamard added.
She stressed that the organization was campaigning "equally for Alexei at the moment, as we would have two months ago."
This was a reference to her organization's decision in February to strip Navalny of his "prisoner of conscience" status in response to his past "advocacy of hatred" — a decision taken before Callamard was appointed.
Navlany's supporters accused Amnesty of having caved to a pressure campaign, after Russian users inundated the NGO with examples of past social media comments from Navalny deemed in some way insensitive or distasteful.
The decision is currently "under review," with "the outcome of that process will be made public when it's finished, which should be anytime soon," Callamard told DW on Wednesday.
Germany's Foreign Ministry wants Navalny's release
Germany's Foreign Ministry on Wednesday joined Callamard's calls for Navalny to be released. "Mr. Navanly is now detained in a prison camp unlawfully and in contradiction to a decision by the European Court of Human Rights [ECHR]," a spokesman for the Foreign Ministry said.
"It is our very clear expectation that Mr. Navalny should be released," the spokesperson added.
Reports of the Kremlin critic's poor health were "disturbing," he said.
Navalny is currently serving his sentence for disobeying the terms of his probation over a 2014 money laundering conviction that the ECHR in 2017 was "arbitrary and manifestly unreasonable."
Berlin has previously called for Russia to released Navalny.
Amnesty International criticizes global response to Kashoggi murder
Callamard also criticized a global failure to act in the wake of journalist Jamal Khashoggi's murder.
The Saudi journalist and Washington Post columnist was killed inside the Saudi consulate in Turkey's largest city in 2018.
"Unfortunately [the US] did not act on their findings" that Saudi Arabia and Crown Prince Mohammed bin Salman were involved in Khashoggi's murder, Callamard, who previously worked as UN special rapporteur on extrajudicial killings, told DW. She added that the US failure to act was likely down to legal and geo-strategic reasons.
She also called out "the entire EU" for failing to take action against Bin Salman, adding: "The fact is Saudi Arabia is a partner of choice for many countries around the world."
Callamard said that nevertheless, the Saudi crown prince could face continued difficulties as a result of the case.
"There are many countries around the world where he [Bin Salman] is unable to go because he could be sued immediately …including in Germany where Reporters Without Borders has filed a complaint of crimes against humanity," she said.
Reporters Without Borders (RSF) filed a complaint of over 300 pages against several high-ranking members of the Saudi government and Bin Salman with the German Office of the Federal Prosecutor in March.