Russia's geopolitical show in eastern Siberia this week with special guest China combined a dramatic display of military hardware with diplomatic trappings, summit pageantry and an executive-level cooking show.
In two separate events - the Eastern Economic Forum (EEF) being held in Vladivostok and the Vostok (East) 2018 military games - Russia and China signaled to the West that they are working closer together to counterbalance US "unilateralism."
Read more: Russia and China to reduce use of US dollar in trade
The American tariff showdown with China and continued sanctions on Russia have pushed Beijing and Moscow closer together. And US President Donald Trump's protectionist course for the US also gives Chinese and Russian presidents, Xi Jinping and Vladimir Putin, the chance to portray themselves as heroes of bilateral cooperation and globalization.
Ahead of this week's events, China's ambassador to Russia, Li Hui, told China's official Xinhua news agency that Sino-Russian relations were at their "best in history." The report also touted Chinese President Xi as a proponent of regional cooperation amid "anti-globalism and protectionist trends," while ushering in a new age of diplomacy with Russia.
Xi reportedly told China's CCTV on Tuesday that Russia and China needed to "oppose unilateralism and trade protectionism and build a new type of international relations and shared human destiny."
Putin and Xi already met twice over the summer in Beijing and in Johannesburg. During his first-ever appearance at the EEF on Tuesday, Xi spoke about the "uniqueness" of China's bilateral relationship with Russia and that both countries gave "top priority" to preserving good diplomatic ties. The EEF has been held annually since 2015 as part of Russia's diplomatic efforts to develop ties with the Asia-Pacific.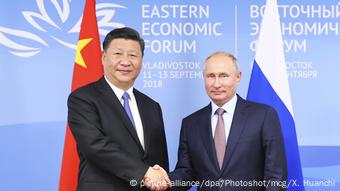 Xi and Putin meet at the EEF on September 11
Bear hugs?
Xi's bonhomie with Putin at the EEF, and the direct participation of the People's Liberation Army in Vostok-2018, the largest Russian war games since the height of the Cold War, are a signal that the leaders of Russia and China are redefining their relationship – at least on the surface.
In the West, closer ties between Russia and China have previously been thought of as superficial alliances of convenience, frayed by history and tensions over regional hegemony. But in the current geopolitical climate, the incentive structure looks to have changed, with Beijing and Moscow having more to gain by working together.
Read more: Russia and China make show of unity as US relations falter
"Russia and China do have some differences and competition in the former Soviet Central Asia. However, the importance of these differences, as well as the importance of the past conflicts between Moscow and Beijing, should not be exaggerated," Vassily Kashin, an East Asia expert at the Russian Academy of Sciences, told DW.
"What is much more important is the shared opposition of both countries to the US-led global order. Russia has irreversibly fallen out of this order after the Ukrainian crisis in 2014. By now China is also in systemic conflict with this order which is the cause for the current trade war," added Kashin.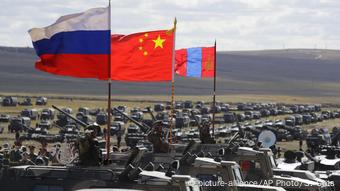 The Vostok-2018 war games from September 11-17 include some 300,000 Russian troops, 1,000 aircraft and 36,000 tanks
From Crimea to Beijing
A major turning point for Sino-Russian relations was in 2014, when Russia's relationship with the West began to deteriorate after the annexation of Crimea. Russia initiated deals to sell China advanced weaponry, including fighter jets and surface-to-air missiles. In May 2014, Russia and China signed a joint declaration on "new stages of comprehensive partnership and strategic cooperation."
Read more: Opinion: Crimea reflects Russia's fate
US foreign policy expert Angela Stent wrote in a 2016 report published by the US-based German Marshall Fund that China protects Russia from the full impact of sanctions and gives it legitimacy while the West tries to isolate it.
However, James D.J. Brown, an associate professor in political science at Temple University in Tokyo, told DW that the Sino-Russian relationship is limited by national interests. "Each side will support the other as long as it remains in their national interest to do so," said Brown.
Read more: EU leaders extend Russian sanctions over Ukraine for six more months
"When Russia annexed Crimea in 2014, China did not explicitly offer support. Doing so would have attracted criticism from the West and, while China is willing to endure international censure when necessary, it will only do so when it decides that it is beneficial to do so," he said, adding that China neither approved nor disapproved of Russia's action.
Stent wrote that even as both China and Russia reject the global order, they "do not agree on what a future world order should look like."
Economically, China is currently Russia's second-largest trade partner after the EU. Russian analyst Kashin points out that Sino-Russian trade is projected to rise further in the coming years. "This year, the annual trade will break the $100 billion mark for the first time," he said.
Russia and China are also mulling over ways to cooperate more closely in Central Asia, a region Moscow views as its backyard. Furthermore, there's talk of both countries working together to advance their key geopolitical projects – Beijing's "Belt and Road Initiative" and Moscow's "Eurasian Economic Union."
Read more: As G7 argues, Russia's Vladimir Putin and China's Xi Jinping show SCO friendship
Despite the warm words at the EEF about deepened economic integration, there have yet to be any binding measures connecting these two major initiatives.
Feng Yujun, a Russia affairs expert at Fudan University in Shanghai, told DW that although there is strong political will on both sides to bring the trading routes closer together, major roadblocks remain.
"Because Russia is subject to Western sanctions, it is economically eager to get China's investment, technology, and market access," said Feng. "Russia needs to show a high degree of enthusiasm for the Belt and Road."
"Although China has long proposed an agreement to sign free trade zones with the Eurasian Economic Union countries, these agreements are nowhere in sight," he added.
A 'quasi-alliance'
Pragmatism remains a major limitation to the formation of a permanent alliance between China and Russia, which could consolidate into a bloc similar to NATO. But this doesn't mean that the alliance isn't growing stronger.
"It is likely that this relationship will still prove enduring," said Brown.
"This is because China and Russia are being driven together by their shared tensions with the United States, encouraging them to put aside their reservations about each other," said Brown, adding that the increased strategic cooperation between Russia and China is a "quasi-alliance," which lacks elements indicating a true merging of strategic interests.
"For a relationship to be a true alliance, there must be some level of commitment to collective defense," said Brown.
"At present, there is no such security commitment between Russia and China," he said, noting that even as bilateral security cooperation deepens to unprecedented levels, the relationship couldn't be described as a true alliance.
"At present, this still seems unlikely since neither country wants to risk becoming entangled in the other's conflicts."
Read more: As G7 argues, Russia's Vladimir Putin and China's Xi Jinping show SCO friendship
Germans skeptical of Russia and China, pessimistic on US
Who needs who more?
Both China and Russia have different incentives for working together. While both can provide the other some solace from international isolation, the common economic and strategic pressure from the US is also subject to change.
"Although Russia might be regarded as the current troublemaker for the United States, most US strategists view China as the greater threat in the longer term," said Brown. "Their concern therefore is the extent to which Russia can play a role in assisting China's rise to regional predominance."
But for the US, enticing Russia away from China in the era of Ukraine, Crimea and Syria, does not look realistic. As Russia's foreign policy continues to antagonize the West, there is little prospect of sanctions relief in exchange for cooperation against Chinese interests.
"With the assistance of Russia, China is a much stronger power. Without Russia, China is a country without powerful allies," said Brown.
And on the other side, China can help ease some economic pain for Russia, but Russians are still anxious about the shift in power that dependence brings.
"In the long history of Sino-Russian relations, this change in power relations will undoubtedly cause concern in Russia," said Feng.
Additional reporting contributed by Fang Wan