As the G7 meeting in Canada ended in bitter disagreement, the leaders of Russia, China and other Eurasian nations were all smiles on the second day of the meeting of the Shanghai Cooperation Organization (SCO) in the Chinese city of Qingdao on Sunday.
Alluding to US President Donald Trump's recent spate of adversarial behavior towards his allies, including the imposition of tariffs and a withdrawal from the Iran nuclear deal, Chinese President Xi Jinping said "unilateralism, trade protectionism and a backlash against globalization are taking new forms."
Xi also spoke of the need for world governments to pursue "cooperation for mutual benefit…. We should reject self-centered, shortsighted and closed-door policies."
Growing regional bloc
The SCO also includes nations like India, Pakistan, Kazakhstan, Kyrgyzstan, Tajikistan and Uzbekistan. Other countries, including Belarus, Mongolia and Iran attend the summits as observer nations, alongside several more dialogue partners.
Russian President Vladimir Putin praised the inclusion of India and Pakistan, saying that the organization "has become even stronger."
Xi and Putin's statements were in stark contrast to the discord at the G7, where Trump called Canadian Prime Minister Justin Trudeau "dishonest" and "weak," refused to sign a group agreement about climate change, and would not budge on steel and aluminum tariffs.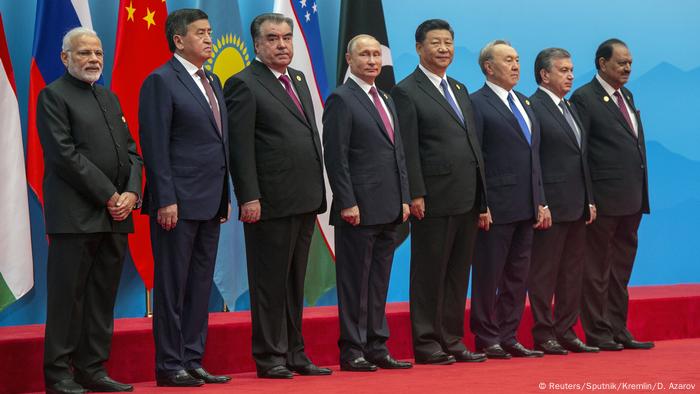 SCO participants pose for a group photo
Putin seeks one-on-one with Trump
Putin mentioned Trump directly on the sidelines of the SCO, saying he would like to set up a meeting with his American counterpart: "As soon as the US is ready, the meeting can take place."
The Russian president said that several nations, including Austria, had expressed interest in hosting the talks.
The complicated relationship between Washington and Moscow took another unexpected turn at the G7 meeting in Canada, when President Trump expressed a wish to invite Russia back to the table and bring back the G8 format. This had ended after Russia's annexation of Ukraine's Crimea peninsula in 2014. Trump's suggestion was not received warmly by other members of the group.
Putin remarked that the G7 should "stop this creative babbling and shift to concrete issues related to real cooperation."
China's People's Daily newspaper mocked the difference in tone between the G7 and the comparatively pleasant SCO summit by juxtaposing the image of Trump's angry allies staring him down with a picture of SCO leaders striding happily alongside one another.
"G7 vs. SCO: two meetings on the same day," the paper chided.
es/jm (AFP, dpa)
Each evening at 1830 UTC, DW's editors send out a selection of the day's hard news and quality feature journalism. You can sign up to receive it directly here.