After meeting in Brussels on Friday, the European Council (EC) announced that EU leaders agreed to extend economic sanctions against Russia for six months.
The decision will be formally confirmed in the coming days, an EU official said.
The EU first imposed sanctions in July 2014 after Malaysia Airlines flight MH17 was shot down over Ukraine, killing 298 people. The EU has blamed pro-Russian rebels for the attack.
Read more: Is NATO doing enough to pressure Russia over Ukraine?
The sanctions are aimed at Russia's financial, energy and defense industries. They are specifically intended to block Russian banks' access to EU markets and limit Russian access to some EU imports.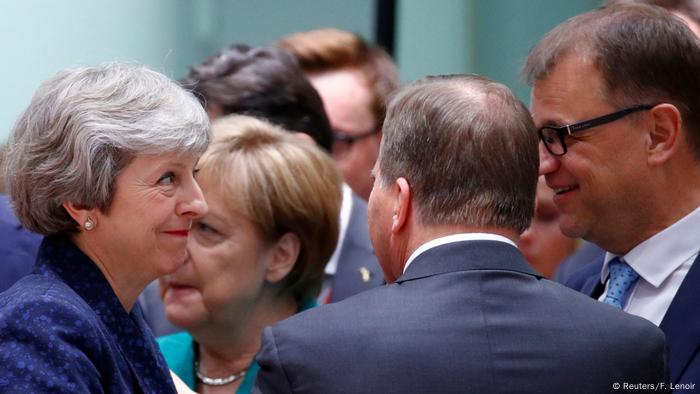 EU leaders at the Brussels summit
US and Russian leaders to meet in July
US sanctions against Russia are likely to figure large when US President Donald Trump meets his Russian counterpart Vladimir Putin in Helsinki on July 16.
Evidence of Russian meddling in the US 2016 election led the US to impose sanctions on Russia in April, but Trump and some European leaders have questioned if sanctions against Russia have the desired effect.
A spokeswoman from the German economy ministry said on Friday that the ministry had received a commitment from the US that any new US sanctions would not affect Russian pipelines, a reference to the controversial Nordstream II pipeline linking Russia and Germany.
Honoring the Minsk Agreement
Friday's decision came after a "very short discussion" on Ukraine, Russia and the Minsk peace agreement, according to an EU official.
The EU has in the past linked any easing of sanctions to Moscow implementing the agreement.
Moscow and MH17
EU leaders also reiterated "full support" for a UN resolution on the shooting down of flight MH17, in a summit statement.
The statement also called on Russia to "accept its responsibility and fully cooperate with all efforts to establish truth, justice and accountability."
jbh/jm (AFP, dpa, Reuters)
Each evening at 1830 UTC, DW's editors send out a selection of the day's hard news and quality feature journalism. You can sign up to receive it directly here.