"We must give priority to security and so let's start setting up a joint European army," Orban told reporters. His proposal was seconded by Czech Prime Minister Bohuslav Sobotka, who said that the project would not be "easy," but that the 28 members of the EU could do with better cooperation on defense issues and border protection.
Earlier on Friday, Orban also told Hungarian state radio that his government would build a "more massive" fence on its southern borders to keep migrants away.
Polish Premier Beata Szydlo called for setting up a European border guard to protect the EU's external frontiers. She also urged EU leaders to focus on "reforms that Europeans expect, allowing the European Union to become a stronger, development-oriented EU, but above all for Europeans to feel they are in charge of the European Union."
German Chancellor Angela Merkel agreed that security was "a fundamental issue" and that the EU member states could do more "in the areas of security and defense." She also insisted that countries focus on "finding common ground" despite divisions over the bloc's migration policy. "People will only accept Europe if it ensures their [economic] wellbeing. We must be leaders in the area of technology. We want to offer well-paid jobs. We have a lot to do," Merkel added.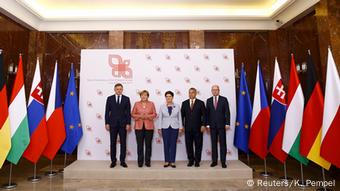 Merkel (second from left) meets Visegrad leaders in Warsaw
An EU-wide army is a thorny issue within the bloc, which has six non-NATO members including Austria, Finland, Ireland, Malta, Cyprus and Sweden. The EU and NATO's ties with Russia plunged in early 2014 with Moscow's annexation of Crimea.
Germany has been pitted against countries of eastern Europe after the chancellor opened the country's borders to refugees last year. Over 1 million people fleeing war and poverty in Africa and the Middle East poured into Germany in 2015. Hungary, the Czech Republic, Poland and Slovakia have refused to take in refugees despite an EU-wide quota system to share migrants equally.
Merkel's meeting in Warsaw comes ahead of an EU summit on the fallout over Britain's planned exit from the bloc as the result of a June 23 in-or-out referendum. The summit is scheduled to take place in the Slovakian capital of Bratislava on September 16.
"Brexit is not just any event; it's a breaking point in the history of the EU, so we need to work out a very careful response," Merkel said on Friday.
mg/tj (AP, AFP)