Hundreds of customers come each day for burgers and pizzas at the Bacardi Club in the popular Hungarian beach town Siofok, next to Lake Balaton, the largest lake in Central Europe.
Located in the heart of one of Hungary's biggest tourist attractions should really mean that the Bacardi Club's business is booming, but it is in fact struggling. However, it is not the number of customers that is the problem but the waiters - or rather the lack thereof.
"Now we have five waiters but it isn't enough ... We need one or two more."
Manager Benigna Nemeth says she has scoured the internet, searched through Facebook and posted advertisements looking for new staff - with no luck. "We can't find good workers... Everything I have tried," she told DW.
She is not alone in her predicament. Hungary is going through a major labor shortage with over 35,000 jobs unfilled so far this year.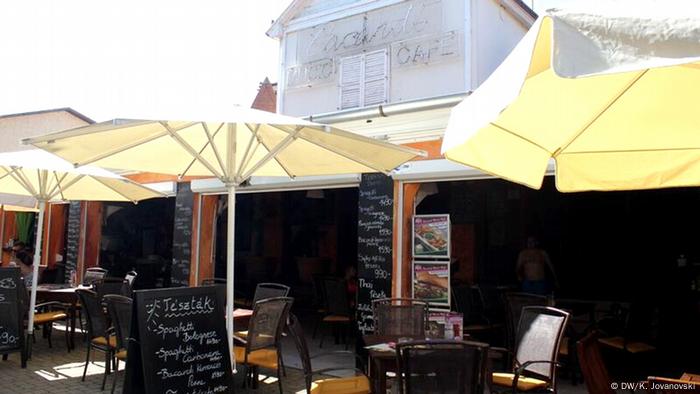 Cafes and bars are having trouble filling staff positions locally and want to attract foreign labor
A national business association recently presented the government with several proposals to improve the situation, including bringing in new foreign workers.
"We believe that we would need some skilled workers from abroad as well… for an employment purpose, immigration into Hungary would be really important temporarily or even permanently," Ference Rolek, the vice president for the Confederation of Hungarian Employers and Industrialists, told DW.
He added that each year there are 40,000 to 50,000 fewer people in the country's labor supply, meaning that in 10 years time there would be a shortage of 500,000.
Demographics
The main reason is demographics. A low birth rate has led to a steadily decreasing population for decades and in 2011 it dropped to below 10 million for the first time since 1960. On top of that, many Hungarians leave the country for better pay in other EU member states.
Economy Minister Mihaly Varga initially supported the idea, telling state media that the government must support hiring skilled workers from third countries - meaning non-EU citizens.
The local press jumped on this and contrasted it with Hungary's criticism of the migrants and refugees coming to Europe and the construction of a fence to block them from entering when they tried crossing into Hungary en route to wealthier EU states.
The Hungarian government repeatedly claims there is a direct link between immigration and terrorism and in October a referendum will be held on whether Hungary should accept future EU quotas on resettling refugees. Prime Minister Viktor Orban has said that voting no would be in support of Hungary's independence.
The day after Varga's comments, his ministry released a statement saying that "migration is not the answer to labor shortages," and claimed that the media had misinterpreted his comments. It also stated that the economy minister "does not approve of bringing masses of unskilled, illiterate migrants to Europe."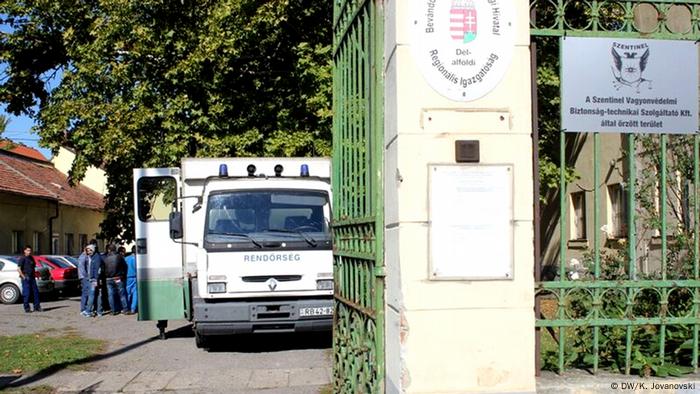 Hungary has been on fine form in keeping migrants out but may have shot itself in the foot
The statement, however, still said that the government supports bringing in foreign skilled workers for certain jobs.
Unfilled positions
Currently tens of thousands of positions go unfilled each year. The head of communications for the German Chamber of Commerce, Dirk Woelfer, said companies from Germany - which represents about a quarter of foreign investment in Hungry - are limiting their operations in the country because of the labor shortage.
"In the long run if you don't know whether you'll have the skilled workforce, you'll think whether to invest in more capacities where you're not sure you can fill the positions," he told DW.
The proposal by the business association specified that foreigners who can culturally integrate into Hungary should be targeted.
"If someone is very different, doesn't want to respect the laws and the discipline or whatever or just culturally is not able or not willing to integrate then it's difficult to run a company like this," said Rolek.
The most obvious choice would be attracting citizens from bordering countries with Hungarian roots. In 1920, a treaty divided up parts of Hungary to its neighbors, leaving many ethnic Hungarians in what is now Serbia, Ukraine, Romania and Slovakia. However, say experts, Hungary would be wise to look beyond its immediate borders.
Diversification
Martin Kahanec is a professor of public policy at Hungary's Central European University where he specializes in labor economics and immigration. He said that migrants with similar backgrounds to Hungarians can more easily integrate but do not provide skills that are missing in the economy.
"Whereas migrants who come from distant cultures and regions and countries, they may have more difficulties to integrate (but) they also bring in skills which are new, which provide more dynamism, which make new economic opportunities."
He added that migrants with a more diverse skillset can help boost trade and business relations around the world, something the government says it has been working on for years.
What everyone does agree on is that better education and training is needed to add more Hungarians to the workforce. There is especially high unemployment among the Roma minority which faces widespread discrimination. Aside from attracting foreign workers, the business association suggested better integration of the Roma as well as improving education starting from elementary school.
These proposals will be discussed in September when talks resume with the government. However, Rolek says the solution to the shortage cannot be found only within Hungary.
"We still believe that even using all the resources in Hungary, it would not be sufficient really to meet all the demands."