Ueli Maurer represents the right-wing SVP party on the Swiss Federal Council and, as finance minister, is in charge of the Border Guard Corps. He is most concerned about migration routes between Switzerland's borders with Italy and those with Austria and Germany. He told Swiss media that several people had crossed without authorization recently.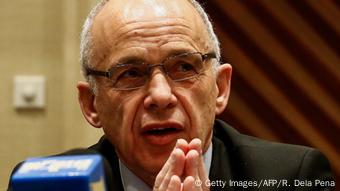 Maurer commands the border patrol
Large numbers of refugees have appeared in the border region between Domodossola, Italy, and Brig. The Lugano region registered 9,900 unauthorized crossings in June and July; 4,208 of those people were immediately returned to Italy. Nationwide, 22,181 unauthorized entries were recorded, according to the Federal Customs Administration.
About 4,700 people came from Eritrea. Another 1,800 are from Gambia, and 1,400 from Nigeria. The Border Guard Corps has had to reinforce its personnel in the Ticino canton, Maurer said, often working around the clock to intercept refugees entering in the overnight hours. Other border regions have not seen such numbers, with the exception of Lausanne, where 3,118 refugees passed through, presumably from France.
Miriam Behrens, director of the Swiss Refugee Council, has criticized the government's handling of the borders. "We see a type of racial profiling," she said. "Those with darker skin are pulled off trains and buses for questioning. The authorities have relatively wide leeway."
Refugees can apply for asylum in Switzerland and remain there; however, many say they want to continue onto Germany or Scandinavia. This can result in immediate deportation to the country that they entered from - Italy, in this case. Discrepancies in understanding the legal situation also result in deportation. "Many I've spoken to are unaware of the concept of asylum," Behrens said. "Some slip away, and that's a large number."
Swiss authorities are trying to avoid the country's becoming a transit zone. "Switzerland is trying to protect itself like other countries," Behrens said. "This pushes refugees around Europe, suggesting a lack of capacity, which is a problem around Europe."
Most refugees who reach Switzerland want to continue onto Germany. German Federal Police registered 1,008 illegal crossings in June and 1,065 in July. This has been rising from the nearly 300 in April, putting the total number of refugee crossings from Switzerland between January and July at 3,385. The same period in 2015 saw 2,455 entries, according to information provided by the Federal Police.
Despite its economic stability, many refugees are fixed on Germany or Sweden, Behrens said, because "many have relatives or acquaintances there." Even applicants for Swiss asylum may continue northward.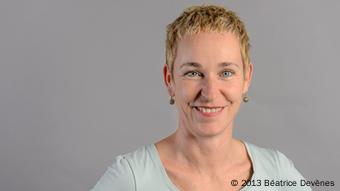 Behrens seeks to help displaced people
Though many refugees are smuggled, some arrive alone. The internet makes sharing information easy. "On social media, there are route descriptions and mobile phones show the necessary routes," a Federal Police spokesman told DPA. Many refugees and those assisting them have taken advantage of the summer holiday period, when Switzerland's border areas are swarmed by vacationers and people on the go.
Smugglers are more the target than refugees. They set and develop the routes to get people into Europe. The Federal Police's offices in Germany's southwestern border regions have been supplemented to meet the challenge. There are now 30 additional officers for that purpose - with a focus on cooperating with Swiss border authorities.