European Commission President Jean-Claude Juncker on Sunday kicks off a visit the newest prospective European Union member states. The whirlwind tour through the western Balkan countries of Macedonia, Albania, Serbia, Montenegro, Bosnia-Herzegovina and Kosovo is intended as an encouraging gesture, as Juncker himself put it. A recently agreed EU enlargement strategy even included a timeline for when these states could join the bloc: 2025.
Read more: Western Balkans have a place in the European Union
But this target date should not be understood as a guarantee that all western Balkan countries will be admitted to the EU in seven years' time. Instead, Juncker has said the 2025 timline is intended to encourage the governments of the six potential member states to undertake political reforms, uphold the rule of law, fight corruption, ensure press freedom, stimulate their economies and resolve outstanding conflicts with their neighbors. European Commission staff close to Juncker have said new members will only be admitted if sufficient progress that meets concrete targets is made in these areas, but that that the EU is willing to enlarge the bloc and the six states have a realistic chance of joining.
Read more: Western Balkans joining EU would be wrong move for wrong reasons
Albania and Macedonia next?
Immediately prior to Juncker's departure, the EU's top enlargement official, Johannes Hahn, promised in a newspaper interview that formal accession talks with Albania and Macedonia will begin soon. A specific date to start talks would be decided in the summer, he said. So far, formal EU accession negotiations have only been held with Serbia and Montenegro. Montenegro, already a NATO member, has made the greatest progress.
"We're talking about over 18 million people in six states that still find themselves in a fragile environment," Hahn said at a presentation on the EU's latest plans in the Balkans. "For this reason alone it's in the interest of the EU to give these states and its peoples an opportunity to join."
Unresolved historical conflicts
On his journey through the western Balkans, Juncker will have to address the region's numerous unresolved conflicts, and Kosovo presents perhaps the greatest challenge of them all. After a period of violence, Kosovo declared itself independent from Serbia in 2008. Not all EU members have recognized Kosovo as an independent state, however, and neither has Serbia. Brussels has made clear that this long-standing conflict must be resolved if Kosovo and Serbia are to join the EU.
Read more: Is Europe Kosovo's destiny?
The president of Serbia, Aleksandar Vucic, has been trying to convince his compatriots that they will ultimately have to recognize Kosovo. "We must pay a certain historical price if our future is to be in Europe," he said during a visit to the EU Commission two weeks ago. For four years now, the EU has tried to achieve reconciliation between both sides, to no avail. Juncker is expected to use this latest trip as a chance to kick-start negations.
The legacy of the conflicts that raged in the former Yugoslavia during the 1990s will be on Juncker's agenda. Croatia, already an EU member, and Serbia are still in disagreement over how to deal with the destruction that resulted from the war between the two sides. During his visit to Brussels, Croatian Prime Minister Andrej Plenkovic stated that Croats and Serbs share "common interests" in terms of cooperating with the EU in political and economic affairs, but said it was still unclear which side would compensate the other for the damages caused by the war.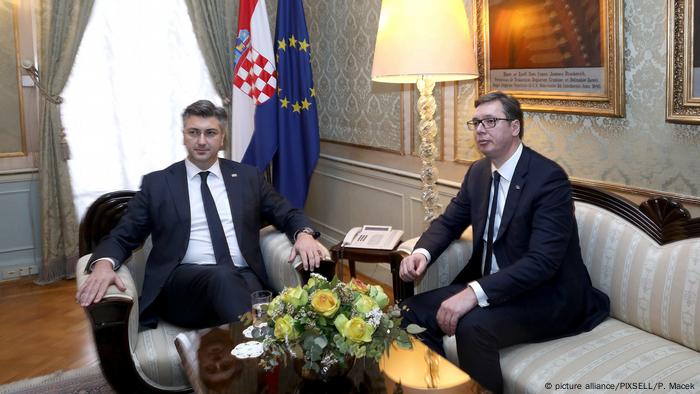 Croatia's Plenkovic and Serbia's Vucic are at loggerheads over war reparations
Juncker urges patience
"We can help by explaining and stressing that these problems must be solved because otherwise we just lose time," Juncker said several days before embarking on his trip, urging that patience was key.
Read more: Greater Albania — bogeyman or a pipe dream?
"It took 45 years until Germany and Luxembourg reached a settlement over war damages," added the European Commission president, who previously served as Luxembourg's prime minister.
An European Commission spokesperson said that road maps for the accession of all six western Balkans states will be published in the summer and early autumn. They will be specifically tailored to each country. This announcement followed an invitation by Bulgaria, currently at the helm of the EU presidency, to hold an "EU-western Balkans summit" in its capital, Sofia, in May. Bulgaria is keen to push accession talks forward. Germany and other western EU member states, however, are more more reserved. German Chancellor Angela Merkel, for instance, has yet to comment on the possible accession date of 2025.
Juncker had always insisted no new states will be admitted to the bloc during his tenure as European Commission president, which ends in September 2019. Critics said that taking such a hard line was demotivating when it came to making progress towards accession. Now, Juncker is changing course, adopting a more positive outlook. Nevertheless, his predecessors will have the final say in 2025, or later.
Each evening at 1830 UTC, DW's editors send out a selection of the day's hard news and quality feature journalism. You can sign up to receive it directly here.