Kosovo and Albania currently share embassies and diplomatic missions around the world, and will have a joint foreign policy in the future, Albanian Prime Minister Edi Rama said while addressing Kosovo parliament during a diplomatic visit.
"Why not a single president, as a symbol of national unity and joint national security policy?" Rama asked at the ceremony marking the 10th anniversary of Kosovo declaring its independence from Serbia.
The Albanian leader added that his idea was not realistic at the moment, but that it might become reality in the future, according to reports citing Albanian official news agency ATA.
The Sunday statement is sure to stir ever-present fears of ethnically-charged violence in the Balkans, where many governments accuse the Albanian leaders of trying to form a so-called "Greater Albania."
Read more: Greater Albania - boogyman or a pipe dream?
Spectre of Greater Albania
Kosovo is predominantly populated by ethnic Albanians, who fought an independence war against Serbia in 1998/1999. Eventually, NATO launched an intense bombing campaign that forced Belgrade to pull out of Kosovo.
Serbian and other regional officials warn that Kosovo might unite with Albania as a first step towards the "Greater Albania" project, which would eventually include Albanian-populated areas in Macedonia, Montenegro, and even Greece.
Albania and Kosovo leaders have repeatedly dismissed those claims.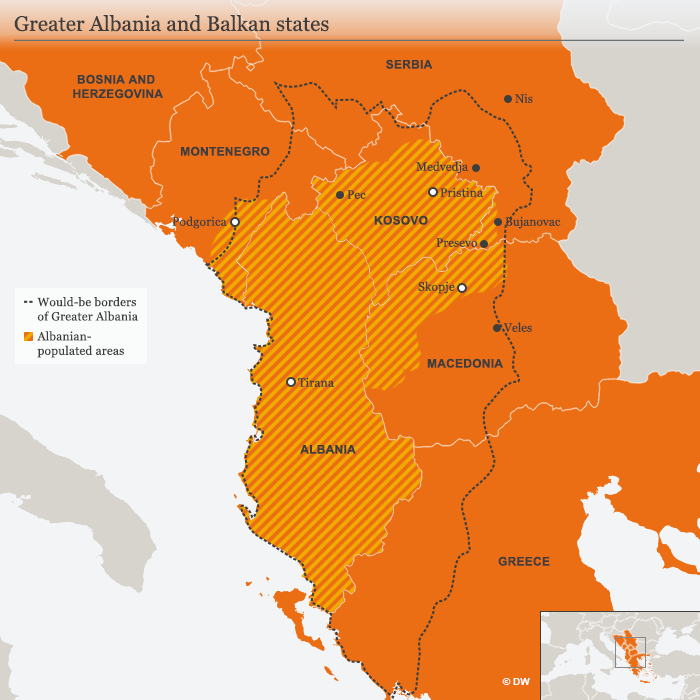 Albanian leaders deny ambitions of expanding their territory
Pristina and Tirana to unite with or without EU?
Rama's latest statement, however, is not the first time the moderate politician has hinted at unification. In a 2015 interview, Rama said that the joining of Kosovo and Albania was "inevitable and unquestionable."
"The question is how it will happen," he told the Kosovo broadcaster Klan Kosova. "Will it happen in the context of the EU as a natural process and understood by all, or will it happen as a reaction to EU blindness or laziness."
The comments prompted an angry response in Belgrade, where officials called on Rama to stop "banging the war drums."
IIn 2017, Rama told the US-based Politico that he could not rule out a "little union" between Albania and Kosovo if the EU decided to take membership off the table.
This was quickly echoed by Kosovo President Hashim Thaci, who said that "all Albanians in the region will live in a single, united" space if the EU closes its doors.
Rama wants Serbians and Albanians to 'co-exist'
When pushed by DW to clarify his remarks, however, Thaci denied he was calling for Greater Albania. Speaking at a media conference in Pristina, he labeled the concept "a Belgrade invention, aimed at justifying their own Greater Serbia ambitions."
In his Sunday speech, Edi Rama also said he envisioned a future where "Albanians and Serbians will co-exist... like two countries with good-neighborly relations that are an integral part of the European Union."
Belgrade and Pristina are set to resume their talks on normalizing ties later this month.