It was supposed to be an uplifting TV report about a Nigerian refugee who has managed to integrate into Croatian society. And who, after being granted asylum, has now opened a small restaurant in Zagreb offering African cuisine. But the TV report provoked an unexpected backlash. Mere hours after the piece aired on public broadcaster HRT, TV journalist Maja Sever received an anonymous death threat on Facebook.
"I opened the message and briefly wondered what kind of a person issues death threats to others like this. But I didn't think for too long and quickly made a screenshot of the message and then reported the person to the police," the well-known Croatian journalist recalls. The author of the threat, an individual claiming to be a Croatian living in Belgium, threatened to kill Sever for supposedly promoting "multiculturalism." Sever was also insulted. And this isn't the first time she's been subjected to such abuse, either. But she isn't scared: "I will make each and every threat public. The public must recognize what kind of pressure we journalists are under just for doing our jobs. I'm encouraging my colleagues to do the same. We should all take a stand against this. That's our duty!"
Increasingly brutal attacks
Threats against Croatian journalists aren't new. But social media platforms have made them more visible. And they seem to have helped make such incidents more common, and also more violent. The Croatian Journalists' Association (CJA) reports that 12 incidents were registered in 2017. Croatian journalists were targeted by death threats and subjected to attacks.
Journalist Natasa Bozic (pictured at top) is one of those who was threatened. In an interview during her weekly roundup on TV station N1 Zagreb, Bozic pondered whether Croatian President Kolinda Grabar-Kitarovic should revoke Slobodan Praljak's military decorations – Praljak was convicted of war crimes by the International Criminal Tribunal for the former Yugoslavia (ICTY) in The Hague. "I was shocked and disgusted by the hateful comments spewed on social media platforms one or two hours after the interview. First, I just wanted to ignore the insults," Bozic remembers. "I realized that these weren't typical chauvinist insults but blatant death threats. Some stranger wrote that he wanted me decapitated!"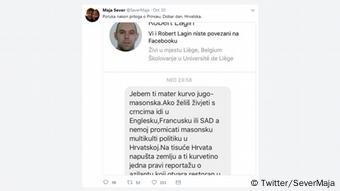 Sever received death threats online
An easy job for the police
The man who made this threat had published the message on his own Facebook profile page, using his real name. So the police were able to quickly arrest him. Now, he's awaiting trial. He could face up to five years in jail.
Yet many others like him feel safe to say whatever they want given their anonymity online. Sasa Lekovic, who heads the CJA, says this is a problem: "The police only catch those who don't hide their identity. That's why only a fraction of reported cases end up in court. And many trials only produce suspended sentences. This is disappointing and sends a clear signal that it's acceptable to attack journalists verbally and even physically."
Lekovic feels let down by the Croatian state. He thinks perpetrators must be brought to justice swiftly. And that working as a journalists in Croatia has become increasingly dangerous.
Press freedom in jeopardy
Reporters Without Borders has warned that press freedom in Croatia is in jeopardy. Its 2017 World Press Freedom Index indicates that Croatia has seen the most severe decline in press freedom out of all EU member states. In one year, Croatia dropped 11 places down to spot 74. Now, it ranks lower than countries like neighboring Serbia, which isn't even an EU member. In 2016, Croatia was downgraded from 54th to 63rd place.
Specifically, Reporters Without Borders criticizes the rhetoric of leading politicians attacking the media, and the national-conservative government exerting political pressure on the country's public service broadcaster. Reporters Without Borders deems this an attempt to influence the broadcaster's reporting. Moreover, Croatia has cut state funding to small, independent, nonprofit media outlets.
Exerting political influence on the media isn't a new phenomenon, however. The previous center-left government also attempted to do this by changing the public service broadcaster's leadership. Media critics in Croatia now quip that the country's public TV station has morphed into a kind of "YouTube channel for the ruling government."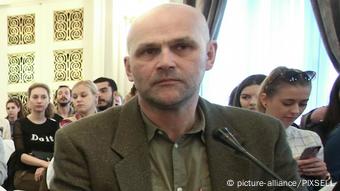 Lekovic says working as a journalist in Croatia has become increasingly dangerous
Fearful journalists
Maja Sever says that this direct and indirect political meddling has an effect on the work of journalists: "Several months ago a parliamentarian and high-ranking member of the ruling HDZ party wrote on Facebook that he welcomes my TV show being axed because I supposedly hate everything Croatian. Comments just like that encourage others to take a similar stance."
The result is ever more hateful commentary on social media, censorship and even self-censorship. Some journalists are seriously worried about their careers; they fear for their lives and the well-being of their close relatives. "This fear isn't the result of some personal weakness – it's the result of a catastrophic state of affairs in an EU member state," Natasa Bozic stresses. "The state has failed to protect press freedom and freedom of speech, which are prerequisites for democracy and essential to societal progress."
But Bozic and her college Maja Sever have vowed to remain tenacious in their fight for press freedom. Each day, they have to deal with editors, politicians, and lobbyists trying to influence their work as journalists. Bozic says she will continue to make public each and every death threat against her. "Social media platforms are not some space where you can break laws without legal repercussions, where you can threaten others and sow hatred without facing consequences," she says. "People need to understand this. If we just sit back, this hatred might someday spill out onto our streets."