US President Donald Trump has decided he will attend a meeting of South East Asian leaders in the Philippines in November after previously hinting that he would skip the summit.
Filipino President Rodrigo Duterte had invited Trump to the meeting of the Association of Southeast Asian Nations (ASEAN), but Trump told reporters in mid-September he had not decided whether he would attend. "He's invited us so we're going to see," Trump said.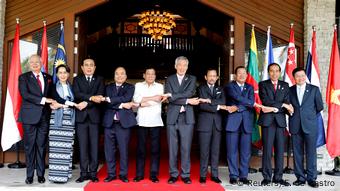 The 10 member countries of ASEAN include key US allies Japan, South Korea, Vietnam, and the Philippines.
Trump's ambivalence came as a surprise considering US Vice President Mike Pence who, in April during a visit to ASEAN's headquarters, had said Trump would attend.
Read more: North Korea escalation, South China Sea dominate ASEAN meeting in Manila
But the White House confirmed Friday that Trump would visit the Philippine capital during a two-week tour of the region that will include visits to China, Japan, South Korea, and Vietnam.
Senior officials are believed to have convinced Trump that attending the ASEAN meeting and the Philippines was important. The US has a defense treaty with members Japan, South Korea, and the Philippines and officials feared a no-show would benefit China, a US rival in the region.
Other members of ASEAN include Thailand, Indonesia, Singapore, Myanmar, Brunei, Laos and Cambodia.
Contemplating the cold shoulder
Diplomatic relations between President Trump and President Duterte have shifted from a warm embrace to a cold shoulder within a matter of months.
Trump initially appeared to have a favorable opinion of Duterte. In May, he said the Filipino president was doing an "unbelievable job on the drug problem."
Duterte's administration has been pursuing a violent crackdown on alleged drug dealers that has left an estimated 3,850 people dead and sparked criticism from international human rights groups.
Read more: Philippines moves to restore death penalty for drug offenses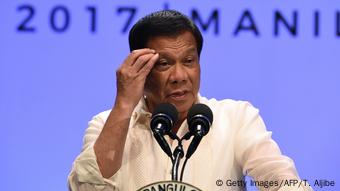 Donald Trump's relationship with Filipino President Rodrigo Duterte has cooled in recent months.
But Trump's embrace quickly disappeared after Duterte rejected the president's invitation to visit the US in July, saying that he would never visit "lousy" America.
Duterte was reportedly angry after a US congressional commission held a hearing that included strong criticism of Duterte's drug crackdown from advocate groups.
Nuclear discussions expected
The run-up to the November meeting has been marked by escalating tensions between North Korea and the US regarding Pyongyang's nuclear and missile programs.
North Korea tested its sixth nuclear weapon at the beginning of September, drawing the ire of the international community. Trump has been particularly vocal in his response to the test, threatening to "totally destroy" Pyongyang if it did not reign in its nuclear program.
According to the White House, the president will discuss the issue with his counterparts during his tour of the region between November 3-14.
amp/kms (AFP, dpa)