Rising tensions on the Korean Peninsula are high on the agenda of the Association of Southeast Asian Nations (ASEAN) annual summit in Manila.
The meeting kicked off on Saturday amid tight security after 14 people were wounded in a pipe bomb blast in Manila. Authorities, however, dismissed its link to the ASEAN meeting.
North Korea and the US have ratcheted up war rhetoric in the past few weeks, with US President Donald Trump warning Pyongyang of dire consequences if it carried out a nuclear test.
On Saturday, North Korea test-fired a ballistic missile shortly after the UN Security Council warned the communist country to halt provocations.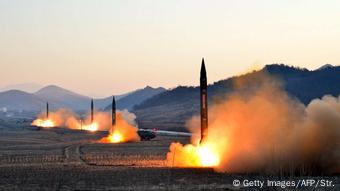 Pyongyang has launched a mid-range rocket that broke apart shortly after launch, according to the US and South Korea militaries (undated file photo)
A draft statement issued prior to the 30th annual ASEAN summit urged North Korea to "immediately cease all actions that violate its international obligations and contravene United Nations Security Council resolutions."
"The actions of [North Korea] have resulted in an escalation of tensions that can affect peace and stability in the entire region," the statement said.
This is the first of two ASEAN meetings this year. The next gathering will take place in November, also in the Philippine capital.
Duterte's China concession
Philippine President Rodrigo Duterte opened the ASEAN summit with an expected swipe at the Western governments that are critical of Manila's brutal drug war.
In contrast, Duterte took a much toned down stance on the Chinese expansionism in the contested South China Sea.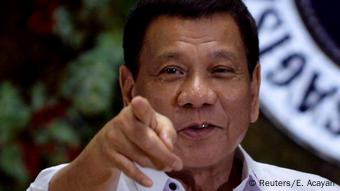 Duterte slammed Western governments for opposing his brutal drug war
Ahead of the one-day ASEAN summit, the Philippine leader said the Southeast Asian nations were helpless to stop Beijing from building artificial islands in disputed waters, hence there was no point protesting against it at diplomatic events.
"It cannot be an issue anymore. It's already there. What would be the purpose also of discussing it is you cannot do anything," Duterte told reporters Thursday.
Since coming to power last year, Duterte has forged closer ties with China at the expense of Manila's traditional alliance with Washington.
However, most countries in the 10-nation ASEAN bloc are against China's aggressive policies in the region and seek US' help to maintain geopolitical balance.
Ahead of the summit, ASEAN leaders called on all countries with claims to the South China Sea to avoid actions "such as land reclamation and militarization that may further complicate the situation."
"We took note of the serious concerns expressed by some leaders over the recent developments and escalation of activities in the area, which may further raise tensions and erode trust and confidence in the region," said a draft statement.
shs/jlw (AP, AFP, dpa)