China's militarization of the South China Sea (SCS) continues to be a point of contention as the Association of Southeast Asian Nations (ASEAN) tries to hammer out a maritime code of conduct to prevent further militarization and territorial conflict.
Philippine Foreign Secretary Perfecto Yasay, at a meeting of ASEAN foreign ministers on February 21, said that Chinese militarization of man-made islands was of "grave concern."
Yasay added that he was confident a framework agreement could be finalized by mid-2017 based on the fact that the ASEAN member states and China were "pushing hard" for a deal - although he admitted that he was unsure if China would cooperate.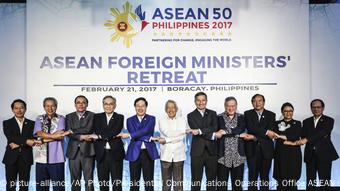 The Philippines currently has chairmanship of ASEAN
The finalization of the framework for the full enforcement of the maritime code of conduct between ASEAN states and China is seen as a high priority during the ASEAN meeting this week.
The Philippines took over chairmanship of ASEAN this year. Since President Rodrigo Duterte took office in June 2016, he has been taking a more conciliatory tone toward Beijing.
China's Foreign Ministry spokesman Geng Shuang told reporters in Beijing that Yasay's comments on China's SCS militarization were "baffling and regrettable," adding that they were a turnaround from the agreements reached between Duterte and Chinese President Xi Jinping on improving relations after a series of maritime disputes.
Will China cooperate?
Arsenio Andolong, the public affairs chief for the Philippine Department of National Defense (DND), told DW that China's installation of military-grade equipment and facilities in the disputed waters and reclaimed islands was "very troubling."
"Those are well within our exclusive economic zone (EEZ)," he said. "These actions do not square with the Chinese government's rhetoric that its purpose is peaceful and friendly."
For years, territorial disputes and the harassment of Filipino fishermen eking out a living in contested waters have made the Philippines and China frosty neighbors. In 2013, the Philippines elevated its territorial dispute to the Permanent Court of Arbitration (PCA), an international tribunal in The Hague. Last July, the PCA ruled against Chinaand classified its nine-dash-line territorial claim as being devoid of historical and legal basis.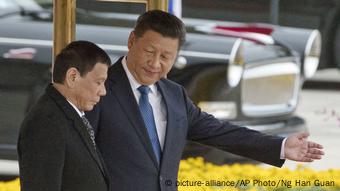 China and the Philippines agreed in 2016 to resume talks over territorial disputes in the SCS
But after taking power, President Duterte's administration signaled friendlier relations between the two countries by deciding not to pressure China to abide by the PCA's ruling.
From a national defense standpoint, the DND sees PCA ruling as a strong leverage point in talks with China over territorial rights in what some in the Philippines call the "West Philippine Sea."
Andolong also stressed that the DND views China's actions with deep concern and vigilance. "They have used their propaganda and military might to enforce their claim. But we will always keep our lines of communication open to arrive at peaceful solutions to the issues."
Diplomatic channels
"We may have our differences with China, but we share more things in common such as our desire to thrive in a world that is in constant flux," Charles Jose, spokesperson for the Philippine Department of Foreign Affairs (DFA), told DW.
After Duterte's state visit to China last October, those shared interests were formalized in 13 government-to-government agreements covering trade and investment, public infrastructure funding, and tourism valued at an estimated $24 billion (22.6 billion euros). Filipino fishermen were also able to fish in the Scarborough Shoal again.
"His tact was to get the Chinese to agree that we could temporarily set aside our dispute, to be resolved at a later date," Jose said. "Since President Duterte's visit to China, the situation in the Scarborough Shoal has dramatically changed."
But despite the offering of an olive branch, China continued to increase its military presence.
In response, Duterte announced his intention to declare the South China Sea a marine sanctuary. The proposal did not gain traction or support as experts said it would be difficult to enforce without the consensus of other neighboring states.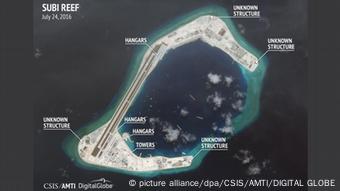 A satellite image of one of China's militarized islands in the SCS
And Reuters news agency on February 23 cited two US officials as saying that China had almost finished building up to two dozen structures that appear to house long-range surface-to-air missiles in three reefs claimed by the Philippines.
Balancing act
The Philippines faces a delicate challenge when it comes to balancing its relations with China, given Beijing's immense economic clout and growing military prowess.
"The issues will be separated into two parts," Chito Sta. Romana, the incoming Philippine ambassador to China, told DW. "Non-contentious issues include economics, commerce and education. These are issues we can move forward and fast-track. The contentious issues cannot move as fast. What we cannot solve, we will try to manage. Disputes will not be put forward."
But Sta. Romana remains optimistic. "The prospects for friendly diplomatic relations are bright. Diplomacy is always a good strategy for a medium-sized country with a weak military," he said.
Strategic sweet spot
But there are also less optimistic assessments of the Philippines' ability to attract concessions from China. "The president claims that we have normalized bilateral relations but in order for that to happen, there has got to be some modicum of compromise on a range of issues - including the South China Sea," Richard Heydarian, a geopolitical analyst at De La Salle University in Manila, told DW.
This opinion was echoed by the DND which said it would also push for the finalization of a code of conduct in the South China Sea to avoid any untoward incidents.
The Declaration on Code of Conduct in the South China Sea harped on the principles of self-restraint and non-militarization and was signed by ASEAN and China in November 2002.
However, the declaration failed to prevent skirmishes between countries. In 2014, China placed an oil rig in the Paracel Islands, an archipelago claimed both by Vietnam and China. The move triggered confrontations between Chinese and Vietnamese vessels, and the sinking of a Vietnamese fishing boat after being rammed by a Chinese vessel.