Chinese weapon systems have been built on all seven of the artificial islands that China has reclaimed in a disputed area of the South China Sea, the Asia Maritime Transparency Initiative (AMTI) said on Wednesday.
AMTI said it began tracking the construction of identical, hexagon-shaped structures on the several reefs that make up the Spratly islands over the summer. The islands are disputed by China and several of its Southeast Asian neighbors.
The think tank's report coincided with comments on Wednesday by the US' Pacific military commander Admiral Harry Harris, who warned that Washington would continue to challenge Beijing's "assertive, aggressive behavior in the South China Sea."
Satellite imagery appears to show the new structures are similar to other point-defense fortifications built on four of the smaller islands, AMTI said.
AMTI said the facilities hold what are most likely anti-aircraft guns or close-in weapons to protect against cruise missile strikes. China has already built military length airstrips on these islands.
Structures hidden from view
AMTI said covers had been installed on the towers on one island, but the size of the structures suggested they concealed defense systems similar to those at the smaller reefs.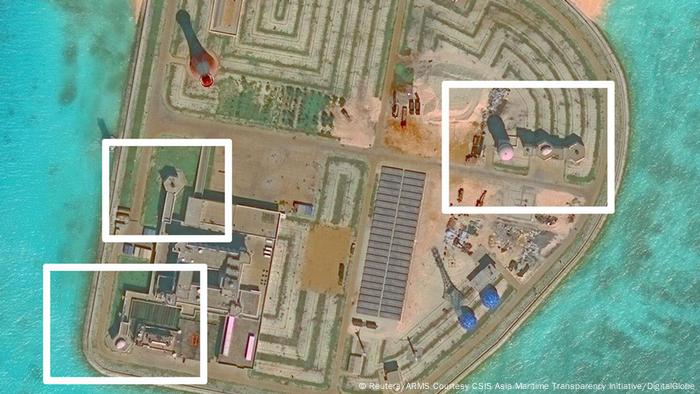 A satellite image appears to show anti-aircraft guns and close-in weapons systems on the Johnson Reef artificial island
"These gun and probable CIWS (close-in weapon system) emplacements show that Beijing is serious about defense of its artificial islands in case of an armed contingency in the South China Sea," the report said.
Beijing has repeatedly insisted that it has no intention to militarize the islands in the strategic trade route.
In an interview with the Reuters news agency, AMTI director Greg Poling said the think tank had spent considerable time studying the structures being built.
Images contradict official line
"This is the first time that we're confident in saying they are anti-aircraft and CIWS emplacements. We did not know that they had systems this big and this advanced there," he said.
"This is militarization. The Chinese can argue that it's only for defensive purposes, but if you are building giant anti-aircraft gun and CIWS emplacements, it means that you are prepping for a future conflict.
China is planning to deploy mobile surface-to-air missile platforms to an island further north in the South China Sea, the report said, adding that the new installations on Spratly would provide backup for that system.
Washington has accused China of militarizing its maritime outposts. The US navy has provoked China's ire by conducting air and naval patrols near the facilities on several occasions.
Also on Wednesday, Admiral Harry Harris, head of the US Pacific Command, told an audience to a think tank event in Australia that Washington would not accept Chinese control of the region.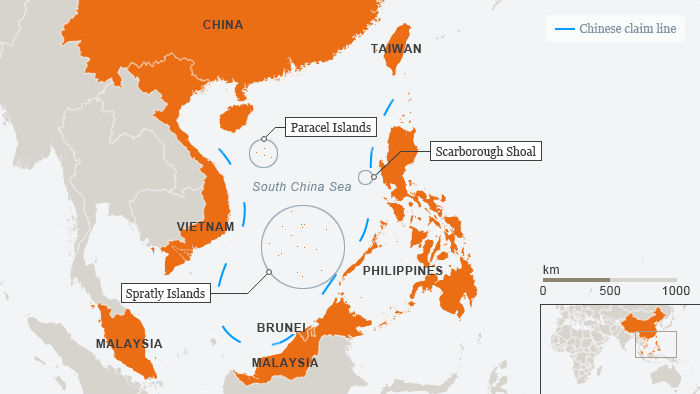 His remarks came after Beijing reacted angrily after US President-elect Donald Trump broke convention by speaking directly to Taiwanese leader Tsai Ing-wen.
Change of policy
Trump has even suggested Washington could jettison Washington's decades-old "One China policy," which allows the US to do business with both China and Taiwan while only recognizing Beijing diplomatically.
"We will not allow the shared domains to be closed down unilaterally, no matter how many bases are built on artificial features in the South China Sea," Harris said, appearing to reference the AMTI report.
A UN-backed tribunal ruled in July in a case brought by the Philippines that any extensive claims to the sea had no legal basis and that China's construction of artificial islands in disputed waters was illegal.
As well as China, Malaysia, Taiwan, the Philippines, Vietnam and Brunei claim part of the area of tiny islands, islets and reefs spread over more than 425,000 square kilometers (164,000 square miles) of sea.
mm/kl (AFP, Reuters)