With 23 of a total 26 films competing for the Berlin International Film Festival's Gold and Silver Bear awards, festival selections are nearly complete, organizers said. The Berlinale is the most important international film festival after Cannes and Venice.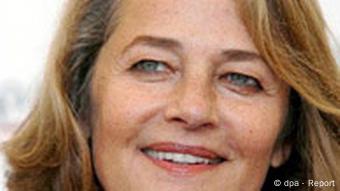 Britain's Charlotte Rampling will preside over this year's jury
The selection includes 11 world premieres, among them films from longstanding French director Claude Chabrol and Britain's Michael Winterbottom. English actress Charlotte Rampling will head up the jury, which also includes veteran German actor Armin Müller-Stahl.
Love triangle, obsession, exorcism
Germany is entering the competition with four films this year: Oskar Röhler's "Elementary Particles," an on-screen adaptation of French literary bad boy Michel Houellebecq's tale of a sexual obsessive; Matthias Glasner's "Free Will" a story of a compulsive rapist starring Jürgen Vogel; Valeska Grisebach's "Sehnsucht," (Longing,) a picture about a love triangle starring amateurs and set in the former communist east; and a film about exorcism in 1970s West Germany by Hans-Christian Schmid, called "Requiem."
More German movies
As early as 2002, when he began leading the festival, director Dieter Kosslick bumped the number of German films in competition up to four. Previously, Germany had shown fewer home grown entries.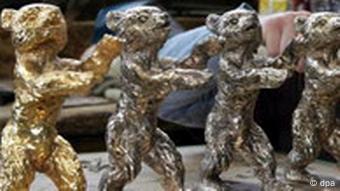 A row of Berlinale Bears
The festival opener will be a premier of the film "Snow Cake," starring Sigourney Weaver as an autistic woman and Alan Rickman as her tormented friend.
Maverick director Robert Altman, who is to receive an honorary Oscar in March, will premiere his take on the legendary US radio show, "A Prairie Home Companion," with an ensemble cast including Meryl Streep, Lily Tomlin, Woody Harrelson and Kevin Kline.
From 'Capote' to Cuba
The well-received US biopic "Capote," showcasing Golden Globe winner Philip Seymour Hoffmann as the extravagant writer Truman Capote fighting his demons as he wrote the masterpiece "In Cold Blood," will screen out of competition.
French veteran Claude Chabrol will bring French-German co-production "Comedy of Power," a thriller starring Isabelle Huppert, and Oscar winner Michel Gondry ("Eternal Sunshine of a Spotless Mind") will present "The Science of Sleep," bringing Gael Garcia Bernal and Charlotte Gainsbourg together in a story blurring a dream world with reality. The film will also screen out of competition.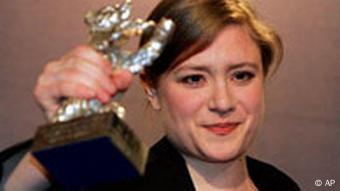 Last year, Julia Jentsch won the Silver Bear for best actress for her work in Sophie Scholl
British director Michael Winterbottom, who took home the Golden Bear top prize in 2002 for "In This World," will submit "The Road to Guantanamo" about three Muslims held at the US lockup in Cuba.
Europe, US turn out
Other competition entries will include Italy's "Crime Novel," a gangster drama by Michele Placido, and a Danish-Swedish co-production by first-time director Pernille Fischer Christensen, "En Soap," about a romance between the owner of a beauty clinic and a transsexual.
Austrian director Michale Glawogger will present the black comedy "Slumming," while the Argentine-Spanish-German co-production "The Minder" will enter the competition telling the story of a politician's devoted bodyguard.
The event's organizers announced last month that the latest film by reclusive American auteur Terrence Malick, "The New World," the 17th century love story of Indian princess Pocahontas and a British colonist, would also appear out of competition.