On the morning of November 11, 1918, at 10:59, American soldier Henry Nicholas Gunther stormed towards a German machine gun position and was killed — exactly one minute before the armistice that ended World War I came into effect. Gunther was the last soldier to fall in the so-called Great War. He was one of roughly 10 million soldiers that perished in the fighting. Millions of civilians were killed, too.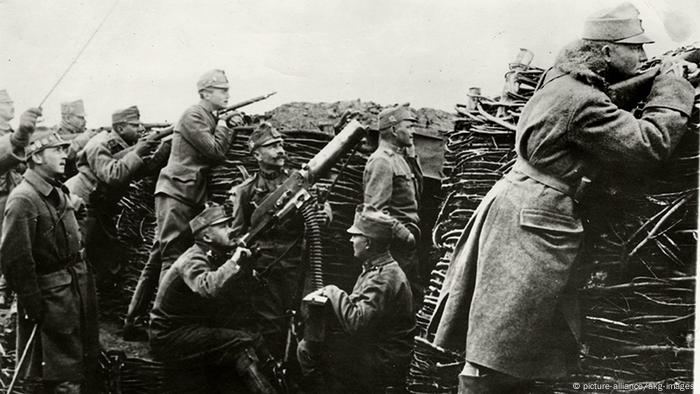 Trench warfare led to unimaginable numbers of casualities but brought few military advantages for either side
Now, 100 years after armistice day 1918, the former belligerents are commemorating all those who lost their lives in the bloody battles of World War I. In Britain and France, keeping the memory of the Great War alive carries great importance. Indeed, French President Emmanuel Macron has announced his country will host a major centennial ceremony. Naturally, Germany will also commemorate this special day. Though in Germany's national psyche, the catastrophe and horror of the Holocaust during World War II continues to overshadow the bloodshed of World War I.
The historical significance of Compiegne
On November 10, Macron will meet German Chancellor Angela Merkel in the town of Compiegne, about an hour north of Paris. It was here aboard a train carriage that the World War I armistice was signed between the Western allies and Germany on November 11, 1918. And it was in the exact same location that Adolf Hitler forced the French military leadership to sign their capitulation in June 1940 after German troops had invaded the country.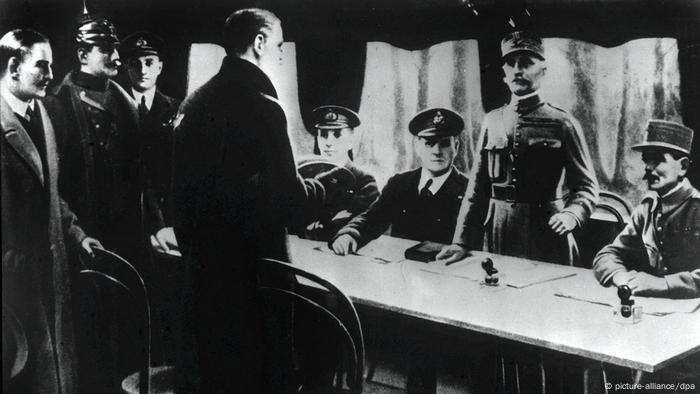 The World War I armistice was signed aboard a train carriage in the French town of Compiegne
The French government has announced it also wants to commemorate the important reconciliatory gesture between then-German Chancellor Helmut Kohl and then-French President Francois Mitterrand in 1984, when both famously held hands at a Verdun's war cemetery. The gesture made worldwide headlines.
Read more: How the battlefield sounded as World War I guns fell silent
France plans to hold a major commemorative ceremony at the Arc de Triomphe in Paris. Macron has invited more than 80 heads of state and government from countries which were either directly or indirectly involved in the Great War. United States President Donald Trump and his Russian counterpart, Vladimir Putin, will mostly likely be in attendance, too. Macron hopes both leaders will use this opportunity for talks on how to salvage the Intermediate-Range Nuclear Forces Treaty (INF), which the US wants to quit.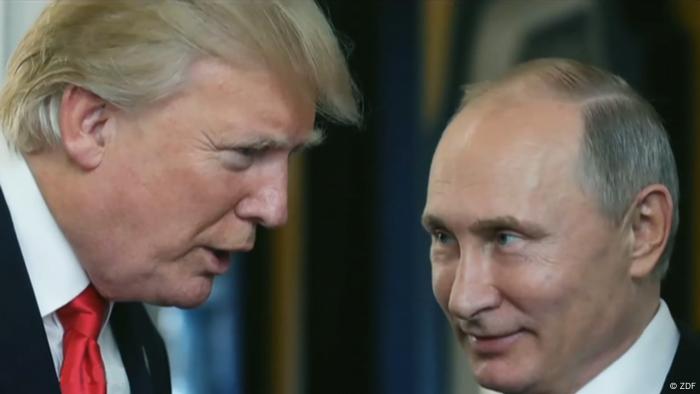 Will Trump and Putin's attendance at the French WWI commemoration help lead to nuclear disarmament?
An opportunity to bask in the limelight
Macron is keen to use the ceremony as a means to boost his approval ratings, which have tanked amid resistance to his plans to reform the European Union, said French historian Etienne Francois. The ceremony will briefly "make him look as if he were at the center of political universe," he added. However, Macron will also want to use the event to find "a way out of the European and global deadlock," Francois said.
Between November 11 and 13, the French capital will also host the Paris Peace Forum to bring together political leaders, international organizations and intellectuals to promote and advance global multilateralism. Germany's Chancellor Merkel and UN Secretary-General Antonio Guterres will each give opening speeches.
Read more: 31 artists interpret the First World War with a souvenir from the front
Germany, therefore, will play a prominent role in the centennial ceremony to mark the end of World War I. A few days ago, German President Frank-Walter Steinmeier attended a commemorative concert in the city of Strasbourg in the French Alsace region, which between 1871 and 1918 belonged to the German Empire, after which it became French once more.
German leaders underscore European culture of remembrance
Britain, meanwhile, will hold its very own World War I ceremony. Historian Etienne Francois calls this "totally normal," noting that Britain has always "considered itself somewhat unique."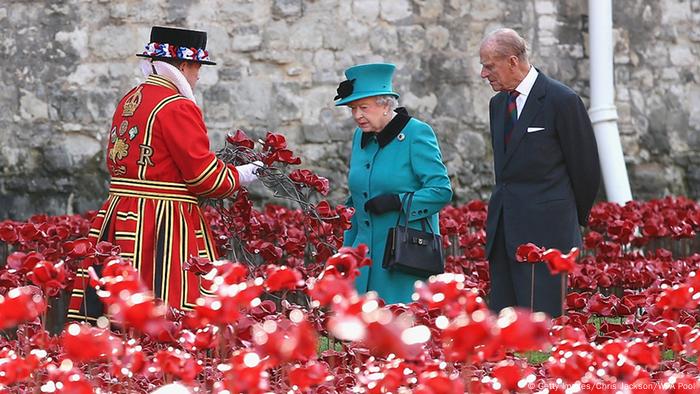 The British wear poppies to commemorate the Great War
London, like Paris, has extended an invitation to German leaders to attend its armistice commemorations. President Steinmeier will be the first German head of state ever to attend a Cenotaph wreath-laying ceremony in the British capital. A UK government statement said the upcoming event would mark an "historic act" of reconciliation and cited British Prime Minister Theresa May as saying it will provide an opportunity to "remember all the fallen and give thanks for peace." Though not everyone, it seems, welcomes Steinermeier's planned visit. UK tabloid The Sun warned his attendance could cause outrage among UK war veterans. Yet, so far, all is quiet on that front.
Read more: The First World War captured in film
The presence of Steinmeier and Merkel at these international armistice ceremonies, German historian Jörn Leonhard believes, has to do with Germany's "desire to underscore its deep-rooted Europeanness." Leonhard said German leaders are at pains to avoid nurturing a specifically German commemorative culture "out of fear of opening Pandora's box" and prompting some to ask whether the Treaty of Versailles contributed to the collapse of the Weimar Republic. Leonhard believes there is some merit to this political analysis, but noted that Germany nevertheless adheres to an "extremely defensive" approach when it comes to remembering World War I.
Polish independence day popular with far right
European bishops recently gathered in the Belgian municipality of Ypres to commemorate all those of died there in the bloody battles of World War I. Germany bishop Franz-Josef Overbeck, who also serves as a military ordinariate, warned against downplaying the danger of armed conflict, saying we should not be fooled by a "false sense of security." He added that nationalism and populism were on the rise, and that "approval for the European project is waning," which could undermine peace.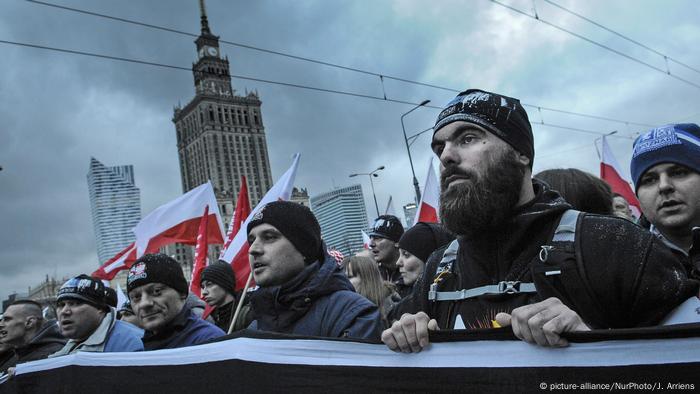 In the past, the annual Polish independence march in Warsaw has attracted large numbers of right-wing extremists
His words could prove prescient. For Poland, the year 1918 marks not only the end of World War I, but above all the rebirth of the Polish nation. In the past, the annual Polish independence march has attracted a growing number of far-right radicals. In response, Warsaw's mayor has banned this year's rally from going ahead — but authorities fear far-right extremist such as the international Blood and Honor network could nevertheless descend on the city.
Read more: How World War I ended: 100 years later
Most events commemorating the end of World War I, however, said historian Etienne Francois, are deliberately held with German representatives in attendance. "Many French events are all about Franco-German reconciliation," he explained. But in Poland and elsewhere, ceremonies will mainly focus on the respective national histories, Francois said.
Dark clouds on the horizon?
Some politicians have drawn parallels between the present rise in populism and nationalism, and the turmoil of the early 20th century. Francois, too, believes there are similarities with those times, when "efforts were made to reshape a peaceful Europe and a countermovement emerged as well."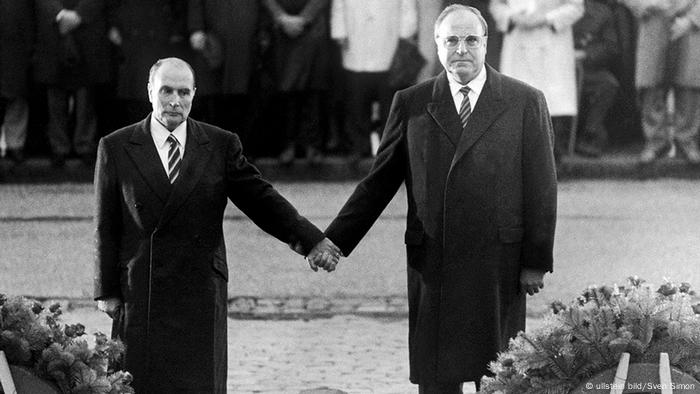 Mitterand and Kohl held hands in Verdun to commemorate the fallen from both World Wars
This countermovement grew strong amid the global economic crisis of the late 1920s, said Francois, who fears we could face a similar situation in the future. The historian projects another global economic crisis "within the next 10 years" and wonders how European nations would react, and whether they would be sufficiently united to overcome the ensuing instability.
Francois said he hopes the commemorative events on November 11 will strengthen an "awareness among us Europeans that we have much in common despite our differences, and that it pays off to build a common future."