A sea of little orange clay sculptures as far as the eye can see. In the middle of the unusual artwork, there's a huge bronze egg with a hole. From far away, the installation looks like a carpet. A closer look reveals hundreds of thousands of separate little sculptures. They symbolize figures mourning the dead, bent over in grief. They carry metal tags on which the names of the victims have been carved, recalling the identification tags of soldiers. With a total of 600,000 clay sculptures, the Belgian town of Ieper — the city's official name, but most commonly called Ypres in English — commemorates the victims of World War I who died there.
Belgian artist Koen Vanmechelen has entitled his monumental installation "ComingWorldRememberMe." It's only one of numerous art and culture projects by which Belgium wants to honor the victims of World War I on the 100th anniversary of its end.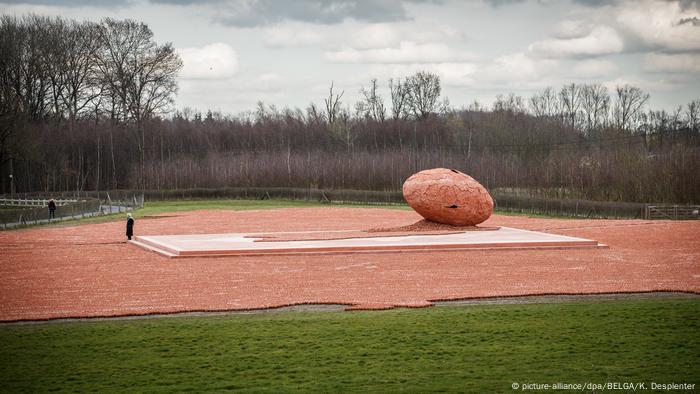 From far away, the installation looks like a carpet
Connecting the past with the present
It took Vanmechelen four years to finish his work, and tens of thousands of people supported him. Art studios in numerous countries participated in the work between 2014 and 2018.
Carved on the metal tags aren't only the names of the dead, but also the names of those who formed the particular clay sculpture. In this way, the past is connected to the present, says Vanmechelen: "The future depends on reviving forgotten memories." In his view, present-day generations do not know what war really means.
Thousands of supporters
The installation is located on a former battlefield where British and French forces fought against German troops between 1914 and 1918. It was right here that poison gas was used for the very first time. On April 22, 1915, the German army ordered the use of chlorine gas.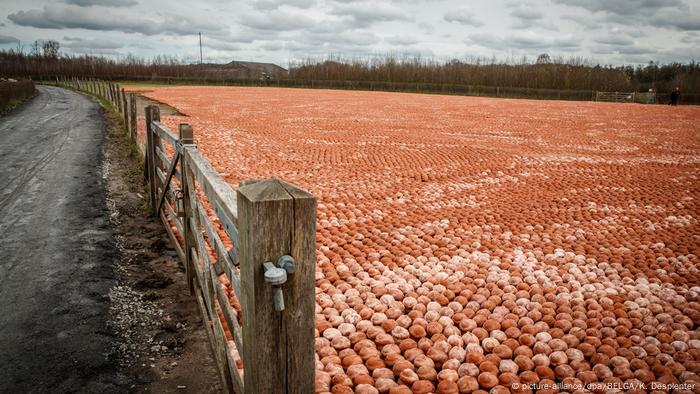 The installation is entitled "ComingWorldRememberMe"
Numerous memorials, soldier cemeteries and the Flanders Fields Museum remind the world of the horrors that people experienced there. That's where the names of all the victims were collected.
Around 5,000 people have helped install the artwork, which stretches out over more than two hectares. People can visit the installation until November 11, 2018, which marks the 100th anniversary of the end of WWI.
By remembering the "Great War," Belgium wants to help prevent further wars. Additional installations and actions are planned for this year, including a 27-kilometer chain of 6,000 little boats carrying peace messages along the Belgian coast, as well as the music festival "Peace in the World," to be held in Ypres on August 25.
ka/ad/eg (with dpa)