"People voted for Emmanuel Macron and for the new party because they didn't want political figures who were governing based on polls," an MP from Macron's En Marche party has told Conflict Zone.
Alexandre Holroyd, who represents French citizens living in Northern Europe, cited Macron's decisive victories in France's presidential and parliamentary elections as evidence that voters wanted reform.
"One of the disasters we've had in the last twenty years is that governments have had an eye to the polls more than to policy," Holroyd said. "The idea that by transforming a country and doing fundamental reforms your poll will go up or down shouldn't matter."
Polls apart
But if En Marche's lack of public concern for opinion polls is genuine, they ignore them at their peril. Macron's approval ratings have continued to slip in recent months to just 26 percent in a survey last week.
A founding member and MP of En Marche, Stanislas Guerini, said that the party had to "reconnect with a very important founding principle of En Marche: empowering the people and civil society to make change happen."
Holroyd conceded that his party needed to "do a better job at explaining what we're doing … [and] articulating what the long-term vision is."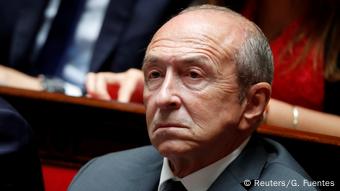 Collomb's decision to resign as interior minister was seen as a major blow to the French president
Substance over style?
Criticism of Macron has not been restricted to his party's program.
Several of Macron's own ministers have quit their posts, fueling talk of dissatisfaction with his style of leadership.
This includes the interior minister, Gerard Collomb, an early and loyal supporter of Macron, whose resignation the French president initially rejected. Collomb's departure followed just weeks after the environment minister, Nicholas Hulot, quit live on radio saying he felt "all alone" in government.
Macron has been criticized for centralizing his government's decision making process but has been unapologetic for "the verticality of power," telling a French publication in May, "I hate the process which means you have to constantly explain the reasoning behind a decision."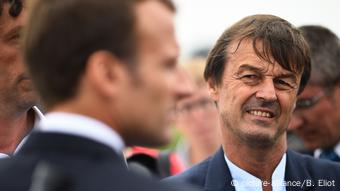 'I have a little influence but I have no power': Hulot in a live radio program before he announced his resignation
Holroyd told Conflict Zone host Tim Sebastian his experience in the legislature had been different. "Every law that the president has pushed for has been adopted after a thorough debate in parliament, has been improved, amended, depending on the circumstances, depending on the law."
Corinne Lepage, a former conservative minister who joined the Macron campaign in 2016, told Reuters in May, "What I quickly found embarrassing is the contradiction between the bottom-up approach that was promised and sold to the French, and the reality."
"I disagree with that assessment completely," said Holroyd when confronted with the quote, "and actually if you take the commitments that we made, the program that we made … and you take it line by line, you will see that we are putting in place precisely what we said we would put in place."
Battle for Europe
Macron also has his sights on reform beyond France's borders with a program he believes will strengthen Europe, proposing the creation of an EU finance minister post, a joint eurozone budget and a common defense force.
The French president has issued strong warnings of the danger of growing nationalism in Europe. But with poll ratings for Marine Le Pen's far-right Rassemblement National (RN) growing, does Macron have the authority to tackle the issue abroad if he is losing the argument at home?
"He [Macron] said that there is an atmosphere which is akin to a kind of civil war and I think that it is true today that divisions across actually most member states are being felt more than they were in say the 1990s or the 2000s. Now, the European election is a European election. It's an election about Europe and where Europe goes. It's not an election about domestic politics. Those are two separate things."
Whether they are two separate things in the minds of voters – and separate also from their judgment of a president who has aligned his politics with advancing the European project – will be clearer come the European Parliament elections in May 2019.
"There is a fascination with the illiberal, and that is growing," Macron said in April, a reference to Hungary's Viktor Orban
And who is winning in this "civil war" in Europe when Macron is polling in the mid-20s, and the far-right, anti-establishment parties of government in Italy have a combined support of over 60 percent?
"You look at the support for the European Union in Poland for instance and it's amongst the highest in Europe … among citizens," said Holroyd. "So the reflection that because a certain government is elected nationally it reflects the views of Europe of its citizens is a false one. You look in Austria, same phenomenon."
In a survey last month by the think tank Friends of Europe, 41 percent of French respondents thought life would be the same without the EU, while just 22 percent thought it would be worse. Almost two-thirds of Europeans "aren't convinced life would be worse without the EU."
In the days following the Conflict Zone interview, fresh polls put Le Pen's RN ahead of Macron's En Marche for the first time in voting intentions for the May elections.