Italian Interior Minister Matteo Salvini has sent police to Claviere, an alpine municipality that borders France, escalating an argument with French authorities over the return of migrants to Italy.
In an all-caps tweet on Saturday, Salvini wrote: "Update on Claviere, no more kidding around! I sent patrols."
The police dispatch came one day after Salvini had published a previous video tweet, overlaid with threatening music, that showed French police depositing supposed illegal immigrants on the Italian side of the border in Claviere and then driving away. Salvini demanded that French President Emmanuel Macron respond to the incident.
While it is not the first time that Salvini has openly criticized French authorities for returning migrants to Italy, the sending of police to the border is the strongest move yet — and one that comes amid deteriorating relations between Italy and France.
'Normal procedures'
Claviere lies just over the border from the French administrative department Hautes-Alpes. The department's prefecture said Friday evening that the return of the individuals was part of "normal procedures" that had been agreed by French and Italian police. The prefecture added that the procedure was also backed by European law.
According to the EU Dublin Regulation, asylum-seekers are supposed to have asylum claims processed in the country they first land in and, if they are in another country, they are supposed to be transferred back to the responsible member state.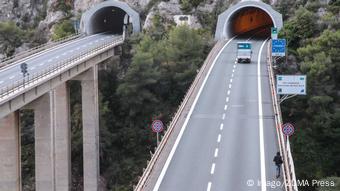 Some migrants also try to cross from Italy to France via tunnels that run through the Alps
The Dublin Regulation has been one of the most controversial pieces of EU legislation in recent years, as member countries have often attempted to push the responsibility for asylum-seekers to their neighbors. As a prime destination for migrants crossing the Mediterranean, Italy has received a large number of asylum-seekers and migrants.
Some countries, such as Germany, have signed bilateral agreements with other EU countries outlining the transfer of asylum-seekers.
However, on Saturday, Salvini disputed the statements of the French officials, adding that there was no such bilateral agreement between Italy and France.
"The umpteenth abuse by French authorities, who have also taken advantage of the good faith of our police, will have consequences," Salvini said in his Saturday tweet.
New political winds in Rome
Asylum-seekers have been exchanged over the French-Italian border over the past years.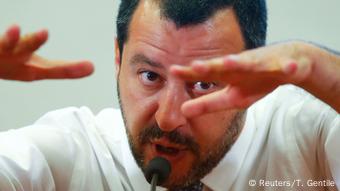 Salvini has sought to crack down on migration to Italy
Salvini said that while this may have been the practice of the previous Italian government, the "winds have changed," and his government would no longer accept individuals being brought into the country from France without having police check their identity.
Salvini is a member of the far-right Northern League, which is currently in a coalition government with the populist Five Star Movement. He has accused the EU, and France in particular, of failing to help Italy manage migration flows and has advocated hardline policies towards migrants and asylum-seekers.
cmb/jm (AFP, EFE)
Each evening at 1830 UTC, DW's editors send out a selection of the day's hard news and quality feature journalism. You can sign up to receive it directly here.