For many years, Angela Merkel's dominance in Europe remained unchallenged. After Donald Trump was elected US president, some English-language newspapers even declared the German chancellor the "leader of the free world."
But things have changed: Merkel's center-right Christian Democratic Union (CDU) fared badly in the September general elections, and she only managed to form a new government in March. As such, her status as Europe's leading figure has certainly taken a hit.
Read more: Angela Merkel from A to Z: the many faces of the German chancellor
Emmanuel Macron, meanwhile, has shot to political stardom. The young, charismatic politician emerged victorious from the French presidential elections, leaving far-right candidate Marine Le Pen in the dust. He has also succeeded in reforming the French labor market — an impressive feat given the fierce opposition he faced.
Recent economic data have further emboldened him, and surveys indicate that Macron is regaining public support, following a dip in approval ratings. Back in December, when Macron turned 40 years old, a majority of French citizens said that they considered him "a good president."
The opposition has chided him for conducting himself like a "Sun King," in reference to French monarch Louis XIV. Macron even proclaimed during his campaign that he would be a "Jupiterian" president, should he win. With Macron at the helm, France appears to have overcome its era of self-doubt and regained its national pride.
Read more: Emmanuel Macron starts China visit in Silk Road gateway city of Xian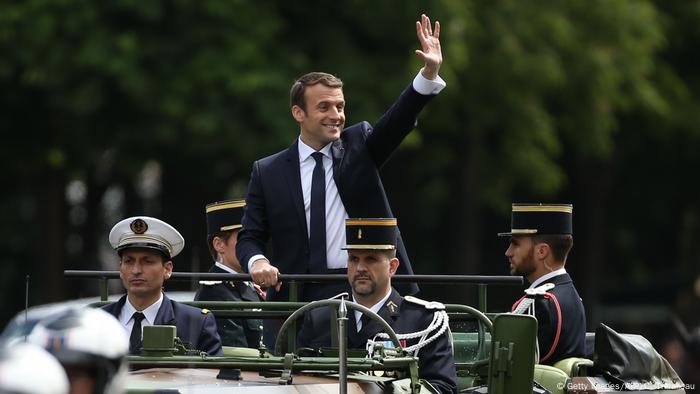 Macron has helped to restore French self-confidence
A confident leader on the world stage
Macron has also shown himself to be a confident leader when it comes to world affairs — provided domestic politics don't command his attention. He invited Donald Trump to a glamorous dinner atop the Eiffel Tower, received Russian President Vladimir Putin at the Palace of Versailles, hosted the international climate conference in Paris, started various political initiatives targeting the African continent, and has just welcomed Turkish President Recep Tayyip Erdogan to the French capital.
Stefan Seidendorf, deputy director of the Franco-German Institute Ludwigsburg (DFI), describes Macron's foreign policy as one that "strongly alludes to traditional French diplomacy, which is deeply involved globally and considers France an actor affected by and engaged in world affairs." But Seidendorf adds that Macron is conscious that his "power depends on his role as a European."
And yet, Macron at times pursues a course that markedly diverges from that of his European partner, Angela Merkel — for instance, regarding Turkish President Erdogan. Macron has called Ankara an "essential partner," whereas Merkel during her election campaign in September demanded that Turkey's EU accession talks be terminated due to ongoing human rights violations in the country. At present, a visit by Erdogan to Germany would be practically unthinkable.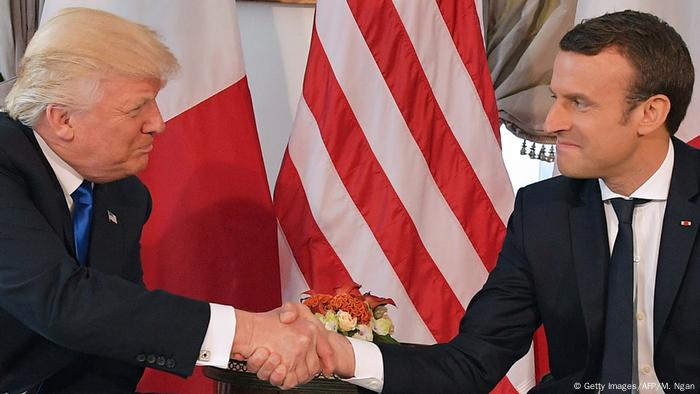 Macron has not been shy about cozying up to some of the world's more controversial leaders
Macron and Merkel have also displayed different styles in dealing with difficult political leaders. While Merkel has remained in dialogue with Trump, Putin and Erdogan, she has always chosen a decidedly rational approach and has made no secrets about political differences.
Macron, in turn, has attempted to impress leaders by putting on a great spectacle, or by getting chummy. A handshake between Macron and Trump, for example, lasted such a long time that it took on almost comical proportions. And later, Macron wittily urged Trump to "make the planet great again" — in allusion to Trump's campaign slogan "Make America Great Again." Trump seemed to take Macron's quip in good humor.
Unilateral European leadership is bad
Not all that long ago, US magazine Time named Merkel "Mrs. Europe." Now, the publication has identified Macron has "Europe's next leader."
The DFI's Seidendorf, however, warns that no single politician or country should assume a leadership role in Europe. "It is dangerous when one country has to take on the sole leadership of the EU, as other countries will be reluctant or refuse to follow this lead, and then national interest-driven politics will supersede European politics," he says. That is why Macron and Merkel should jointly steer European affairs, Seidendorf reasons.
Macron, meanwhile, has stated that he doesn't in fact strive for an exclusive leadership role in Europe but instead wants to reform the EU together with Germany. So far, he is still waiting for feedback on his ideas for change. Macron has suggested an EU finance minister and a eurozone budget, among other things.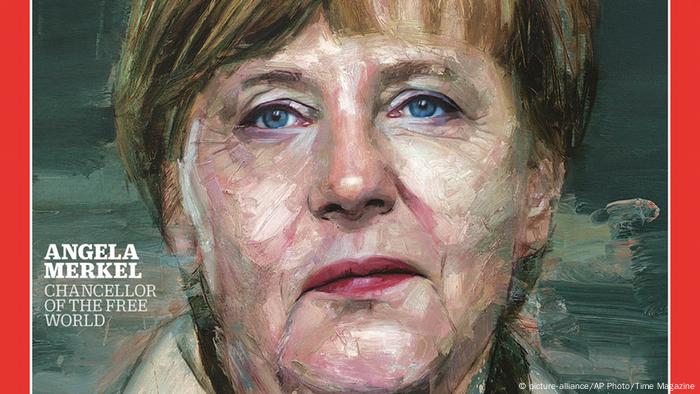 Time dubbed Merkel the 'Chancellor of the free world' — has she lost that title to Macron?
Merkel has remained reserved but signaled she is open to new ideas. Inside her own CDU party and its Bavarian Christian Social Union (CSU) sister party, there is substantial opposition to such reforms, however. Deputy CDU leader Julia Klöckner recently rejected Macron's proposals, saying that "we oppose sharing the debt of other countries. This we owe our taxpayers."
Claire Demesmay, an expert on French politics with the German Council on Foreign Relations (DGAP) asserts that Klöckner's view is one not only shared by the CDU and the liberal Free Democratic Party (FDP), but is in fact "widespread throughout Germany."
There is a feeling that France hopes Germany will help shoulder its debt. Nevertheless, specifics will have to wait until Merkel has finally managed to form a government. Only then can she tackle substantial policy issues with Macron, who for now continues to command center stage.