German Chancellor Angela Merkel said on Tuesday that she would meet with Russian President Vladimir Putin "in the foreseeable future" amid heightened tensions between Moscow and the West over the conflict in Syria.
Following a phone call with Putin, Merkel laid partial blame on Russia for a suspected chemical weapons attack on a rebel-held town earlier this month believed to have been staged by forces loyal to Syrian President Bashar Assad.
Read more: Is it time for Germany to revisit its Russia relationship?
The German chancellor said that "as an ally of Assad," Moscow "has a joint responsibility" in the use of chemical weapons on Syrian soil. Her comments were made during a during a joint press conference with her New Zealand counterpart, Jacinda Ardern.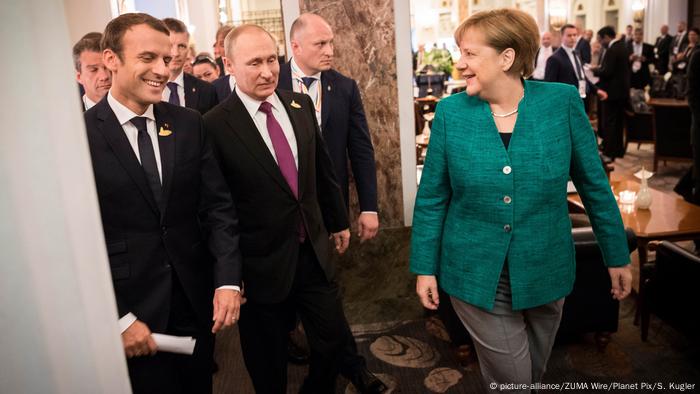 Despite their differences, Merkel and Putin have maintained open communication between Moscow and Berlin
'Substantially damaged' peace
In its statement on the call, the Kremlin did not mention a possible meeting between the political leaders. However, it said that airstrikes launched by the US, France and the UK threatened the Syrian peace process.
"The Russian president stressed once again that the actions by a group of Western countries, which committed an act of aggression against Syria, grossly violated the norms of international law, including the UN Charter, and substantially damaged the peaceful settlement of the Syrian crisis," it said in a statement.
Although Merkel said the German government backed the airstrikes, it refused to participate in the operation.
Read more: Germany's military reluctance rooted in history
From military gains to political gains
Christian Democrat Norbert Röttgen, chairman of the Bundestag foreign relations committee, told DW that Russia "likely doesn't have an interest to permanently get embroiled at the side of Assad and Iran in an unwinnable, endless, ugly war in Syria."
"Russia has achieved military goals and gains, and I think the rational interest of Russia is also to transfer the military gains into political gains. This would be the heart and the topic of a negotiation process."
Read more: Vladimir Putin: How a spy rose to power and held on to it
The Kremlin noted in its statement that Moscow and Berlin will "continue bilateral contacts on the issue" since "both sides expressed willingness to facilitate the resumption of the political and diplomatic efforts on the Syrian dossier."
'Putin's closest negotiating partner'
Having grown up in the former East Germany, Merkel speaks fluent Russian while Putin, a former KGB agent stationed in Dresden, speaks fluent German. Analysts believe Merkel is one of the best-positioned political leaders to mediate talks between Moscow and the West.
"Angela Merkel is not only Putin's closest negotiating partner in Europe but also stipulated the force behind the sanctions on Russia," said Katie Shonk, a research associate at Harvard University, earlier this year.
Read more: Who are Russia's allies in Germany?
"Merkel remains the West's best hope for convincing Putin to end Russian aggression in Ukraine – and abandon any thoughts he may have of launching adventures elsewhere."
Both political leaders also discussed the Ukrainian conflict and the Nord Stream 2 pipeline, which would create further European dependence on Russian energy.
ls/msh (Reuters, AFP, dpa)