Former Chancellor Gerhard Schröder
Though not the only German Russophile, the man who governed Germany from 1998 to 2005 is a particularly prominent and telling example of how politicians can enter Moscow's orbit. Gerhard Schröder and Russian President Vladimir Putin have pursued one of the most conspicuous bromances of the past 20 years of European politics. They've spent Christmas together in Moscow, shared laughs on the beach in Sochi and laid a wreath at the grave of German philosopher Immanuel Kant in Kaliningrad. Putin speaks excellent German — thanks in part to the five years he spent in Dresden as a KGB agent from 1985 to 1990.
Read more: Opinion: Vladimir Putin's diplomatic catastrophe
This friendship is also reflected economically. Immediately after losing the 2005 German election to Angela Merkel, Schröder began working for the Nord Stream consortium, a subsidiary of Russian energy giant Gazprom, which runs a gas pipeline between Russia and Germany in the Baltic Sea. It was the first of many lucrative posts Schröder has held for Russian conglomerates, earning him the title "Putin's most important oligarch" from the Wall Street Journal.
Other former political leaders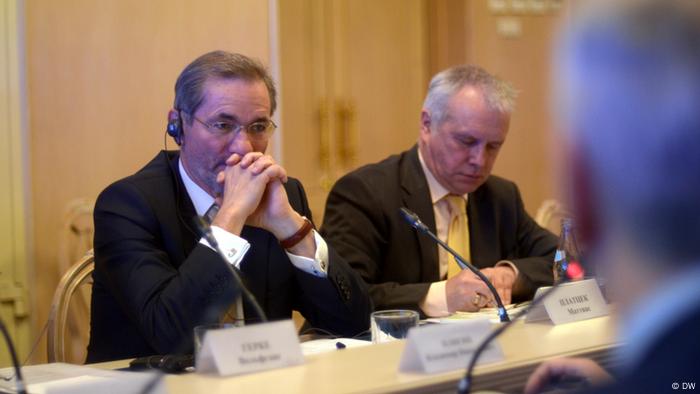 Former politician Matthias Platzeck (left) and former academic Alexander Rahr are two of Russia's allies in Germany
Schröder's career arc is unusual but not unique among political ex-movers and shakers. Former Social Democratic Party (SPD) Chairman and Brandenburg State Premier Matthias Platzeck is a case in point. After health reasons forced him to retire in 2013, Platzeck became the head of the German-Russian Forum. The forum's explicit aim is to improve relations between the two countries — Germany's Bild newspaper has accused Platzeck of doing "paid or unpaid" lobbying work for the Kremlin. The 62-year-old has criticized German sanctions on Russia and on one occasion even said that Russia's annexation of Crimea from Ukraine should be "regulated ex post facto by international law."
Interestingly, one of the first speeches former German Foreign Minister Sigmar Gabriel gave after leaving office in March 2018 was to Platzeck's German-Russian Forum.
The Left Party and the left wing of the SPD
Among political parties, Russia has a reliable ally in the Left Party, the successor to the successor of the old Socialist Unity Party (SED) in Communist East Germany. It regularly defends Russia on issues like sanctions in response to Crimea, the civil war in Syria and the expulsion of Russian diplomats in the wake of the Skripal poisonings. For instance, on March 28, security spokesman Matthias Höhn called for an end to the "paranoia toward Russia" – a typical Left Party statement.
Read more: Germany rules out Russia World Cup boycott over nerve agent attack
The Left Party is part of the opposition, and thus its influence on policy is limited. But members of the left wing of the Social Democrats, the junior partners in the governing coalition, share some of these views. SPD Deputy Parliamentary Leader Rolf Mützenich, for instance, also criticized the expulsion of the Russian diplomats as premature.
By contrast, the Greens are stringent critics of Putin's Russia.
The Alternative for Germany (AfD) Party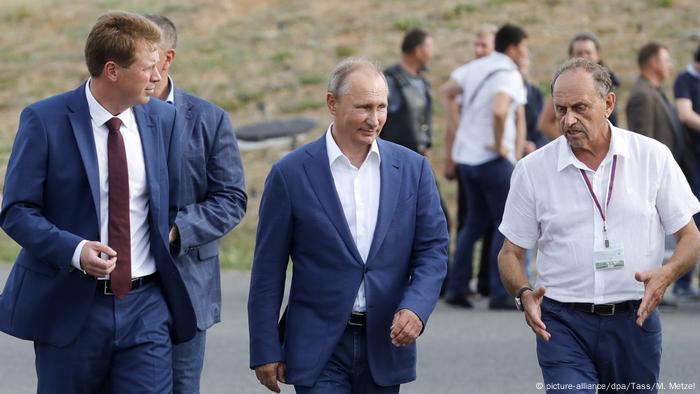 The AfD says that Germany should accept Putin's annexation of Crimea
Angela Merkel's conservatives tend to take a hard line with Russia, but the Kremlin does have its allies among the far-right populist AfD. In February a party delegation visited Crimea and called for an end to sanctions against Russia. Deputy AfD Parliamentary Leader Leif-Erik Holm also called upon the government to bolster its support for the planned second Nord Stream gas pipeline.
In the run-up to Germany's 2017 national election, there were fears that Russia could interfere in the vote on behalf of the AfD, as it is alleged to have done the year before for Donald Trump in the US presidential election. But there has been no evidence of any massive Russian manipulation.
The lobby organizations
Germany traditionally had two powerful groups advocating Russian-German business ties, but the pair merged on March 23, 2018 into a lobbying behemoth with a suitably long name: the "Eastern Committee – Eastern European Association of the German Economy."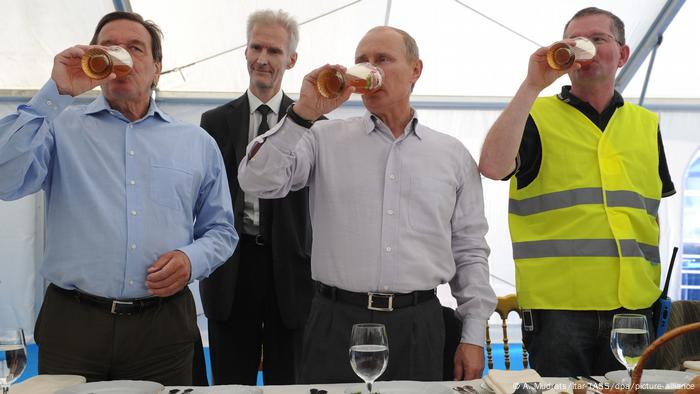 Their mutual interest in the Nord Stream pipeline has only deepened Schröder and Putin's friendship
Germany and Russia do some €41 billion ($50 billion) in business with one another, and trade between the two countries rose by nearly a quarter in 2017. The East Committee, which encompasses more than 400 German companies and five major business associations, boasts that Eastern Europe is a more important export market for Germany than either the US or China.
Read more: European politicians got millions to lobby for pro-Russian government in Ukraine
Other important economic lobby groups are the German-Russian Chamber of Foreign Trade (AHK) and the German-Russian Forum.
Russia experts turned Russia mouthpieces?
Last but not least, there are prominent journalists and academics who have been accused of abandoning their objectivity to act as advocates for Putin's Russia.
Gabriele Krone-Schmalz, for example, went from heading German public TV station ARD's Moscow bureau to authoring books with titles like "Understanding Russia: The Battle for Ukraine and the Arrogance of the West." There she argued that Russia's military intervention in Crimea was defensive in nature.
Meanwhile academic Alexander Rahr left the Berlin think-tank German Council on Foreign Relations to become a paid lobbyist for the oil and gas company Wintershall, a BASF subsidiary connected with Gazprom. Since 2015 he has been a Gazprom consultant for EU matters in Brussels.