Germany is one of the world's leading industrialized nations, a firmly established NATO member and closely aligned with other Western democracies. Militarily, however, the most economically powerful country in the European Union is comparatively conservative. Currently, some 4,000 German soldiers are involved in 19 foreign deployments — from Afghanistan to Mali.
Read more: German army instills new traditions to move away from troubled history
Yet they are rarely on the front lines. German soldiers man reconnaissance planes (as in the fight against the "Islamic State" militant group in Syria and Iraq) and train allied military groups (such as the Kurds in northern Iraq). Politicians in Berlin repeatedly concede that the country's allies expect more of Germany militarily. Nevertheless, those leaders are extremely unwilling to shift away from the military reluctance that Germany has traditionally exhibited since the end of the Second World War.
Historic guilt
Of course there are historical reasons for that reluctance. Following the foundation of West Germany in the wake of World War II and Nazism, the country's new military, the Bundeswehr, was created in 1955. Germany became a member of NATO at that time as well. For decades, German soldiers in the allied West were strictly concentrated on defending the country.
NATO member Germany got involved in the war in Afghanistan after the 9/11 attacks
Politically, a divided Germany was at the center of the Cold War and in the 1970s, under Social Democratic (SPD) Chancellor Willy Brandt, it took the initiative to change that fact: By engaging in a policy of detente with the Soviet Union, establishing channels of communication and using treaties rather than weapons.
Read more: How does Germany contribute to NATO?
Germany's special relationship with Russia stems from that time. To this day, Russia, which lost 6.2 million citizens fighting Nazi Germany — the most of any of the belligerents in WWII — still has a special place in the minds of most Germans. That is also why voices could still be heard calling for rapprochement with President Vladimir Putin after Russia annexed Crimea in 2014, although Germany also supported sanctions against the Kremlin. Germany's former Foreign Minister Sigmar Gabriel even called for a loosening of sanctions shortly before leaving office in March of this year.
Controversial foreign deployments
When a reunified Germany began participating in foreign deployments after 1990 it sparked national debate. More than any other, the controversial decision to send soldiers to Kosovo in 1999 caused an uproar. It was the first time that Bundeswehr soldiers had been in combat, and the murky legal manner in which the decision was made troubled many. The subsequent deployment of German soldiers to Afghanistan after the September 11, 2001, attacks in the United States has come to define the Bundeswehr's international engagement for almost two decades.
Read more: Bundeswehr in Afghanistan: What you need to know
As with all foreign deployments, Afghanistan, too, was and remains extremely unpopular among German citizens. Thus the government has repeatedly been forced to seek parliamentary approval for the smallest of military missions — the Bundeswehr is, by definition, a parliamentary army.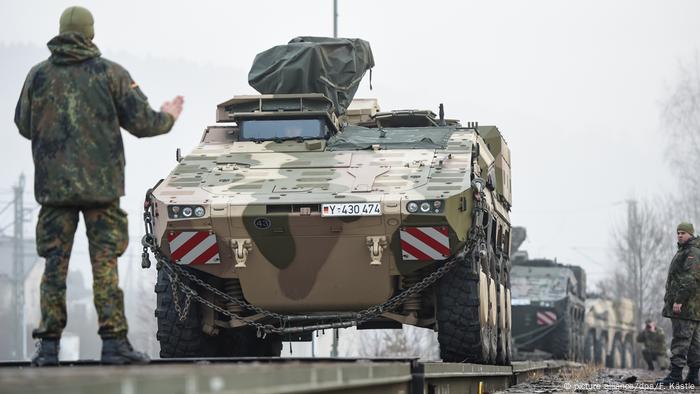 Some 500 Bundeswehr soldiers were deployed to NATO's eastern flank after Russia annexed Crimea in 2014
SPD foreign policy expert Rolf Mützenich recently explained the limitations put on the Bundeswehr when it comes to foreign deployments. "Germany can only do its part with a mandate from the United Nations Security Council and with parliamentary approval," he said. Regarding Syria, neither is within sight.
No to the Iraq War
Fears tend to be greatest in Germany when the US gets active militarily. In 2002, then-Chancellor Gerhard Schröder of the SPD won a surprising re-election victory despite the fact that his party's coalition with the Greens was hopelessly unpopular among voters. The reason: Schröder clearly stated that he would not allow German soldiers to participate in then-US President George W. Bush's invasion of Iraq. That stance struck a chord with German voters.
Read more: Germany's lack of military readiness 'dramatic,' says Bundeswehr commissioner
The leader of the opposition conservative Christian Democratic Union (CDU) at the time happened to be Angela Merkel. She had actively called for German support for the American military operation, a position that proved unpopular with the country's electorate. The politically astute chancellor seems unlikely to make that mistake again.
Almost all of Germany's political parties have foreign policy and security experts who call for more military engagement. They argue it is the only way Germany can truly play a role in solving the world's problems. Nevertheless, they tend to be in the minority with such views. A recent survey shows that roughly 60 percent of Germans are against foreign deployments of the Bundeswehr.