The German military will work to build up security forces loyal to Baghdad by advising Iraq's defense ministry and providing its troops with training, German Defense Minister Ursula von der Leyen told lawmakers on Thursday.
The parliament in Berlin is discussing the continuation of Germany's major military missions, including Iraq and Afghanistan. With the support of the ruling coalition, Germany's Bundeswehr is virtually guaranteed to continue its deployment in both countries.
German training for all
During her speech, von der Leyen announced major changes to Germany's training program for the Kurdish Peshmerga fighters. Instead of training Kurdish forces in northern Iraq to fight the "Islamic State," (IS) German soldiers will expand the training program to the entire country, with focus on Baghdad. Also, instead of providing basic combat training, Bundeswehr is set to teach its local allies skills like sweeping mines, field medicine, and defense against biological and chemical weapons. They would also help with setting up military schools and training military trainers.
"So, in future, we will stand on two feet in Iraq, with one of them in [Kurdish-populated] Irbil, the other close to Baghdad," the minister said.
Read more: Germany's Ursula von der Leyen calls to extend Bundeswehr missions abroad
Pullout would be 'wrong signal'
Germany had been supplying Kurdish forces in Iraq with weapons, including 24,000 assault rifles and around 1,200 anti-tank missiles, for their fight against IS. The deliveries ended with the IS' defeat last summer, according to von der Leyen.
"We will be delivering exclusively non-lethal material to Iraq," such as medical supplies or mine-sweeping equipment, she told lawmakers.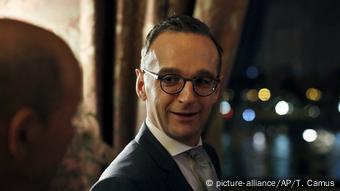 Maas warned against 'letting up' Germany's efforts in Iraq
Germany's new Foreign Minister Heiko Maas also urged MPs to protect the hard-won progress on Iraqi security.
German troops need to preserve "our fragile success," he said. "A premature end to our efforts would be precisely the wrong signal at this point."
While the pullout from Iraq is still a long way off, the government intends to reduce the maximum number of its soldiers in Iraq from 1,200 to 800, according to officials.
Be 'patient' with Afghanistan
At the same time, Berlin will raise the maximum number of soldiers in Afghanistan from 980 to 1,300, taking into account the worsening security situation in the country.
Read more: Germany's long, hard slog in Afghanistan
Addressing lawmakers, von der Leyen asked German lawmakers to be "patient" when it comes to ending the Afghanistan mission.
She stressed that German forces would be in the country "of course, not indefinitely, but surely for a while longer." "After 17 years, it still holds true that a stable Afghanistan is in our own security interest."
Parliament is expected to vote on expanding the mandate next week.
dj/ng (dpa, AFP, Reuters)