A majority of Germans approve of imposing a maximum speed limit on the country's autobahns, a survey published at the weekend indicated.
Fifty-two percent of those polled agreed that speeds of between 120 and 140 kilometers per hour (kph) (75 to 87 miles per hour) would be appropriate to help tackle climate change, according to the Emnid Institute survey, published by the Bild am Sonntag newspaper. Forty-six percent opposed such limits.
That stance by albeit a narrow majority of Germans contrasts with Transport Minister Andreas Scheuer's viewpoint; he remains opposed to any speed limits as they are "against all common sense."
Read more: EU strikes deal to slash emissions for new cars
Rejecting safety concerns, Scheuer, a conservative from the southern state of Bavaria — the home of carmakers BMW and Audi — insisted that "German autobahns are the safest roads in the world."
Freedom more important
"The principle of freedom has proven itself," Scheuer told the newspaper. "Whoever wants to drive at 120 (kilometers per hour) can drive at 120. Whoever wants to drive faster is allowed to do that too."
<div class="opinary-widget-embed" data-poll="do-you-think-about-speed-limits-on-motor" data-customer="deutschewelleeng"></div> <script async type="text/javascript" src="//widgets.opinary.com/embed.js"></script>
The term "Freie Fahrt für freie Bürger" (Unrestricted driving for free citizens) has been a catchphrase since the 1970s that has allowed Germans to traverse much of the country's freeway network at any speed.
Around 30 percent of German highways, some 7,640 kilometers (4,747 miles), already have speed limits, according to Scheuer.
Read more: Naked cyclist caught by speed camera in Germany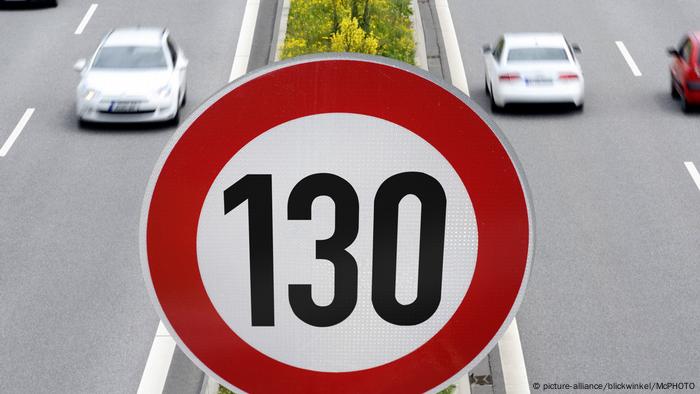 The government is lukewarm on proposals to follow other EU countries and limit speeds on the autobahn
The concept is, of course, strongly endorsed by the nation's powerful auto industry, which has a reputation for building some of the world's most powerful cars.
Most German manufacturers, however, do limit the top speeds of most of their cars to 250 kph.
Leak hints at 130 kph limit
The debate was reignited on Friday when proposals from a government-appointed committee, due to report on the future of mobility in Germany in March, were leaked to the media.
The plans include the possibility of a 130 kph autobahn speed limit, as well as a fuel tax hike, an end to tax breaks for diesel cars, and electric and hybrid vehicle quotas.
The committee's findings will be incorporated into a climate change law the government wants to enact this year.
Read more: Record traffic jams slow down German autobahns
Ministers are torn between the need to protect Germany's vital car industry, especially in light of the Dieselgate emissions-cheating scandal, and the need to cut greenhouse gases to meet EU and domestic climate goals.
Transport emissions, which have not fallen since 1990, are a particular target for reductions.
Scheuer, however, told the paper that new speed limits would lower Germany's carbon dioxide emission level by less than 0.5 percent.
Following Friday's leak, the Ministry of Transport pointed out that the report represented "initial brainstorming" and that none of the measures had been "discussed, agreed to, or passed."
mm/rc (DPA, Reuters)
Each evening at 1830 UTC, DW's editors send out a selection of the day's hard news and quality feature journalism. You can sign up to receive it directly here.