When French President Emmanuel Macron spoke in Germany's parliament on Sunday, he said the European Union had come to a crossroads, and that greater European sovereignty was needed. German Chancellor Angela Merkel concurred. "That is exactly how I perceive it," she said, adding that now was the time to deliver results. Indeed, concrete steps are planned for the upcoming EU summit in mid-December. But upon closer inspection, it is clear that Berlin and Paris have rather different ideas of what the future of the bloc should look like, and that some of these ideas are still rather nebulous.
A proposed eurozone budget
In a number of speeches, Macron has suggested establishing a sizable eurozone budget, equivalent to several percent of the bloc's overall economic output. The idea is that this money could help balance out differences between national economies and prevent future financial crises. A joint proposal published by the French and German finance minsters regarding the eurozone budget has shied away from giving exact figures, but it can be safely assumed that the budget, if it is agreed, will not be as large as envisioned by Macron. French Finance Minister Bruno Le Maire, for instance, recently suggested a sum of €20 to 25 billion ($22.7 to $28.4 billion), which is equivalent to 0.2 percent of overall eurozone GDP.
Reservations
Germany, however, has reservations about the budget. They stem from concerns that German taxpayer money could be redistributed to weaker EU states without the ability to demand economic reforms in return. Wolfgang Steiger, general secretary of the conservative Christian Democratic Union's Economic Council, warned that "in light of the ongoing dispute with Italy over its budget, Franco-German proposals for a eurozone budget are inappropriate at this time."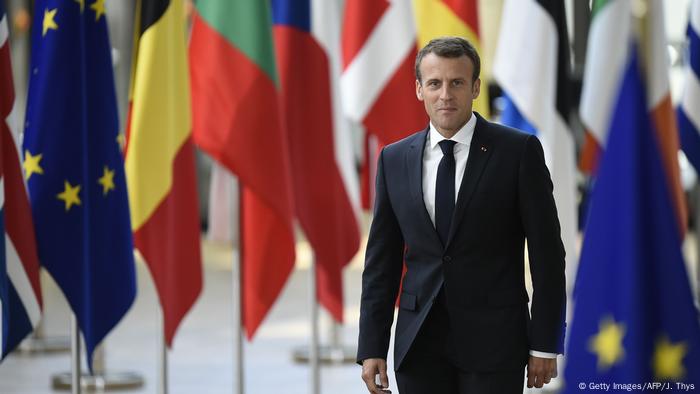 Macron has run into opposition to his eurozone budget proposal in Brussels
He stressed that EU states should carry responsibility for their own economic affairs and that competitiveness is key. While Franco-German plans have underscored that funds would only be granted to EU states that keep a balanced budget, this will hardly allay critics' concerns.
Read more: Italy's economic plight, and why it matters
Economist Matthias Kullas of the Centre for European Policy in Freiburg is also skeptical of the proposed budget, arguing that "the stability of the eurozone can be best achieved by EU states balancing their national budgets and implementing necessary structural reforms." Kullas added that what is needed is not money, but rather national governments accepting that changes are necessary.
Other EU member states, too, have expressed reservations about the planned budget. Dutch Finance Minister Wopke Hoekstra complained that many questions still remain open and warned that his country would not support the proposal unless it served the country's or taxpayers' interests. And Italian Interior Minister Matteo Salvini made clear that "we will not back it if it harms Italy," even though Italy could potentially benefit from eurozone funds.
The nitty-gritty
For a long time, Germany rejected the idea that only eurozone states should participate in the budget. Now, it seems, Germany has given in to this French demand. In turn, Merkel's demand that the budget should not constitute an additional fund but be integrated into the overall EU budget has now been heeded.
The Franco-German proposal envisions that the budget should be introduced in 2021 and be financed through specific contributions from eurozone states — provided all EU member states support the plan, that is. German critics, from the conservative political spectrum in particular, have repeatedly bemoaned that the bloc already has enough funds for investments in the EU, and the European Court of Auditors has pointed out that several billion euros worth of EU investment funds have not actually been utilized.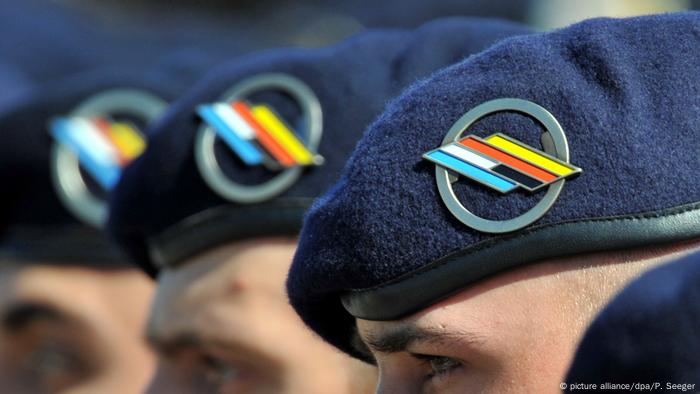 Merkel has backed Macron's European army, but as a long-term project
Plans for a European army
Merkel has also publicly backed Macron's suggestion to create a "true European army." The French leader had previously taken flak for his suggestion from US President Donald Trump, who said it undermined NATO. While Merkel has endorsed the idea, she has also called it a "long-term" vision, implying it would not be realized during her remaining tenure as German chancellor.
Read more: Europe should keep its defense within NATO, says Stoltenberg
The idea to create a European army has been around since the 1950s. It resurfaced as a result of Britain's decisions to leave the EU, and Trump's unilateral policymaking, which casts doubt on the dependability of Washington's role in NATO. Critics have, however, noted that a prospective European army would create significant military costs in addition to NATO. Military experts have also highlighted significant differences in how France and Germany exercise control over their armed forces: while the French president holds supreme authority over his army, only Germany's parliament can dispatch German troops. Critics say Germany would need to reform or scrap this parliamentary prerogative for a European army to function.
Taxing tech companies
There is disagreement between France and Germany over a possible new tax to be levied on big tech companies such as Amazon and Apple operating in the EU. This dispute may be somewhat surprising, as many EU citizens welcome the proposal. France has accused Germany of dragging its feet on the new tax. But Germany's Greens, Left Party and parts of the center-left Social Democratic Party (SPD) certainly welcome the idea. German Finance Minister Olaf Scholz of the SPD, meanwhile, opposes the proposal and intends to reach a deal with all 36 OECD member states by mid-2022 instead. Critics say Scholz is using this as a pretext to indefinitely postpone concrete negotiations over the tax.
The German government and German businesses fear that a new levy on US companies in Europe could provoke a US retaliation, manifested for instance in a heavy taxation of German car manufactures. Ireland, too, opposes a tech tax, as US companies such as Google have their European headquarters in Dublin.
The idea is for the proposed tech tax to generate extra funds for the planned eurozone budget, thereby reducing the financial burden on EU member states. But skeptics say the tech tax could end up just like the equally popular financial transaction tax. Although many governments supported the tax, broad opposition to the financial transaction tax has meant the idea has largely vanished from the political agenda.