Germany's executive coalition showed strains on Wednesday as politicians from the governing parties voiced opposing opinions on a possible German military mission in Syria.
Standing before German lawmakers in the Bundestag on a day earmarked for budget debate, German Defense Minister Ursula von der Leyen, a member of Chancellor Angela Merkel's Christian Democratic Union (CDU), began her speech by highlighting the past repeated use of chemical weapons by Syrian President Bashar Assad. In April, US, UK and French forces retaliated with airstrikes.
Along with diplomacy, von der Leyen said, "credible deterrence" is also needed to prevent the future use of chemical weapons.
Germany "cannot continue to act as if this doesn't affect us," von der Leyen went on, adding that as part of the international community, the country "must be prepared, because we do not know what concrete situation we will face."
Read more: Syria's Idlib: UN warns of chemical weapons, jihadis and humanitarian catastrophe
The defense minister comments came days after the mass-circulation Bild newspaper published a report that the Defense Ministry was in talks with the US, UK and France to join possible airstrikes in Syria in case of a chemical attack.
The report unleashed a flurry of political and public opinions, which often occurs in cases of potential German combat participation due to historically rooted reluctance against sending the country's troops into combat.
Read more: German army shows off ailing NATO helicopter
Showdown between the CDU and the SPD
The CDU backs taking part in a future Syria mission, should chemical weapons be used once again. Von der Leyen's words echoed those of Merkel, who had said earlier in her parliamentary speech that "to simply say we can look away if somewhere chemical weapons are being used and international conventions are not kept, that can't be the answer."
The defense minister's statement were a sharp rebuke of the CDU's junior governing partner, the Social Democrats (SPD), whose key members have voiced strong opposition to any potential Germany military involvement in Syria.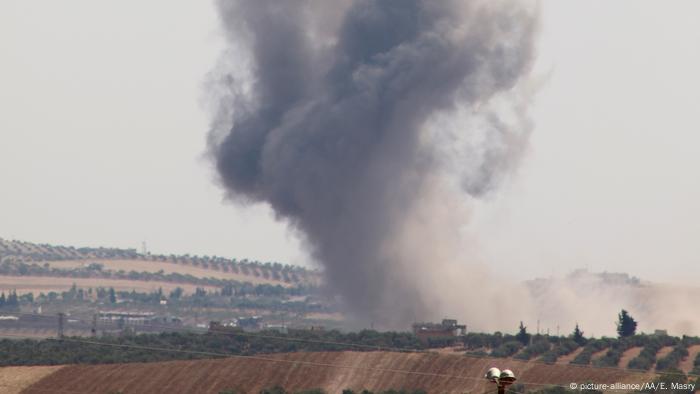 Syrian government forces have been closing in on Idlib, a rebel-held province, in recent days, including through the use of airstrikes
In her speech to German lawmakers on Wednesday, SPD head Andrea Nahles categorically ruled out any German participation in a Syria mission unless the action were to receive UN authorization.
"Only the Security Council or the UN General Assembly can empower the international community to take military action," Nahles said. "As long as this does not happen, we Social Democrats cannot vote for any intervention by force in Syria."
Read more: Syria airstrikes violated international law: German parliamentary report
But fellow SPD politician and foreign minister, Heiko Maas, took a more open stance. He stated that his current focus was making sure Germany would never be forced to decide whether or not to send troops to Syria after a gas attack. However, he added that he would do everything "to prevent the use of chemical weapons in Syria."
The Defense Ministry quashed rumors of a preventive strike against the Syrian regime and said that military intervention would only occur if chemical weapons were to be used.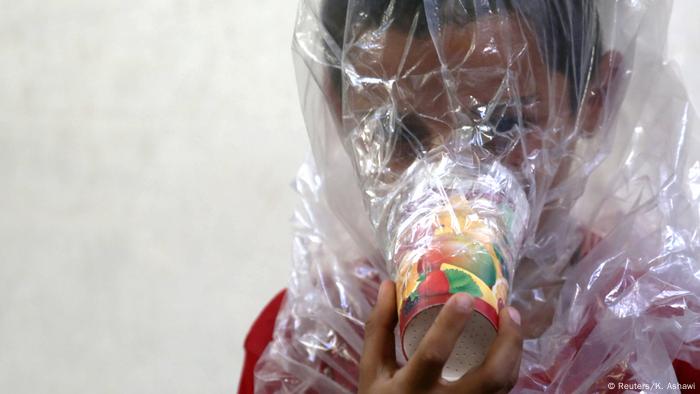 A young Syrian in Idlib holds up an improvised gas mask. Many fear that chemical weapons could be used against civilians in the rebel-held region.
Opposition parties against Syria mission
In addition to highlighting the gap between the co-governing SPD and CDU parties, Wednesday's parliamentary statements also reflected wider political opposition to German participation in a Syria mission.
Green party defense expert Tobias Lindner said that instead of discussing retaliation methods, the government should do everything it can to prevent the use of chemical weapons in Syria.
Armin-Paul Hampel, the spokesperson for foreign affairs from the Alternative for Germany (AfD), said German participation in a mission in Syria would be a breach of the constitution, and questioned whether the Assad regime had in fact previously used chemical weapons, as is widely believed to be the case.
Left party politician Gesine Lötzsch said that Germany would be making itself a "submissive partner" of US President Donald Trump if it were to join a combat mission in Syria.
A parliamentary vote would be needed to send German troops to Syria.
cmb/rc (AFD, AP)