Global leaders are converging on Germany this week for the 2018 Munich Security Conference at a time when the declining US influence in international politics continues to play out under President Donald Trump.
China, meanwhile, has increasingly been defined by a growing presence on the world stage, from the fight against climate change to global trade rules. The country's rise to the position of a superpower may not be a new phenomenon, but the past year has seen its status cemented.
Read more: Are China and Russia challenging US military dominance?
In a speech described by risk consultancy Eurasia Group as "the most geopolitically noteworthy event since Mikhail Gorbachev formally dissolved the Soviet Union," Chinese leader Xi Jinping pronounced Beijing's newfound status during China's 19th Party Congress in October.
"With decades of hard work, socialism with Chinese characteristics has crossed the threshold into a new era," Xi said. "It will be an era that sees China moving closer to the center stage and making greater contributions to mankind."
'World leader, at all costs'
In the 1990s, under the late Chinese leader Deng Xiaoping, Beijing implemented a foreign policy that leaned toward slogans such as "hide our capacities and bide our time," which meant "maintaining a low profile" to focus on developing the country, according to the party-owned Global Times newspaper.
But Chinese historian Zhang Lifan told DW that such a strategy "is no longer suitable for China's status of quo."
"The current situation is China wants to be a world leader, at all costs," Zhang told DW. "The United States is now employing the 'America First' policy. China and Xi Jinping want to seize this opportunity to become the leader of globalization."
Read more: How Trump's unreliability is pushing EU and China closer together
In many ways, China's leadership role over the past year has been shaped by US foreign policy objectives under Trump. This has also seen China strengthening its position on strategic areas that will continue to drive international relations, including climate change, Arctic security, cyberspace, international trade and space exploration.
China "seems to be the rational actor that's fighting climate change, that is keeping markets open, that is continuing to praise the merits of globalization, which are undeniable," Jan Gaspers, head of the European China Policy Unit at the Berlin-based Mercator Institute for China Studies (MERICS), told DW. "Of course, most of that is just rhetoric and they're not living up to what they're saying."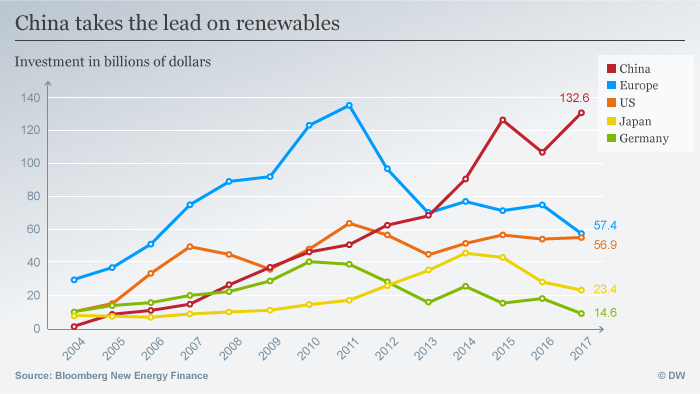 Europe's lifeline?
For Europe, Beijing has tacitly started to fulfill a role that its traditional ally, the US, has seemingly cast aside under an "America First" doctrine. The Chinese government understands that by partnering with the EU, it can increase its legitimacy in the eyes of global stakeholders and ensure its influence in any shake-up of international leadership roles.
"China and the European Union are global powers: We have a joint responsibility to work together toward a more cooperative, rules-based global order," Federica Mogherini, the EU's top diplomat, said as she wrapped up an official visit to Beijing last year.
China is not seeking to undermine any kind of rules-based relationship in the near-term, and neither is Europe, especially as it redefines its position. But an increasingly relevant question is how the EU will position itself in what appears to "be a more conflicting relationship between the US and China."
"It will be interesting how Europe will navigate those difficult waters, especially given that Europe itself is not actually united … and then there are growing differences between the EU and US on climate change, open markets and global trade," Gaspers said.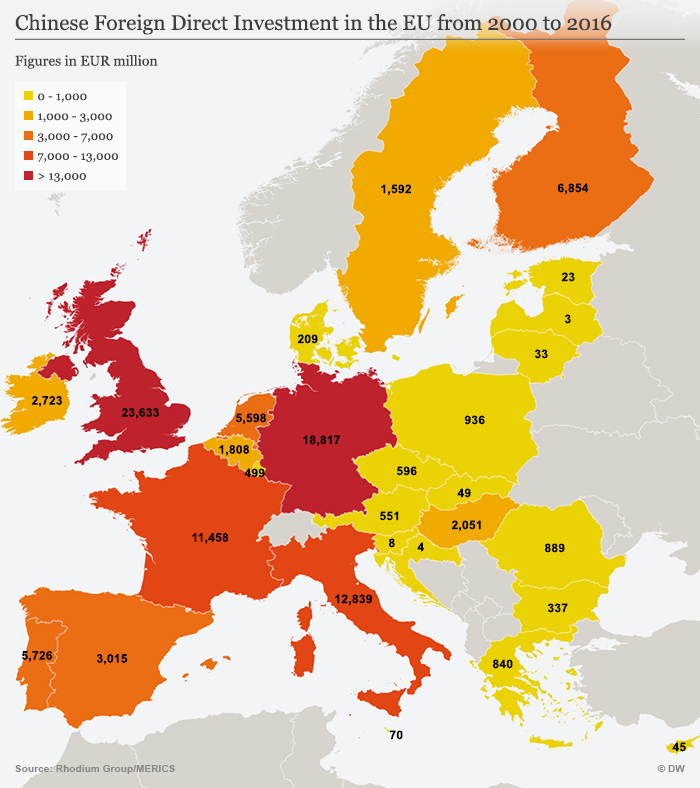 China's 'better alternative'
Besides the benefits of the EU being China's largest trading partner, Beijing's rise has also had an adverse affect in Europe. China's strong leadership has found support within the EU from the likes of Hungarian Prime Minister Viktor Orban and Czech President Milos Zeman.
China has become much more confident in presenting its economic and political model as a "better alternative" to liberal democracy, Gaspers told DW, noting that China's influence had extended beyond Europe's political periphery.
Read more: Is the Czech Republic moving closer to China?
A report published by MERICS last year showed China "creating layers of active support for Chinese interests" by "fostering solid networks among European politicians, business, media, think tanks and universities," including in Brussels, the heart of European politics.
"China's rapidly increasing political influencing efforts in Europe and the self-confident promotion of its authoritarian ideals pose a significant challenge to liberal democracy as well as Europe's values and interests," the report said.
While the merits of a deep economic relationship will continue to push the China-EU relationship forward, serious concerns as to how this could develop at the political level, both domestically and globally, will impact the EU's liberal aspirations and China's ambitions to become a world leader.
Ju Juan of DW's Chinese service contributed to this report.