DW: You note in the IISS 2018 Military Balance report that China has been investing heavily in its air force. Is Beijing now on par with Washington in terms of air dominance?
Bastian Giegerich: China is not yet on par with the United States but it's catching up. And in some selected areas, our assessment is indeed that China is doing more than just catching up. There are a couple of examples to illustrate that: For instance, we assess that China will add an extended-range air-to-air missile to its inventory this year, and we expect its stealth fighter jet, the J-20, to enter front-line service by 2020. And those are indeed advanced capabilities that challenge air superiority for the United States: At the very least, they will have the effect that the air domain will become a very contested domain again. Operational assumptions over the past two decades for the US, and I would say Western militaries in general, have been that the West and the US own the air domain and can operate in it with great freedom. I think those days now are over.
Your report also notes that China is investing heavily in its navy. What's the goal in that?
In the last four years, China has built vessels with a total tonnage that is greater than the total tonnage of the French Navy and is roughly equivalent to the total tonnage of the British Royal Navy. So, clearly the goal for China here is to further develop its blue-water capabilities. In other words, the ability to project force at extended range across the seas.
And the other element which is important to this is that China has opened its first overseas base in Djibouti, which will enable more naval deployments because it will be a base that will help to sustain deployed vessels over time and thereby further contribute to China's ability to expand power across the oceans.
In Russia, the story seems to be very different. Is Moscow having difficulties when it comes to modernizing its military forces?
Russia has felt that economic difficulties ... pose limits to its ability to fund its ambitious defense modernization program. So, in our assessment, that defense modernization program has slowed down a little bit.
The important difference is, however, not just in terms of the ability to spend but the ability to operate and practice. Unlike China, Russia has used, and continues to use, its armed forces in conflicts — in Syria and also with a view to eastern Ukraine. So Russia has gathered a lot of experience using new equipment, using new technologies, putting its personnel through different rotations on operations. It has an advantage there. And China has not yet done that.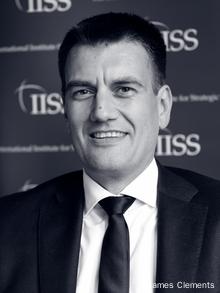 Giegerich and his team compiled the 2018 Military Balance report
Under President Donald Trump the US has been urging its European allies to invest more in the military. And this year's report notes a dramatic increase in European military spending 2017. Do you think this is due to the pressure from Washington?
I think more than anything else it is driven by a recognition in Europe that the world is a dangerous place, that threat perceptions have changed. I would say that is mostly driven by Russia's more assertive foreign policy behavior, and of course the conflict in Ukraine. American pressure has certainly played a role as well, but it would be wrong to say the spending increases in Europe are a Trump effect — they actually started before Trump took office.
The gloomiest part of your analysis might be the possibility of a great-power conflict. China, Russia and the US are modernizing their nuclear arsenals. Are we returning to the beginning of the 1980s?
I don't think that's quite accurate. But I think what we are seeing is a situation where the possibility of a great-power conflict is now probably higher than it was at any point in the past 20 years. That does not mean that a great-power conflict or a great-power military conflict is inevitable ... but it is more likely. And part of it is a result of Russia and China challenging the global predominance of the United States and systematically preparing for the possibility of conflict. Nuclear weapons of course are the ultimate deterrence, so to speak. And we've looked at the nuclear modernization programs of the three big powers — China, Russia and the US — and all of them are in the process of modernizing their nuclear forces.
Bastian Giegerich is the director of defense and military analysis at the International Institute for Strategic Studies (IISS). He leads the team that publishes the annual Military Balance report.