Chinese leader Xi inspected his country's troops Sunday at the Zhurihe training base, in China's Inner Mongolia region. The event was broadcast live on China's state television.
Xi, dressed in military fatigues and speaking from an open-top jeep, told troops that China needed a strong army so that it could defeat "all invading enemies."
"Today we are closer than ever before to the goal of the great rejuvenation of the Chinese nation, and - more than any other time in history - we need to build a strong people's military."
Read: China's huge Liaoning aircraft carrier sails into Hong Kong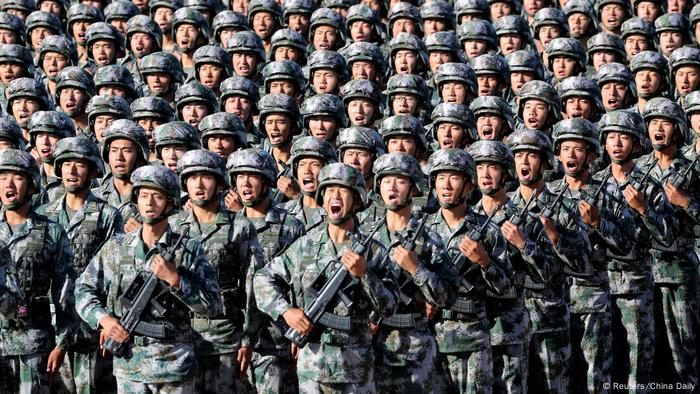 'Serve the people!', 'Follow the Party!', 'Fight to win!'
Since coming to power in 2012, Xi has increased control of the ruling Communist Party over the People's Liberation Army (PLA), which has the world's largest standing military.
"The world is not all at peace. Peace must be safeguarded," Xi said. The troops shouted back: "Serve the people!", "Follow the Party!", "Fight to win!" and "Forge exemplary conduct!"
The Chinese president also ordered the PLA to "unswervingly stick to… the Party's absolute leadership," adding the military should "march to wherever the Party is pointing."
Xi's government has ordered the modernization of the PLA in an attempt to make it a leaner force capable of operating far from Chinese territory.
Read: Djibouti military base 'a manifestation of China's global interests'
The PLA, originally called the Chinese Workers' and Peasants' Red Army, was founded in 1927.
shs/rc (AP, AFP, Reuters)