The US Defense Department on Friday unveiled a new "national defense strategy" that portrays China and Russia as the largest threats to US interests, saying the country's armed forces must increase combat readiness.
"It is increasingly clear that China and Russia want to shape a world consistent with their authoritarian model – gaining veto authority over other nations' economic, diplomatic and security decisions," said an 11-page unclassified version released on Friday.
Read more: Europe survives Donald Trump's first year in office
The new strategy represents a "fundamental shift" in US defense policy, which has largely focused on countering terror groups in the Middle East since the September 11, 2001 attacks claimed by al-Qaida leader Osama bin Laden.
'Urgent change'
At a speech unveiling the strategy, US Defense Secretary James Mattis said the US faces "growing threats from revisionist powers as different as China and Russia." The new strategy establishes the need for "urgent change" in the armed forces, which will allow it to "restore warfighting readiness" Mattis claimed it has lost.
Read more: Is NATO doing enough to pressure Russia over Ukraine?
"China is a strategic competitor using predatory economics to intimidate its neighbors while militarizing features in the South China Sea … Russia has violated the borders of nearby nations," Mattis said.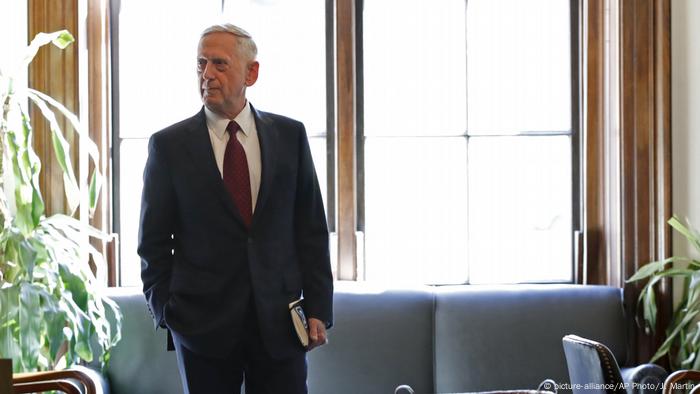 Defense Secretary James Mattis has called for dropping caps on defense spending, saying it's held back the US military's development
"We will continue to prosecute the campaign against terrorists, but great power competition – not terrorism – is now the primary focus of US national security," Mattis added.
The new defense strategy is expected to serve as a complement to US President Donald Trump's security strategy unveiled in December, which also pointed to China and Russia as the US's main military competitors.
'Cold War mentality'
Reacting to the defense strategy, China described it as a shift to "Cold War mentality," while Russian authorities described it as having an "imperialist character."
Read more: 'The Chinese Dream': Xi Jinping's power politics in 2017
In 2016, China announced a major overhaul of the People's Liberation Army (PLA) aimed at modernizing its military technology. During the PLA's 90th anniversary in July, Chinese President Xi Jinping said China needed a strong enough army to defeat "all invading enemies."
The strategy also pointed to Russia's increasingly aggressive maneuvers in Ukraine and Syria as a factor in labeling it one of the US's top military competitors.
ls/kms (Reuters, AFP, AP)