China on Friday published its first official policy paper outlining its strategy for the Arctic region, saying it plans to develop trade routes in the region and will expand its ambitious "Belt and Road" initiative to include a "Polar Silk Road."
The depletion of ice in the Arctic Circle, largely believed by scientists to be a consequence of climate change, has prompted a race to develop the region, with members of the Arctic Council staking competing claims for large portions of the area.
Read more: China's new Silk Road: A lucrative opportunity for Germany?
However, China is a non-Arctic Circle state. Instead, it enjoys observer status in the Arctic Council, whose core members include Denmark, Sweden, Norway, Iceland, Finland, Russia and the US.
According to a report published in the state-run China Daily newspaper, shipping across the Northern Sea Route would save roughly 20 days from Shanghai to Rotterdam compared to the traditional route, which passes through the Suez Canal.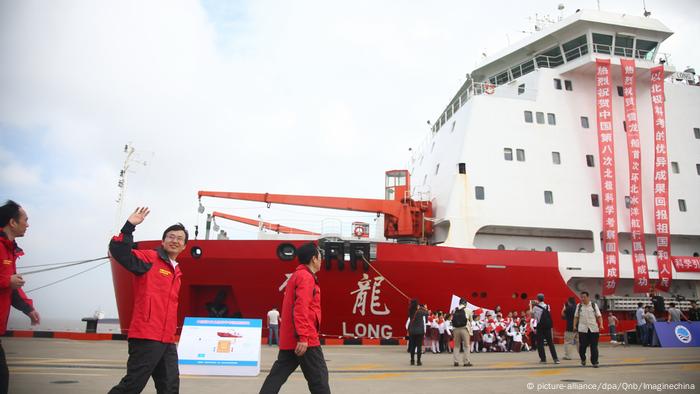 China has only one icebreaker, dubbed the "Xuelong" or Snow Dragon. In October, it returned from an 83-day research expedition to the Arctic.
Misgivings 'absolutely unnecessary'
While China's ambitions in the Arctic have been welcomed by its strategic partners, such as Russia, Western countries have viewed its increasing involvement in the polar region with skepticism, fearing it may have military objectives.
However, Chinese Deputy Foreign Minister Kong Xuanyou on Friday dismissed concerns that China "may plunder resources or damage the environment," saying they are "absolute unnecessary."
Read more: 'New Silk Road' and China's hegemonic ambitions
The Washington-based Arctic Institute, a polar security think tank, said that while China's interest in the Arctic was concerned with "shipping shortcuts" and "investment opportunities," it was unlikely to extend to defense interests.
It is "doubtful at this stage that the Arctic figures heavily into the country's plans for military or naval expansion, but China, like other countries, is probably keeping an eye on how the world's military powers react to the retreat of Arctic sea ice," said the Arctic Institute.
ls/rc (Reuters, AP)