China's 19th Communist Party Congress opened in Beijing on Wednesday with a speech from President Xi Jinping who called on the party to "resolutely oppose" any actions that "undermine" it.
Thousands of delegates applauded as Xi entered the packed Great Hall of the People, followed by his two predecessors Hu Jintao and Jiang Zemin.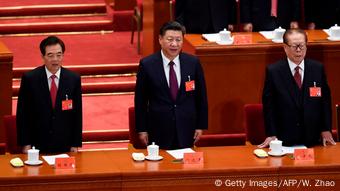 Xi entered the congress alongside former presidents Jiang Zemin (R) and Hu Jintao (L)
Read more: China's Communist Party congress - Xi Jinping seeks to cement his power
Xi's lengthy, carefully formulated speech highlighted the party's achievements during Xi's first term, including the "strengthening and revitalizing of the armed forces" as well as China's role as a "torch bearer" in the fight against climate change.
Reforms for the world's second-largest economy featured prominently in Xi's speech along with praise for his fight against corruption in the party, which Xi said had achieved "overwhelming momentum."
"The fight against corruption has formed an overwhelming posture and strengthened in development," Xi said in a speech carried live on state television.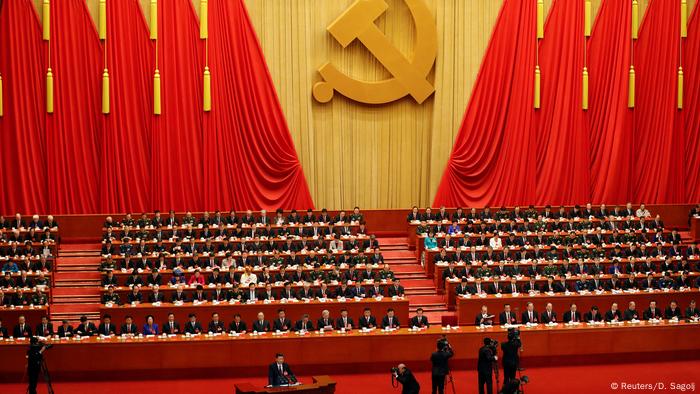 Over 2,300 delegates are taking part in this year's Communist Party congress
Xi outlines China's 'challenges'
In a speech meant to highlight China and Xi's successes, the president also made an unusual move to note the "severe challenges" facing the country ahead.
The Chinese leader noted that certain development issues had been insufficiently addressed, including problems in employment, education, medical care and a widening income gap.
"Realizing our great dream demands a great struggle," Xi said, later noting: "We must rid ourselves of any virus that erodes the party's health."
Politburo shake-up
A total of 2,338 delegates from around the country are taking part in the week-long, mostly closed-door event that will culminate in a likely overhaul of the party's top ruling body.
The thousands of delegates gathered at the congress, which takes place every five years, will choose the Central Committee — a decision-making body of some 376 members.
Around half of the Central Committee's members will likely step down this year after reaching the informal retirement age of 68.
Combined with Xi's anti-graft campaign, which has seen several other members removed from the party, the departures mean the committee will experience its largest turnover in decades.
The Central Committee will then select the Politburo Standing Committee, an all-powerful group that includes the president and will rule China's 1.4 billion people for the next five years.
Five of the seven Politburo Standing Committee members are expected to retire this year, with Xi loyalists expected to take their place.
Read more: China's Xi wants 'world class' army to beat all enemies
Analysts say that since assuming leadership of the party in 2012, Xi has swiftly consolidated power by jailing political rivals for corruption, restructuring the military and asserting China's position on the world stage.
Another key point in the congress that experts say to watch out for is whether or not Xi's political philosophy "Xi Jinping Thought" will be added to the constitution. If the measure includes his name, it would put him on the level of modern China's founder, Mao Zedong, and the father of the country's economic reforms, Deng Xiaoping.
rs/jm (AFP, dpa, Reuters)