The European Union and China are holding a two-day summit from Thursday to underline their commitment to the Paris climate agreement. US President Donald Trump announced plans to withdraw from the accord, considered the first universal action plan to address global warming and climate change.
The Chinese delegation in Brussels is led by Prime Minister Li Keqiang, who will meet with EU Council President Donald Tusk and EU Commission President Jean-Claude Juncker for an informal dinner in the evening.
The EU and China will also discuss trade, investment, security and defense issues at the summit. Both sides are committed to pursuing closer trade ties on paper, but European firms complain they are finding it more difficult to do business in China than before. Some have accused the Chinese government of limiting their access to the market in favor of domestic companies. The EU is China's biggest trading partner.
Read: USA leaving Paris Agreement could be breach of human rights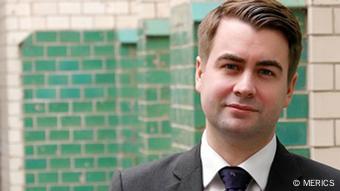 Jan Gaspers: 'There is nothing wrong with the EU's constructive criticism of the Silk Road initiative'
In a DW interview, China expert Jan Gaspers explains how enormously significant the EU-China relationship is in a world facing deep uncertainty due to events such as Trump's presidency and Brexit.
DW: Could President Trump's disappointing Brussels visit be a precursor to closer EU-China ties?
Jan Gaspers: Currently, Europe and China have more common interests than the EU and the United States have. These shared values are particularly evident in global trade and climate policy, although most of this cooperation has not moved beyond rhetoric. Nonetheless, there has been an intensive and productive exchange between European and Chinese politicians, and this is also due to the US President Trump's unpredictable foreign policy. US foreign policy is viewed as equally unreliable and myopic in both Beijing and major European capitals.
Read: Chinese Premier Li Keqiang meets Merkel in Berlin as Europe pivots to Asia
Recently, China officially launched its much-touted "One Belt, One Road" (OBOR) economic initiative. But the EU has many concerns about the project. Will the EU's attitude toward China's "New Silk Road" have a negative impact on EU-China relations?
There is nothing wrong with the EU's constructive criticism of the Silk Road initiative. After all, in relation to this Chinese project, not everything that glitters is gold. Many of the planned Silk Road projects are associated with immense economic and security risks not only for Beijing but also for the countries along the Silk Road. In quite a few places, we can expect to see defaults on large loans issued by China, fiscal instability as well as an intensification of regional conflicts.
Nevertheless, the initiative also has great potential to open up new economic opportunities and stimulate development impulses in the Eurasian region. This, of course, is in the interests of Europe. The Silk Road Summit in Beijing earlier this month showed, however, that the larger member states of the EU pursue their own national interests in connection with the Silk Road initiative.
Read: South China Sea dispute - Long way ahead for China, ASEAN
Ultimately, however, Beijing is primarily interested in getting political recognition and support for the initiative across Europe. Therefore, in the future, Beijing will certainly continue to make support for the Silk Road initiative a condition for the recognition of European interests.
What is the current status of the planned investment agreement between China and the EU? The European Union demands a "fair market access" for EU companies in China. Should we expect any progress on this front in the summit?
The EU and China have already held 13 meetings on this issue, the last of which was held in Beijing in mid-May. The political climate has improved but no significant progress has been made in this regard.
From a European perspective, China has still not shown enough progress on the centralization issues. Cecilia Malmström, the European Commissioner for Trade, recently demanded once again that the Communist Party must further reduce its influence on the economy in order to allow genuine economic competition in China. She was also critical of the fact that European firms in China have repeatedly been confronted with obscure rules and regulations, questionable business inspections and audits. Malmström has, therefore, spoken on behalf of a number of European companies.
Read: 'New Silk Road' and China's hegemonic ambitions
The EU sees itself not only as an economic bloc, but also as a community of values. To what extent can the EU express its concerns regarding Beijing's foreign and security policies, for instance the territorial conflict in the South China Sea, and civil rights issues such as censorship and the state repression against government critics?
The scope for action in these areas has shrunk considerably in the recent years, most recently because the US has become an unreliable ally in terms of value-based foreign policy. In addition, Beijing has been able to undermine unity within the EU on issues such as the territorial disputes in the South China Sea. This is where the first political consequences of an increased Chinese investment are already emerging, especially in central and southern Europe.
Read: China's Southeast Asia investments: A blessing or a curse?
Europe is certainly not in a position to decide how to influence China's policies in an effective way. Europe should think about how it can involve China in the pursuit of European interests in other key issues, for example the Paris climate agreement, strengthening of the international trade regime, and negotiations on the North Korean nuclear program.
Jan Gaspers is the head of the European-China policy unit at the Berlin-based research institute, MERICS.
The interview was conducted by Hans Spross.