Russia called the Security Council's 13th meeting on the conflict in Ukraine on Friday in New York, warning the government in Kyiv to stop its military operations in the east of the country. Ukraine had announced a military effort to retake the city of Slovyansk early on Friday, and the United Nations diplomats convened shortly after reports emerged of a fire killing more than 30 people in Odessa - a comparatively calm city in the conflict until this point.
"If the criminal misadventures of Kyiv are not swiftly stopped then catastrophic consequences for Ukraine cannot be avoided," Russia's ambassador to the UN, Vitaly Churkin, said. "Of particular concern is information that during the punitive operations of the Ukrainian armed forces and illegal ultranationalist groups there was English on the radio waves as well as amongst those attacking in Slovyansk."
Churkin urged against "any sort of outside interference" in Ukraine, accusing Washington of "blatant" double standards for its accusations about Russia orchestrating separatist actions in Ukraine.
Council still deadlocked
This was met with reciprocal allegations of hypocrisy for Russia, however. Britain's ambassador Mark Lyall Grant said that the two Ukrainian military helicopters shot down on Friday, with "sophisticated" weaponry, "reaffirms our assessment that the armed groups include professionals funded and equipped by Russia."
"The scale of Russian hypocrisy is breathtaking," Lyall Grant said, calling Ukraine's military efforts in the east of the country "proportionate and measured actions."
US ambassador Samantha Power called the charges from Russia "ridiculous and false," countering that Ukraine instead faced "Russian-sponsored paramilitary violence." France's ambassador, Gerard Araud, said that Moscow had "released bands of thugs on Ukraine … and is suddenly discovering this mixture might escape its control."
UN Secretary-General Ban Ki-moon reiterated his concern and called for maximum restraint from all sides in Ukraine.
"Escalating violence and reported further loss of life in the city of Slovyansk today is a stark reminder of how dangerous the situation has become," Ban said in statement.
Fire in Odessa, fighting in Slovyansk
Two days after saying it had lost control of parts of eastern Ukraine, the interim government in Kyiv on Friday announced the start of the first serious government offensive, focusing on the separatist stronghold of Slovyansk.
Acting President Oleksandr Turchynov said that many insurgents were killed or wounded in the operation, which began around dawn, also noting that two military helicopters were shot down. Associated Press journalists within Slovyansk reported at nightfall that government troops controlled all the major roads into the city, but that separatists retained control of the city center.
A spokesman for Russian President Vladimir Putin said that the military operation in Slovyansk "effectively destroyed the last hope for the implementation of the Geneva agreement," the four-way deal brokered by Kyiv, Moscow, the US and the EU around two weeks ago in Switzerland.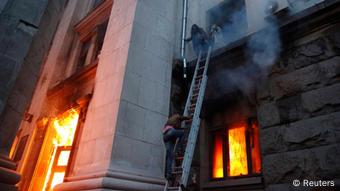 More than 30 people died in this Odessa blaze
In Odessa, meanwhile, street clashes between pro-Russian and pro-Kyiv protesters ultimately claimed more than 30 lives. A trade union building, where pro-Russian protesters had apparently taken shelter after street battles, caught fire, killing 31 people. Police did not give details about how the fire began, but Ukrainian media reports said separatists had taken shelter there after pro-Kyiv protesters broke up their encampment outside.
United States President Barack Obama and German Chancellor Angela Merkel, meeting in Washington on Friday, both raised the prospect of further sanctions against Russia, especially should the unrest hamper plans for presidential elections in Ukraine on May 25. Although the EU and US favored a diplomatic solution to further sanctions, Merkel said, "it's very much up to the Russians which road we will embark on."
msh/se (AFP, AP, Reuters)