Saudi Arabia's top government-funded think tank is researching, on behalf of the oil-rich kingdom, the possible effects an OPEC breakup would have on global oil markets.
A report in The Wall Street Journal, which quotes an unnamed "senior Saudi adviser" at length, says that while the ongoing research does not reflect an active debate inside the government over whether the country should leave OPEC or not, it is part of a wider rethinking about Saudi Arabia's near 60-year membership of the cartel.
Founded in 1960, OPEC currently has 15 members — six in the Middle East, seven in Africa and two in South America. Saudi Arabia has long been the dominant force within the group, accounting for around one-third of the organization's total oil production.
However, with US oil production rising sharply over the last decade, and with increased political pressure on Saudi Arabia following the murder of journalist Jamal Khashoggi after he entered the Saudi Consulate in Istanbul, the Middle Eastern country is apparently reviewing the status quo in global oil production.
For years, OPEC has regulated oil production in order to control global prices. OPEC members such as Saudi Arabia have long argued that the organization helps prevent oil prices from getting too high or too low, but critics say OPEC takes advantage of big oil-consuming nations, such as the United States. US President Donald Trump is a persistent critic.
Saudi fears over the country's oil future appear to be rising amid the changing climate. "The kingdom knows demand for oil won't last forever … so you need to think past OPEC. You also have a NOPEC act being considered [in the United States]," the senior adviser familiar with the project told the newspaper, referring to draft US legislation, long mooted, which could declare OPEC an illegal cartel.
OPEC's Joint Ministerial Monitoring Committee meets this weekend in Abu Dhabi before a meeting in Vienna in December where production levels are expected to be discussed.
Waning dominance
The government-funded study is being undertaken by the King Abdullah Petroleum Studies and Research Center (KAPSARC). The Wall Street Journal quoted KAPSARC head Adam Sieminski as saying: "We're looking at what happens if there's no spare capacity. One scenario to that is OPEC doesn't exist."
Read more: Weak OPEC compliance with output cap fuels oil glut
According to the Saudi official quoted at length, the study is seen among senior officials in the country as an exercise in assessing what could happen to global oil markets if demand fell so much that OPEC was forced to disband.
With Saudi Arabia accounting for about one third of the group's 33 million barrels per day (bpd) output, it has long since been the de facto head of the organization and would arguably have the capacity to remain as effective and influential without being part of the wider cartel.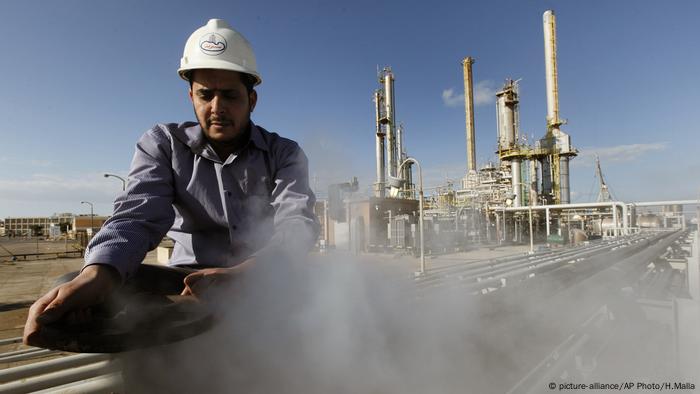 OPEC countries (such as Libya, above) account for just under half of global oil production
US oil production jumped to a record 11.6 million bpd last week, overtaking the output of Russia — the world's biggest oil producer — by 0.2 million bpd. Saudi Arabia's production is about 10.7 million bpd.
However, Russia, not an OPEC member, has worked more closely with Saudi Arabia in terms of oil production in recent years, and with the two sides meeting again this weekend in Abu Dhabi, those ties look set to strengthen. The report in the newspaper suggests that a Russian-Saudi oil alliance, in a prospective non-OPEC future, is a possibility.

Internal problems
Aside from external pressures, there have also been quarrels among OPEC founder members recently. Iran and Saudi Arabia have caused much of the turbulence, with Tehran accusing officials in Riyadh of acting on behalf of Washington, following US sanctions on Iranian oil exports.
While those quoted in The Wall Street Journal article are at pains to point out that Saudi Arabia is not planning any kind of imminent withdrawal from OPEC, the study aims to "assess the short/medium-term consequences of a dissolution of OPEC," according to an overview reviewed by the newspaper.
That overview is based on two possible non-OPEC scenarios. One, that all big oil producers in the world fight competitively on the global market after the demise of OPEC, and two, that Saudi Arabia attempts to leverage its own massive output capacity and act as a sort of stand-alone OPEC.
The news report will put a renewed focus on the dynamics in Riyadh.