OPEC representatives and a Russian-led group of oil producers overcame Iranian and Venezuelan resistance and agreed to raise global oil output by 1 million barrels per day (mbd) from July at an OPEC meeting in Vienna on Friday.
The 1-percent hike in production ends the oil cartel's 18-month agreement with Moscow to limit production and boost prices.
The Saudi Energy Minister Khalid al-Falih said the move was aimed at lowering prices, but will also provide needed backup in the event of supply deficit of 1.8 million bpd in the second half of 2018. The minister in the past warned OPEC about repeating the oil shortage of 2007-2008, when oil was close to $150 (€133) a barrel.
The 14 OPEC and 10 non-OPEC countries involved in the discussions have since been participating since January 2017 in a pact to cut output by 1.8 million bpd, though outages in Venezuela, Libya and Angola have brought supply cuts to around 2.8 million bpd in recent months.
The cuts helped rebalance the market and after falling to under $30 a barrel in early 2016 for Brent, the global benchmark, and West Texas Intermediate, the US benchmark, prices have risen to $76 and $67 a barrel, respectively.
Friday's agreement, however, will mean a real production increase of about 600,000 bpd above today's production level, as several underproducing OPEC members will find it hard to return to full quotas, while other producers will be barred from filling the gap, OPEC sources said.
Iranian Oil Minister Bijan Namdar Zangeneh (pictured above) stormed out of an preliminary discussion on Thursday, but was finally persuaded to agree after al-Falih acknowledged that not all OPEC members could increase output, a reference to countries such as Iran, Venezuela and Algeria.
Oil prices were up on the news, with Brent crude up 2 percent at $74.40 (€64) per barrel.
Read more: Russia and Saudi Arabia forge alliance to engineer oil prices
The logo of the OPEC (Organization of the Petroleum Exporting Countries)
Who benefits?
Russia and Saudi Arabia are the only global oil players that can significantly increase production in short notice. "Saudi Arabia is unique. All of our spare capacity is available at short notice," al-Falih said.
Saudi Arabia, in turn, clearly wanted to please its ally in Washington and punish rival Iran, incidentally an ally of Moscow.
Russia wanted to agree the hike before the winter hits its production capacity.
Iran, Venezuela and Iraq had opposed the increase, despite major consumers like the US, India and China urging OPEC to cool prices by producing more.
As the global economy grows and inflation inches up, policy makers are looking increasingly at reining in a key inflationary component in the form of imported fuel prices.
The US, a rival to Russia and Saudi Arabia as the world's largest oil producer, did not take part in the talks, though President Donald Trump used twitter to call for lower oil prices. In a recent tweet he blamed OPEC:
Zanganeh replied: "OPEC is not the organization to receive instruction from President Trump [...] OPEC is not part of the Department of Energy of the United States."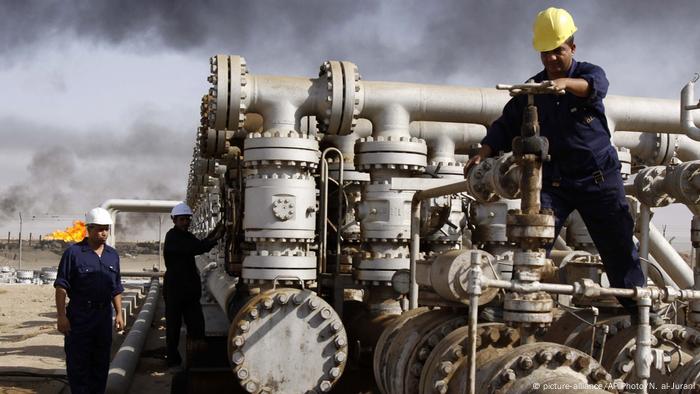 Oil workers at the Rumaila oil refinery, near the city of Basra, Iraq
Iran with little to gain
Iran, OPEC's third-largest producer, has been the main barrier to the deal after the US scrapped its nuclear deal that had allowed Iran to start selling oil again.
Iran's output of about 3.8 mbd, or 12 percent of OPEC output, is expected to drop by a third by the end of 2018 and Tehran is wary of boosts to production, given that high oil prices are in its interest.
Tehran is also concerned it could lose market share to Saudi Arabia, given that any increase was expected to come from Russia and Saudi Arabia sources.
"On one hand, Iran is producing close to full-capacity and cannot exert downside pressures on pricing by pumping more oil, but on the other hand, it desperately needs higher revenues and it cannot support the burden to lower output in order to push prices upwards, also considering the significant spare capacity of Saudi Arabia," Daniela Corsini, CFA Macroeconomic and Fixed Income Research, Intesa Sanpaolo, told DW.
"I don't think that withholding its support would have been in Iran's best interest," Corsini said. "As happened several times in the past, Iran, like most OPEC members, favors stable prices close to the current level and wishes to limit the expansion of market shares from non-OPEC producers," Corsini said.
Each evening at 1830 UTC, DW's editors send out a selection of the day's hard news and quality feature journalism. You can sign up to receive it directly here.