Over the last few years, massive natural gas deposits have been discovered off Romania's Black Sea coast. Conservative estimates suggest they hold at least 40 billion cubic meters (142 billion cubic feet) of gas; others say they could hold as much as 200 billion cubic meters — enough to cover Romania's energy needs for decades and even turn the country into an energy exporter.
Planning for a pipeline project, dubbed BRUA (an acronym for Bulgaria, Romania, Hungary and Austria), began several years ago to facilitate gas transports through Europe. The BRUA pipeline is scheduled to begin operation in 2019. The project has received financial support from the European Union and the European Bank for Reconstruction and Development.
Read more: Nord Stream 2 gas pipeline – What is the controversy about?
As is so often the case with major international energy sector projects, BRUA has had its share of controversies. At present, Romania and Hungary are embroiled in a legal dispute over Romania's offshore gas rights and the volume of projected deliveries to Hungary via the BRUA pipeline.
In late June, Kristof Terhes, head of Hungarian gas system operator FGSZ, demanded Romanian politicians pass legislation necessary to deliver the 4.4 billion cubic meters of gas that Hungary seeks annually. Soon thereafter, Hungarian Foreign Minister Peter Szijjarto went a step further, claiming Romania was endangering the energy independence of the entire region with its foot dragging. Romania reacted with consternation and a number of politicians and experts retorted that Hungary was not living up to its responsibilities regarding construction of the BRUA pipeline.
Conflicting interests
The exchange reflects the complex web of conflicting interests tied to the situation. On one side stands Austria and the rest of Western Europe, all of whom seek to curb dependence on Russian gas imports. Western energy companies such as Exxon and Austria's OMV, who are conducting the Black Sea gas exploration, are also part of that alliance.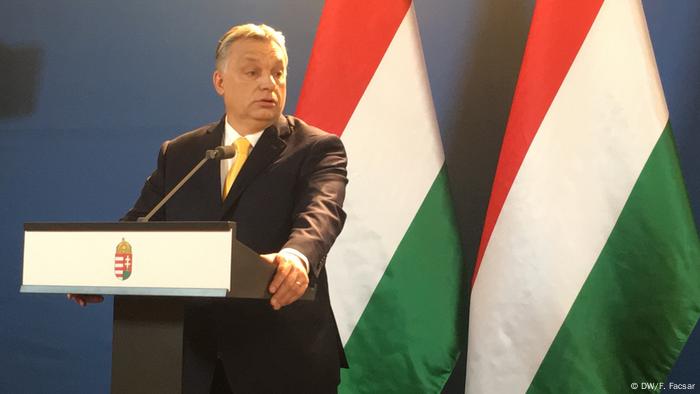 Orban wants to position Hungary as an energy distribution hub in Central and Southeastern Europe
On the other side, Hungary is aiming to improve, if not take a leading role in, the Central and Eastern European energy sector. And that is why Hungarian Prime Minister Viktor Orban's government decided to halt construction on the section of the BRUA pipeline leading to Austria's Baumgarten gas distribution hub in July of last year. The Hungarians justified the stoppage with the claim that the existing Slovakian connector was entirely sufficient for transport.
Read more:Russian pipe dream hits raw European nerve
"The Russian gas monopoly will end because we will get over half our gas from other sources, in this case, Romania," Orban said in February. "This is a new situation, not only for Hungary but for the entire region. It means that Hungary will find itself in a new geopolitical position — one that is much more lucrative than in the past."
Hungary looking to be a key player
Political infighting over exactly how the Romanian government should tap into its natural resources has been a problem for years. In the past, companies were often required to pay low licensing fees for natural resource exploitation and poorly written contracts meant the state lost massive tax revenues. A new offshore law regulating Black Sea gas is supposed to change that.
The bill, which has yet to go into law, calls for licensing fees and a progressive tax tied to fluctuations in gas prices — ultimately that tax could be as much as 50 percent of a company's profits. Yet opposition politicians in Romania complain that most other relevant gas-exporting countries demand even higher fees and taxes from companies.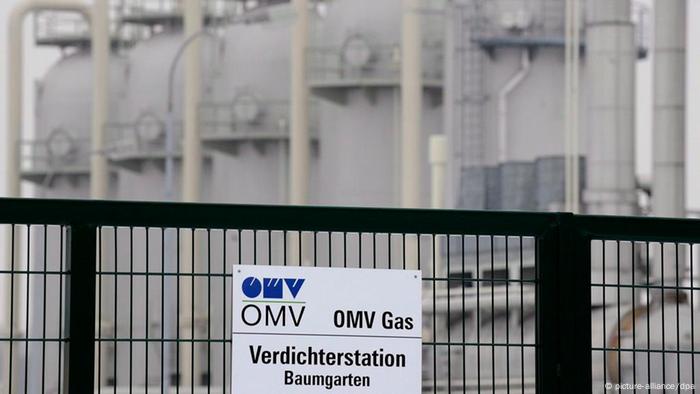 Austria's Baumgarten gas reception center is a key distribution hub for Europe
Hungarian experts nevertheless see a leading role for their country in the fight over Black Sea gas. Economist and energy expert Andras Deak of the Hungarian Academy of Sciences pointed out that for the first time in more than 60 years gas from somewhere other than Russia could begin flowing into the country.
Read more: Bulgaria tries to loosen Russian grip with new gas pipeline deals
"It would be very dumb, or at least extremely pro-Russian, to not seize this opportunity," he said, adding that the only open questions are what guarantees Orban can give to ensure the free flow of gas through Hungary at acceptable rates and whether he can use Romanian gas as leverage in negotiating with Moscow.
Hungary's distance to Russia
Deak doesn't view Orban's calls for independence from Russia and Russian gas as a change of heart for the traditionally Kremlin-friendly politician. "Russia is not that politically important for Orban right now because [German Chancellor] Angela Merkel is so weak and Hungary is not viewed as the pariah it was a few years ago," he said. "Furthermore, Hungary is consolidating its relations with the United States under [President Donald] Trump. Hungary is not ending its relationship with Russia, it has just become a bit more distanced."
Budapest-based political scientist Peter Kreko, who studies Hungarian-Russian relations at the Political Capital Institute, sees things similarly. "Orban is currently working on his trans-Atlantic and Western European relationships, so it is important for him — both at home and abroad — to show that he is not dependent on Putin," he said. "Moreover, as a country with few natural resources, Hungary is keen to become a sort of energy distribution hub when it comes to Black Sea gas. Orban hopes this will allow him to expand his regional influence even if it has nothing to do with exporting his political ideology to other countries in Southeastern Europe."