What is Nord Stream 2?
What is it for: Nord Stream 2 is a gas pipeline that would allow Germany to effectively double the amount of gas it imports from Russia. In 2017, Germany used up a record 53 billion cubic meters of Russian gas, comprising about 40 percent of Germany's total gas consumption. Nord Stream 2's delivery system is designed to carry up to 55 billion cubic meters (1.942 trillion cubic feet) of gas per year.
Where is it: Berlin and Moscow agreed on the 1,200-kilometer (746-mile) route, which would connect the Ust-Luga area near Saint Petersburg with Greifswald in northeastern Germany. The pipes would run across the Baltic Sea, for the most part following the route of the pre-existing Nord Stream 1 pipeline, which became operational in 2011.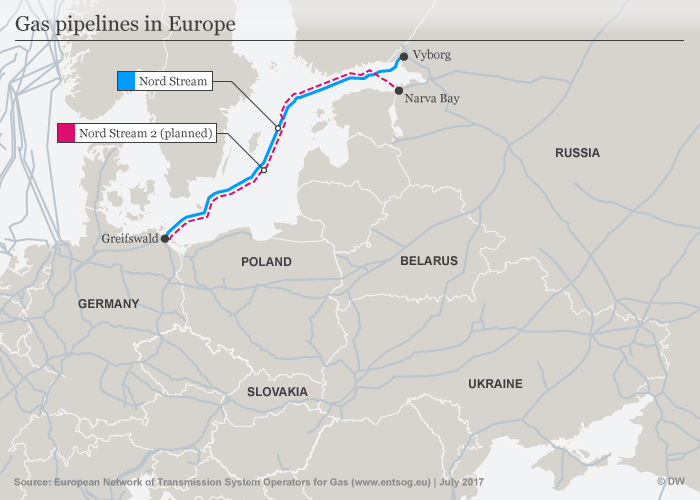 Who is paying for it: Russia's energy giant Gazprom is the sole shareholder of the Nord Stream 2 AG, the company in charge of implementing the €9.5 billion ($11.1 billion) project. Gazprom is also covering half of the cost. The rest, however, is being financed by five western companies: ENGIE, OMV, Royal Dutch Shell, Uniper and Wintershall.
Read more: Russian pipe dream hits raw European nerve
Why is it controversial?
EU countries: The planned route bypasses central and eastern European countries such as Slovakia and Poland, leaving them without a chance to collect lucrative gas transit fees. Moreover, with Russia having means to directly deliver gas to its most important buyer, Germany, it would be much easier for the Russian government to shut off existing pipelines leading through Eastern Europe.
The project also runs contrary to Brussels' efforts to wean Europe off Russian gas. In April 2018, the EU Commission refused to back the project, saying it did not contribute to the EU goals of diversifying the gas supplies. Separately, environmentalists claim the pipeline would be harmful for the flora and fauna of the Baltic Sea.
Ukraine: Russia could easily cut off gas supplies to Ukraine in order to put pressure on Kyiv. Ukraine is making about $2 billion (€1.7) on gas transit fees per year, making it a key source of income for the country. Whenever Russia closed the valves in recent years, the lack of sales hurt both Gazprom and its buyers in rich, Western European countries, making all sides interested in overcoming the crisis.
The United States: On the global stage, critics accuse Berlin of ignoring the interests of its allies by filling Russia's coffers at the time of a diplomatic conflict. US President Donald Trump slammed Berlin in July 2018, saying it was "captive to Russia" due to its energy policy. "Pipeline dollars to Russia are not acceptable!" he tweeted.
The United States also has a practical reason to oppose Nord Stream 2. Its companies have already started selling gas obtained by fracking to European countries, backed by US authorities who say Europe should seek alternatives to Russia. However, the US gas is more expensive than that supplied through Russian pipelines.
What does the future hold for Nord Stream 2?
Berlin's response: Germany has so far stuck to its guns and presented the project as a purely economic issue. Its officials emphasize that West Germany imported gas from the Soviet Union during the Cold War era, and that Moscow is more dependent on exporting gas than the other way around. Also, with European gas fields nearly spent and Germany phasing out nuclear power, Berlin needs a reliable source of energy to facilitate its long-term shift to renewable sources.
Pressuring Russia over Ukraine: At the same time, Chancellor Angela Merkel sought to alleviate fears in Kyiv while meeting with Russian President Vladimir Putin in May 2018. "The German viewpoint is that Ukraine would have to keep its role as a transit nation after Nord Stream 2 has been completed," she said. "This is a matter of strategic significance."
In turn, Putin pledged only that the gas transits through Ukraine would not be suspended "as long as they are economically justified."
Construction underway
German authorities have already granted all necessary permits and, in May 2018, officially started construction on the pipeline's ending point near Greifswald. Finland and Sweden also approved the construction, with Denmark still withholding consent on environmental grounds. However, project organizers have said that even with Denmark's veto, the pipeline could simply take an alternative route. According to the current plans, the construction of the pipeline should be completed before the end of 2019.
Each evening at 1830 UTC, DW's editors send out a selection of the day's hard news and quality feature journalism. You can sign up to receive it directly here.