A major European gas distribution hub resumed operations early Wednesday after an explosion knocked it offline, cutting off gas supplies to several countries.
Gas Connect Austria said the flow of gas towards Italy, Germany and Hungary resumed from its hub at Baumgarten an der March after fire and police inspected the site.
An explosion rocked the gas distribution center outside of Vienna Tuesday morning, prompting Italy to declare a state of emergency.
One person died in the blast while a further 21 were injured, one seriously, according to officials.
Austrian authorities said the explosion was triggered by a "technical cause," without providing further details.
Located near Austria's eastern border with Slovakia, the Baumgarten gas hub carries about 10 percent of Europe gas supply from from Russia, Norway and other states.
It handles some 40 billion cubic meters per year, redistributing it around Europe, including to Germany, France, Italy, Slovakia and Croatia.
Gas prices soar
News of the explosion threw the European gas market into turmoil amid fears that supplies would be tightened during the winter months.
"With the restart of operation on the international pipeline systems, it will be possible to resume transit through Austria, thereby restoring security of supply for the affected countries," Gas Connect Austria said.
Read more: North Sea pipeline shutdown impacts supply
Italy declares state of emergency
Italy, the Baumgarten hub's biggest recipient, declared a state of emergency following the blast, with the country's industry minister warning that it was facing a "serious" energy supply problem. A state of emergency status allows the Italian government to carry out extraordinary measures to try to meet energy demands, such as allowing coal and oil power plants to fire at full blast.
Read more: Nordstream II gas pipeline in deep water
According to the Reuters news agency, the Italian wholesale day-ahead supply of natural gas rose 150 percent to €60 ($70) per megawatt-hour (MWh) — an all-time high.
The export arm of Russian energy giant Gazprom said it was working to redirect gas flows to southern Europe and to avoid any interruptions in the supply.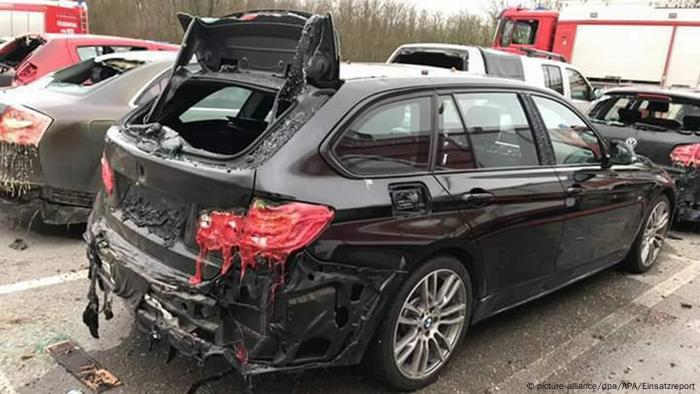 The extreme heat released by the pipeline blast caused several nearby cars to melt.
cw, nm, dm/se (Reuters, AP)