The Bulgarian Minister of Energy Temenuzhka Petkova reiterated this week that Bulgaria is interested in buying natural gas from two Israeli gas fields, Tamar (photo) and Leviathan.
The final decision is dependent, she said, on finishing the Greece-Bulgaria Interconnector (IGB) which is a €220 million ($280 million), 182-kilometer (112-mile) long project set to link up the Greek gas transmission system in the area of Komotini to the Bulgarian one around Stara Zagora. But no matter what the status of the pipeline, the desire to shift away from almost total reliance on Russian gas appears clear.
Currently Russia's Gazprom is the sole exporter of gas to Bulgaria and supplies nearly 90 percent of the Balkan nation's annual gas consumption. In 2009, Bulgarians shivered and industry ground to a halt when a Russian-Ukrainian dispute saw Moscow cut off gas piped through Ukraine to Romania and Bulgaria. Bulgaria, which joined the Europeannion Union in 2007, has since sought to diversify away from Russian gas.
Bulgarian Prime Minister Boyko Borissov's government said it hoped construction of the IGB pipeline would begin by June 28, at the end of Bulgaria's six-month presidency of the Council of the European Union, but that is looking unlikely.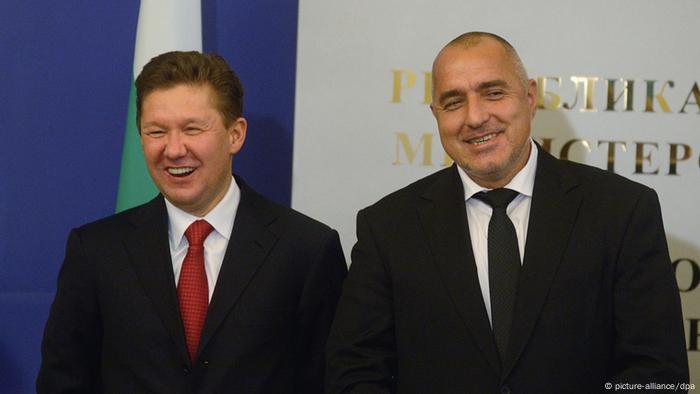 Oh happy day! Then Bulgarian PM Boyko Borisov (R) and Alexey Miller (L), CEO of Gazprom during the official signing of the contract for the South Stream pipeline
Between a rock and a soft place
Domestic Bulgarian gas production covers less than 13 percent of domestic consumption. The rest is covered by Russia, with all volumes today passing through Ukraine.
Bulgaria has been a traditional Russian ally in the region and plays a strategically important role as a neighbor of Turkey. At the same time Russia and Germany are planning to go ahead with the Nord Stream 2 gas pipeline under the Baltic Sea, bypassing Poland and Ukraine.
Gazprom has consistently dovetailed its gas transit plans with an eye on Moscow's geostrategic interests and has been accused of selectively gas 'starving' countries in the region it believes are susceptible to political pressure, including Bulgaria and Romania.
EastMed on track
Meanwhile, the EastMed pipeline linking Israel with continental Europe could take 6-7 years to build, an Israeli-commissioned study found. The project's route is designed to start from the new natural gas discoveries in the eastern Mediterranean and envisages a 1,300 kilometer offshore pipeline and a 600 kilometer onshore pipeline.
It will have the capacity to carry up to 20 billion cubic meters of gas a year. Meanwhile, Europe's gas import needs are projected to increase by 100 billion cubic meters annually by 2030.
The study estimated that further exploration off Israeli waters could find more than three times the 1 trillion cubic meters of gas already discovered.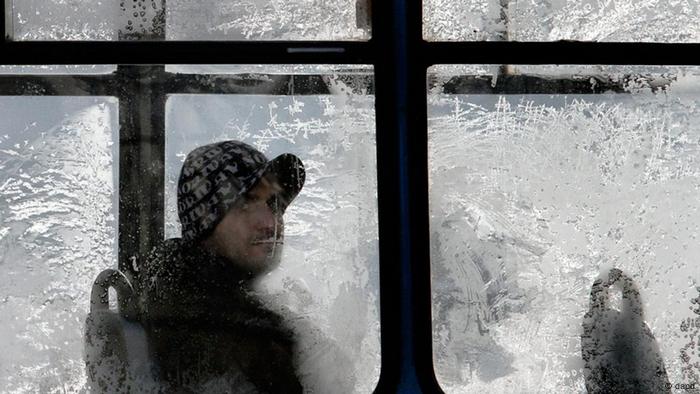 A man looks from behind a frosty window on a tram on a cold winters day in Sofia
Moscow hangs in there
Some have been playing down the chances of the project going ahead and suggest the Kremlin will not relinquish its strategic ally easily, despite the collapse of plans to build a South-Stream gas pipline in the region.
"Ignore the news," Georgi Kadiev, Sofia's ex-mayor, told DW. "What the minister of energy said is 'Bulgaria is intetested in the import of gas from Israel,' but you can either import LNG, for which we have no port, or use the Israel-Cyprus-Crete-Bulgaria pipeline, which is still only an idea and won't happen in the next 20 years," he added.
Others suggested the Kremlin has not given up on Bulgaria and that Sofia still needs investments.
"The election of the pro-Russian, ex-general Rumen Radev as the president of Bulgaria had to be welcome in Moscow as a new 'window of opportunity and on a recent visit to Hungary, Vladimir Putin even mentioned the idea of re-opening a gas project with Bulgaria," Jan Mus, an expert on South-Eastern Europe at Vistula University in Warsaw, said.
"And building a pipeline through Bulgaria will also take years," he added. "Buying gas that can eventually be sold on the global market does not preclude doing business with Russia and buying Russian gas."
European Union confused?
The EU is becoming an irrelevance in gas affairs, some believe. "The EU won't be able to reduce dependence on Russian gas in the near future," Slovak analyst Petr Toth said, adding, "if stability in Europe depends on good relations between France and Germany, the stability in northern Eurasia depends on good relations between Germany and Russia."
Vladislava Tsekova, from ICGB a joint venture company tasked with completing the construction of the IGB pipeline, said in early February that the project should soon be back on track after procurement procedures for its construction were halted after appeals to the Bulgarian Competition Protection Commission due to complaints from a group of companies including a winery and a real estate firm.