A spokeswoman for German Interior Minister Thomas de Maiziere told the German newspaper "Welt am Sonntag" the minister believes the European Union should adopt an Australian-style system under which migrants intercepted at sea are sent for processing at camps in third countries. "The elimination of the prospect of reaching the European coast could convince migrants to avoid embarking on the life-threatening and costly journey in the first place," the paper quoted an unnamed ministry spokeswoman as saying on Sunday.
The proposal would see migrants picked up in the Mediterranean Sea, most of whom set off from conflict-torn Libya, to be sent to Tunisia, Egypt or other north African states to apply for asylum from there. That would be a significant change in migrant policy for Germany which has a relatively generous policy toward asylum seekers fleeing war and strife. Germany welcomed about 890,000 new arrivals last year.
"The goal must be to remove the basis for people-smuggling organizations and to save migrants from the life-threatening journey," the official spokeswoman told the paper. If their asylum applications are accepted, the migrants could then be transported safely to Europe.
Chancellor Angela Merkel's conservative Christian Democrats party is under pressure from the right-wing of the party, especially their political allies in Bavaria's Christian Social Union, to revamp the country's asylum policies. The CDU has already lost votes to the anti-immigration Alternative for Germany (AfD) party in regional elections.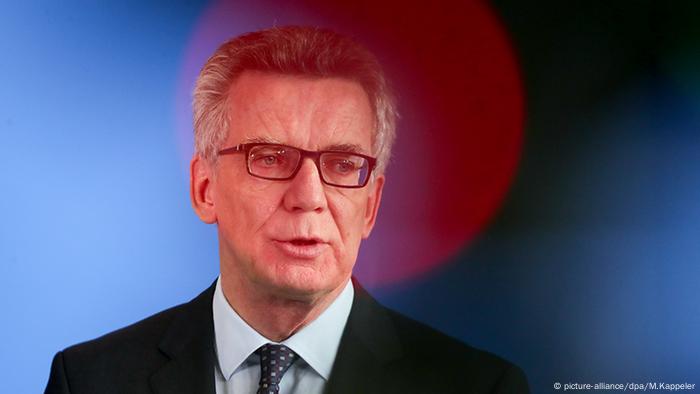 The German Interior Ministry suggests migrants trying to reach the EU via sea crossings should be detained in third countries while their cases are reviewed
Hardline policies under scrutiny
Germany's opposition was quick to condemn the idea. "The Ministry of the Interior treats refugees as a contagious disease," said Greens co-chair Katrin Goering-Eckardt.
Bernd Riexinger, head of the leftist opposition Die Linke party, said it would be "a humanitarian scandal and a further step toward elimination of the right to asylum," the paper reported. He said asylum applications should be filed in Germany to ensure applicants had access to legal help and he called Australia's treatment of migrants "absolutely unacceptable."
More than 2,200 migrants were rescued in the Mediterranean Sea in a single day on Saturday and 10 bodies were recovered, Italy's coast guard reported. The International Organization for Migration reported last week that at least 159,496 people had reached Italy by sea this year and 4,220 died trying - a sharp increase from 3,777 in the whole of 2015.
jar/jlw (Reuters, AFP)