Interior Minister Thomas de Maiziere has drafted legislation to speed up the deportation of people whose applications for humanitarian asylum have been rejected, the German newspaper, "Die Welt" reported on Wednesday.
"If deportation is not possible because the foreigner has, for example, misled authorities about identity or nationality, or is not cooperating with efforts to secure a replacement passport, then he will no longer receive exceptional leave to stay," the draft reportedly says.
More than 210,000 people had received orders to leave Germany throughout August, though 158,190 had waivers of some kind that allowed them to stay temporarily, "Die Welt" reported, citing the draft legislation.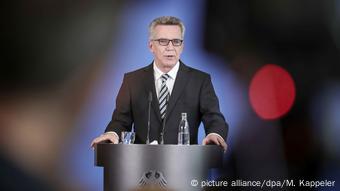 German Interior Minister Thomas de Maiziere
De Maiziere and his allies on the right seek to reduce the reasons for granting such waivers, "Die Welt" reported: For instance, refusals to issue replacement papers by people's countries of origin will no longer work.
In addition, the legislation would require authorities to notify people only 30 days before their scheduled deportations, so as to minimize their chances of evading forced removal through the courts or by hiding from authorities. The draft law would also increase the time that officials could imprison people who refuse to leave the country - from four days to two weeks.
Bavarian Interior Minister Joachim Herrmann and other officials from the Christian Social Union - the further-right southern German sibling party to de Maiziere's and Chancellor Angela Merkel's Christian Democrats - have called for a review of all people who have received asylum .
mkg/kl (Reuters, KNA)