Relations between Germany and Turkey hit rock bottom in 2017. Mutual mistrust and conflicts arising after the previous year's failed coup attempt in Turkey created fertile ground for new crises.
In February, the Turkish-German journalist Deniz Yücel was arrested in Turkey. President Recep Tayyip Erdogan called Yücel, a correspondent for German newspaper Die Welt, a "terrorist" and a "spy." No charges have been brought against the journalist yet, even though he has spent 10 months in prison. Berlin criticized Yücel's detainment as "political hostage-taking."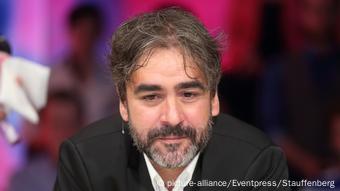 Yücel was arrested in February of 2017
The next crisis followed just before Turkey's constitutional referendum in April, which granted sweeping new powers to the presidency. German municipalities banned Turkish politicians from campaigning for the referendum in the country. Polls predicted a neck-and-neck race.
Escalation secures votes
Erdogan was outraged that he and his government representatives were not wanted in Germany and the Netherlands, where domestic elections were also taking place. Comparisons to Nazi Germany and an escalation strategy incited outrage abroad but at home in Turkey, it earned Erdogan more support.
The Erdogan-backed referendum passed with a narrow majority. Most of the Turkish population living in Germany voted in favor of the constitutional change. The right-wing populist Alternative for Germany (AfD) jumped on the opportunity to demand that all those who for the referendum return to Turkey. Other politicians realized that the diplomatic tension with Ankara could be used to promote their domestic interests. Proposals to terminate EU accession negotiations with Turkey thus became a major issue in Germany's national elections.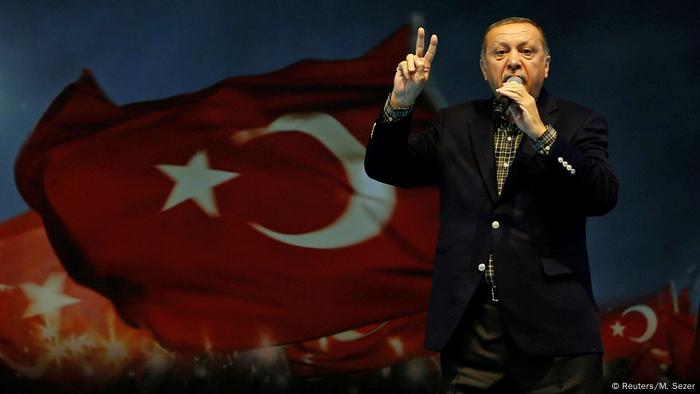 Erdogan's anti-Germany rhetoric grew particularly heated as he pushed for Turkey's presidential referendum
Political analysts believe that the campaigns in both countries banked on escalation strategies. "Unfortunately, the election year 2017 was not good for both sides," said political scientist Mustafa Nail Alkan from Gazi University in Ankara. "Both sides have tried to score points for domestic policies during their parliamentary term. They succeeded in doing so."
Did the criticism overstep the mark?
Kristian Brakel, the head of the Heinrich Böll Foundation in Istanbul, knocked Germany's "hysterical tone" towards Turkey during the German election campaign. "Criticism of the increasingly authoritarian course in Turkey is justified," the head of the independent political foundation that is affiliated with Germany's Green Party said. "But then there is criticism that oversteps the mark a bit. President Erdogan is a popular target. People who are not familiar with Turkish politics and are not known for their commitment to democracy and human rights always try to play the Turkey card to win people over."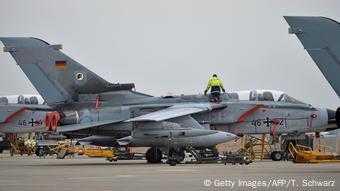 Germany relocated troops from Incirlik air base to Jordan
Tension did not ease after the Turkish referendum. A new conflict over the rights of German parliamentarians to visit German troops at the Incirlik air base in Turkey led to the detachment relocating to Jordan. Turkish military officers sought by authorities in Ankara in connection with the 2016 coup attempt applied for asylum in Germany. At the beginning of July, Erdogan traveled to Hamburg for the G20 summit. The German government did not allow him to give a speech to his compatriots in the country. Around the same time, German human rights activist Peter Steudtner was arrested in Istanbul.
Warning signal from Berlin
At the end of July, German Foreign Minister Sigmar Gabriel announced a "reorientation of policy towards Turkey." Travel warnings for Turkey were issued and a suggested reevaluation of export credit guarantees and EU pre-accession aid. According to Turkish political scientist Alkan, Gabriel's announcement was a warning signal rather than a seriously intended sanction. Germany and Turkey are actually important partners who need each other, and a deterioration of economic relations would harm both sides, he said.
The Böll Foundation's Brakel said he has not noticed a "major change of course" in Germany's policy toward Turkey and a tougher stance would collide with German companies' interests in the country. "A lot — like cutting the EU pre-accession aid — amounts to peanuts," he said. "The only thing Germany could actually do to potentially hurt Turkey is to urge the European Investment Bank to stop lending Turkey money unconditionally."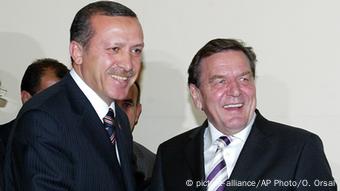 Erdogan and Schröder were on friendly terms when the latter served as German chancellor
Schröder's secret mediation mission
After the Germany's national elections at the end of September, the media reported that former German Chancellor Gerhard Schröder had met Erdogan in Turkey on a secret mission initiated by Foreign Minister Gabriel in coordination with Chancellor Angela Merkel. Ankara denied that talks with Schröder were about the release of Steudtner, but the activist was freed from Turkish custody in October and allowed to return to Germany.
Alkan praised the former chancellor's involvement, saying that German and Turkish politicians trust Schröder. "Both sides want to ease the tension. Otherwise, they could have rejected the mediation attempt," he explained.
At the end of November, German President Frank-Walter Steinmeier and Merkel had telephone conversations with Erdogan over an "improvement of relations." At the beginning of December, Deniz Yücel was placed under better detention conditions. Two weeks later, the German translator Mesale Tolu was released from Turkish custody after seven months in prison.
Is the tension subsiding?
Brakel said that there is now a "quiet rapprochement" taking place between Berlin and Ankara. Of course that does not mean that the crisis is over. As long the internal political situation in Turkey continues to worsen and democratic standards are dismantled, the debate on how to approach Turkey will continue in Germany.
Alkan predicted a relatively quiet year in 2018. However, he did not rule out new crises emerging, since no solutions have been found for the old, ongoing ones. In his opinion, elections in 2019 could prove to be a powder keg. Numerous state votes will be held in Germany and in Turkey, presidential and parliamentary elections. Alkan urged both sides to quickly build trust again, which means that civil society and the media must also do their part, not only politicians.