Kemal Kilicdaroglu, the leader of Turkey's pro-secular Republican People's Party (CHP), signed the appeal to the European Court of Human Rights on Tuesday before setting off on the next leg of his long walk to Istanbul.
The petition questions the decision by Turkey's YSK electoral board to accept unstamped ballots in an April 16 referendum that gave President Recep Tayyip Erdogan sweeping powers. The CHP has already tried, unsuccessfully, to appeal to Turkey's high court.
"The YSK decision made the referendum illegitimate. We are applying to the European Court of Human Rights," Kilicdaroglu told reporters in the city of Izmit, around 100 kilometers (62 miles) east of central Istanbul.
"Turkey has rapidly turned into a (one-) party state. Pretty much all state institutions have become branches of a political party," he said.
"This is causing profound harm to our democratic, parliamentary system."
'March for justice'
For the last 20 days, the 68-year-old politician has been leading a "justice march" from Ankara to Istanbul to protest against the jailing of CHP lawmaker Enis Berberoglu, who was sentenced to 25 years on spying charges last month. He is one of tens of thousands of people to have been arrested, jailed or fired from their jobs in the wake of a failed coup in July 2016.
Kilicdaroglu is expected to complete the 425-kilometer (265-mile) trek this coming weekend.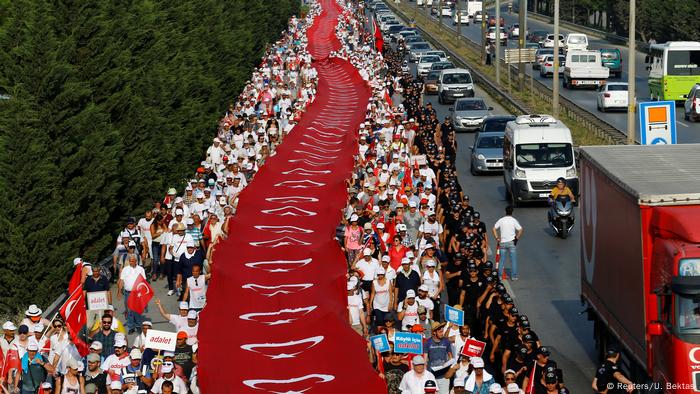 Rising tensions
DW's Turkey correspondent, Dorian Jones, said the protest had gained momentum as it approached Istanbul.
"The fact that this march is strictly non-political - there are no political banners - it appeals to all sections of society," he said.
"It's inclusive and this is something that's rarely seen in the polarized world of Turkish politics. This is crossing the divide and it's certainly causing big concerns for the president and his government."
President Erdogan accuses the protesters of "acting together with terrorist groups," referring to Kurdish militants and supporters of US-based cleric Fethullah Gulen, who Ankara blames for masterminding the coup.
The march, and the European court bid, come at a time of heightened tensions as Turkey commemorates one year since the coup attempt this week.
nm/rc (Reuters, AP)