The Turkish government accused online editor Mediha Olgun and correspondent Bekir Gokmen Ulu of having links to the organization of Fethullah Gulen, the US-based Muslim cleric authorities blame for last year's botched military coup against President Recep Tayyip Erdogan.
The two Sozcu journalists were detained last week during police raids on their homes. A third Sozcu employee has been released.
After the initial detention of Olgun and Ulu, the pro-government daily Sabah reported that the two journalists had been wanted in connection with an online article published on the same day as the attempted coup, saying it could have facilitated "a real attack on the president."
The article in question, however, revealed only details of where President Erdogan was spending his holiday in the Aegean resort town of Marmaris and featured images of the hotel he was staying at. By the time the coup attempt took place, Erdogan had left the location.
Sozcu is critical of both Erdogan and Gulen and is a widely circulated secular newspaper. Turkey's main opposition People's Republican Party has condemned the crackdown on the newspaper.
With a daily print run of 270,000, Sozcu, whose name translates as "spokesman," is the third most-red paper in Turkey. Its fierce anti-government stance has earned it a following in various political camps that contest Erdogan's leadership and oppose his Justice and Development Party (AKP). Links to Gulen's Islamic "Hizmet" movement are seen as unlikely due to the paper's ultra-secularist stance.
Sozcu is the second high-circulation daily newspaper to be targeted by Turkish authorities after another leading opposition newspaper, Cumhuriyet, saw 20 staff members charged after a state of emergency was imposed following the coup attempt.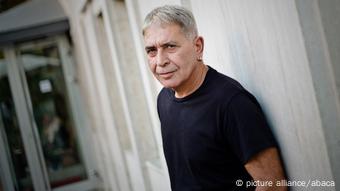 "Cumhuriyet's" Oguz Guven was arrested earlier this month for allegedly spreading 'terrorist propaganda'
Earlier this month, Turkey arrested Oguz Guven, the editor of the online edition of Cumhuriyet, for allegedly spreading "terrorist propaganda." Guven was responsible for the newspaper's tweets, in particular one on the death of prosecutor Mustafa Alper in a traffic accident, the state-run Anadolu news agency said. Anadolu said the tweet, now deleted, had used sensationalist wording and ran counter to news principles.
Systematic clampdown
The arrests are part of Erdogan's clampdown on Turkey's independent media and civil society. Since last year's coup attempt, authorities have detained thousands of journalists, rights activists, lawyers, teachers and writers, accusing them of being involved in anti-state activities. The crackdown has alarmed Turkey's Western allies that see the move as a political action by Erdogan to consolidate his power.
Reporters Without Borders (RSF) ranked Turkey's press freedom 155th of 180 countries in 2017. The Committee to Protect Journalists (CPJ) deemed Turkey to be the "worst country for media freedom."
shs/jlw (Reuters, dpa)