Supporters of Turkey's main opposition Republican People's Party (CHP) packed into a park in central Ankara on Thursday, waving Turkish flags and banners emblazoned with the word "Justice."
CHP leader Kemal Kilicdaroglu (pictured above, center) called the protest on Wednesday after a court found one of the party's deputies, Enis Berberoglu, guilty of leaking a video that purportedly showed Turkey smuggling weapons to Syrian rebels. Berberoglu was given a 25-year prison sentence.
Kilicdaroglu described the decision as lawless and politically motivated. Holding a sign reading "Adalet," meaning justice in Turkish, he vowed to march the 400 kilometers (250 miles) from Ankara to the Istanbul prison where Berberoglu is being held.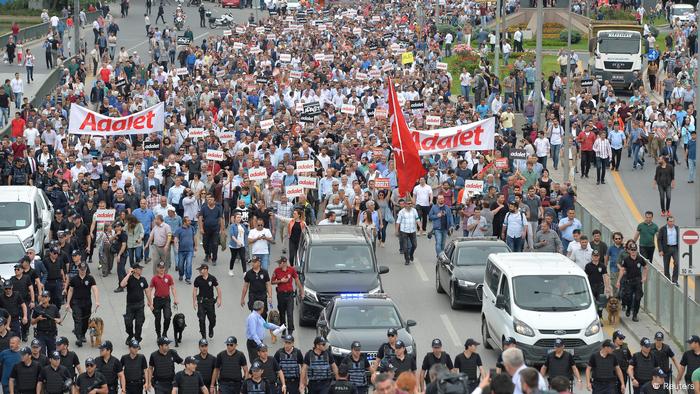 Thousands of protesters joined CHP leader Kemal Kilicdaroglu as he began his long walk to Istanbul
"If there is a price to pay then I will be the first to pay it," he said. "I am going to walk and I am going to walk all the way to Istanbul. And we will continue this march until there is justice in Turkey."
Party officials said they expect the walk could take the 68-year-old politician at least 20 days. A number of CHP members tweeted images from the protest.
Ongoing post-coup crackdown
During Berberoglu's trial, prosecutors argued the lawmaker had passed on information to the Cumhuriyet newspaper that suggested Turkish intelligence services were shipping weapons and ammunition across the Syrian border to Islamist rebels. The paper published the story in 2015.
Berberoglu is the first lawmaker from the main secular opposition CHP to be jailed since the government crackdown that followed last year's failed coup. Tens of thousands of people have been arrested or fired from their jobs in the wake of the July 15 putsch attempt. Among the detained are 11 lawmakers from the pro-Kurdish Peoples' Democratic Party (HDP) - the third-largest party in parliament.
More than 150 journalists have been imprisoned, according to the Turkish journalists union. Media outlets, including Cumhuriyet, have also come under increasing pressure. The newspaper's former editor-in-chief, Can Dundar, who broke the weapons-shipping story, fled to Germany last year after being handed a five-year-and-10-month jail term.
The CHP, established by the secular founder of modern Turkey, Mustafa Kemal Ataturk, expressed solidarity with President Recep Tayyip Erdogan after the coup attempt. But a growing rift has opened up since Erdogan's narrow win in a referendum on expanding his powers in April.
nm/tj (Reuters, AFP, AP, dpa)