Top executives from the US industrial sector will be at the White House on Thursday afternoon when US President Donald Trump signs an executive order imposing tariffs on imported steel and aluminum.
Trump's main trade advisor Peter Navarro told US TV channel Fox Business that the new penalties would be signed off by the president in a ceremony at the Oval Office at 3.30 p.m. local time (2030 UTC), and then take effect within 10 to 15 days. But in a sign of a softening of the billionaire's latest protectionist policy, Navarro confirmed some neighboring countries would be exempted from the duties.
"The proclamation will have a clause that does not impose these tariffs immediately on Canada and Mexico," he told Fox.
Read more: EU, IMF and WTO warn US President Donald Trump: trade wars are 'easy to lose'
NAFTA pressure
The Washington Post wrote later that the two countries would receive a 30-day exemption, which could be extended if "progress" was made during the renegotiation of the 1994 North American Free Trade Agreement (NAFTA). The White House said later that exceptions to the tariffs would be made on a "country by country" basis, hinting that other allies could win favorable treatment.
Trump's announcement, a week ago, that he would impose levies of 25 percent on steel and 10 percent on aluminum imports sent shockwaves from Beijing to Brussels, leading to angry threats of retaliation, which the president used to further chide his EU counterparts with talk of a punitive tax on European cars.
Read more: Trump's tariffs on European cars — a massive own goal?
Brussels, which vowed to impose its own tariffs on dozens of US made goods to match the economic loss suffered by the bloc, issued a last-minute appeal to Trump on Thursday not to impose the penalties.
"We have contacted the US authorities during the last weeks and days, intensively trying to convince them not to trigger any major damages to the US economy, and to the world economy," European Commission Vice President Jyriki Katainen told reporters.
Britain too?
Katainen said the EU would not accept special treatment for Washington's close ally Britain, amid rumors it too could be exempted from the tariffs. The UK is in the middle of a painful divorce from the bloc, and cannot negotiate new trade terms with non EU-countries until it is complete in 2019.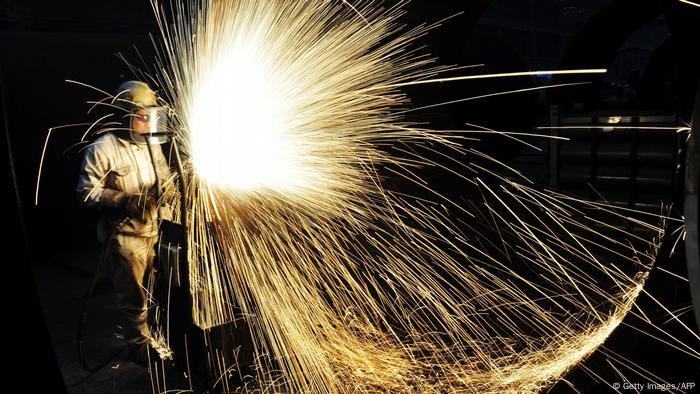 Trump has blamed China for dumping cheap steel and aluminum on world markets for his decision to impose tariffs
China meanwhile restated its disappointment with the planned penalties. Foreign Minister Wang Yi warned that the tariffs were the "wrong prescription," and said Beijing would make an "appropriate and necessary response."
Last week's announcement revealed even more discord within the White House, which has seen more than a dozen top aides quit or be fired since Trump took office last year. The president's top economic adviser, Gary Cohn, resigned in protest at the imposition of the tariffs. Washington insiders said Cohn had clashed with Trump's other aides on plans for greater protectionism.
Trump's new tariffs go a long way in helping the billionaire make good on a campaign promise to bring back American jobs lost overseas during decades of deindustrialization. US public broadcaster NPR cited Commerce Department data as showing a 35 percent decline in jobs in the domestic steel industry since the 1990s. The aluminum sector meanwhile shed nearly 60 percent of its jobs in the three years to 2016, it said.
Act of self-harm
While the penalties are specifically meant to harm China, which many analysts say has flooded the market with cheap metals, the decision has been widely criticized as potentially damaging to the US economy as much as its trade competitors. Less than 3 percent of US steel is imported from China; The largest shipments come from Canada, Brazil and South Korea, according to the raw materials consultancy Wood Mackenzie.
Read more: WTO chief Roberto Azevedo warns of increased risk of 'trade wars'
Rising prices of metals used in manufacturing, caused by previous attempts to hike tariffs on imports, have been blamed for making US producers uncompetitive, which in turn led hundreds of thousands of people to be laid off. Several economists have warned that carmakers, aircraft manufacturers and the construction sector, among others — all of them large employers — will again see their profits squeezed, and more jobs put in jeopardy.
In the event of a trade war, tit-for-tat tariff hikes could put further strain on the profits of large US multinationals, especially if China decides to target American high-tech and high value products. Trump's move also effectively forces the likes of the EU to replicate the tariffs, to avoid a sudden surge of imports of steel and aluminum, originally meant for the US, economists say.
Although the prospect of tariffs has been applauded by those in America's rust belt, several Republican lawmakers have serious misgivings about what amounts to a major break with the party's free-trade doctrine. Efforts to block the measures from taking effect could be introduced in Congress within a few days.