Four years is not a lot of time for executing one of the most ambitious infrastructure projects of this century.
In the fall of 2013, Chinese President Xi Jinping unveiled his gigantic "One Belt, One Road" (OBOR) initiative - more commonly known as the "New Silk Road."
Its goal is to improve connectivity between Asia, Europe and Africa by building a web of transport and other physical infrastructure such as roads, railways, seaports and pipelines in various countries along the ancient "Silk Road" route.
The project is expected to facilitate increased trade between China and the countries along the route. It could also pull them closer toward Beijing.
But any attempt to examine the progress of the initiative is fraught with difficulty due to the dearth of official data regarding the planned routes as well as the current state of development of a number projects proposed as part of the initiative. The exact number of participating nations is also unclear – China itself says 65 countries have expressed interest in joining it.
Perhaps some of the open questions will be answered during the "New Silk Road" summit taking place this weekend in Beijing. Among those taking part in the forum are leaders of 29 countries from four continents, including Russian President Vladimir Putin, Turkish leader Recep Tayyip Erdogan, Cambodia's Prime Minister Hun Sen and Kazakhstan's President Nursultan Nazarbayev.
What we know so far
Our understanding of OBOR is thus far predicated largely on the information available about individual projects that are being implemented as part of the initiative. Chinese officials have not been forthcoming when it comes to divulging details about their plans.
Nevertheless, it's clear that OBOR has been high on the policy agenda of the Chinese leadership, reflected in President Xi's commitment to it as well as the vast financial resources being made available for the investments.
The initiative is undergirded by a Chinese state fund with $50 billion at its disposal to invest in various projects. Another source of financing is the Chinese-led Asian Infrastructure Investment Bank (AIIB) that was established in 2013 with a capital of $100 billion.
OBOR is definitely conceived as a long-term project as such a large infrastructure initiative cannot be realized within a few years. It will shape China's foreign policy for years to come.
The concept is flexible and oriented toward expansion, as Alice Ekman, a China analyst at the France-based think tank IFRI, wrote in a research paper.
Flexibility means the Chinese government adjusts the objectives and details of the projects to suit the needs and wishes of the participating countries. Expansion means that more and more regions and sectors are incorporated into the initiative.
China communicates wisely
China has put in place a comprehensive communication strategy with regard to OBOR. Ekman reckons that China wants the project to be seen as an initiative rather than as a strategy. Beijing says OBOR is open to all and every country is welcome to join.
The initiative is touted by Chinese officials as providing benefits to all parties involved. They stress that OBOR complements existing initiatives and doesn't attempt to supplant them.
China also wants other countries to regard it as an economic project, not as a geostrategic plan.
The public relations campaign surrounding the "New Silk Road" shows that China is aware of the skepticism, trepidation and distrust with which many view its initiative. Barring a few exceptions, though, many countries have opted for pragmatic cooperation with China and decided to take part in it.
Competition and cooperation
Among the countries that have overtly expressed their objections to Chinese initiatives are Japan and the US – the only two major industrialized nations that have refused to participate in AIIB. Ties between Japan and China are tense due to the coupling of their historical animosity toward each other with territorial disputes in the East China Sea.
Tokyo also gapes nervously as Beijing's financial muscle gains strength in line with China's fast-expanding economy. For Japan's PM Shinzo Abe, participating in OBOR is out of the question. Instead, he is focused on gaining more leverage with his own version of checkbook diplomacy. In 2015, Japan pledged to provide $110 billion for infrastructure projects in Asia over the next five years.
South Asia shows how China's economic initiatives can affect existing regional conflicts. For instance, Pakistan is one of China's closest partners in OBOR.
As part of the China-Pakistan Economic Corridor (CPEC) project, Beijing has promised over $50 billion of investment, aimed to reshaping Pakistan's dilapidated infrastructure and boosting growth. It includes building roads, power stations, special economic zones and a deep sea port in the town of Gwadar.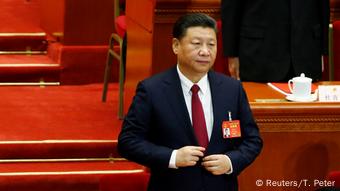 President Xi's ambitious plan involves reviving ancient Silk Road trade routes by pouring money into rail, maritime and road projects across Asia, Europe and Africa
The initiative has rankled Pakistan's regional arch-rival India, which opposes CPEC, partly because the corridor passes through the disputed territory of Kashmir. Pakistan's Prime Minister Nawaz Sharif is taking part in the OBOR summit in Beijing, but his Indian counterpart Narendra Modi is not attending.
Central Asia and Russia
Central Asia is, geographically speaking, at the heart of the initiative. The region is particularly interesting for China due to the immense oil and gas reserves it possesses. The countries there have equally welcomed Chinese loans and investment over the past several years and used them to modernize and expand their outdated, Soviet-era infrastructure.
For Kazakhstan, this has led to the former Soviet republic being able to free itself of reliance on Russia. In Turkmenistan's case, China has simply replaced Russia as the nation's main economic partner.
The developments have stoked concerns in the corridors of power in Moscow, which fears a loss of influence in an area that it regards as its backyard. That's one of the factors driving the Kremlin's opposition to concluding a free trade agreement among members of the Shanghai Cooperation Organization (SCO), a security grouping of Central Asian states that include both China and Russia, among others.
"In summary, Russia and China appear to share security interests in these areas, while competition between them is fierce in the economic arena," Tatiana Kastouéva-Jean, a political analyst at IFRI, wrote in a research paper.
Russia, therefore, has pursued its own initiative, in the form of the Eurasian Economic Union (EEU). But Moscow lacks the financial means to effectively compete with Beijing on this front.
And since the outbreak of the Ukraine conflict and the consequent Western-imposed sanctions, geopolitical, security and economic interests have forced Russia to get increasingly closer to China.
Putin's participation in the OBOR summit shows the significance Moscow accords to the project. Russia is particularly interested in seeing to it that a planned railway link connecting China to Europe passes through Russian territory, rather than the circumventing it and going through Central Asian states.
Target Europe
On the European side, there is tremendous interest in expanding connectivity with Asia, in the hope that it would benefit European economies, particularly export powerhouses like Germany.
A report published by the European Parliament in July 2016 emphasized that OBOR has to be coordinated with EU initiatives. The "EU-China Connectivity Platform" has been set up for this purpose. The EU document stated that Chinese investments in Europe as part of the initiative have so far been of bilateral nature, such as the investment in the Greek port of Piraeus.
But it urged all EU member states to come up with a common position. Otherwise, the lack of a common EU strategy could be exploited by China to pursue "divide and rule tactics" in Europe, the paper warned.