Chinese President Xi Jinping wants to create close ties with Asia, Europe, the Middle East, and Africa. He first propagated the idea of the "modern Silk Road" during state visits to Kazakhstan and Indonesia in 2013. But really, it's two roads, or rather "One Belt, One Road" (OBOR). The "belt" refers to the Eurasian land route between China and Europe, while the "road" is a maritime trade route linking Chinese ports with the African coast and Europe's Mediterranean nations.
The Silk Road strategy is part of Xi Jinping's vision of turning China into a global geopolitical powerhouse by 2049 - the 100th birthday of the People's Republic.
To kick things off, Beijing has earmarked 40 billion dollars in the state's own Silk Road Fund. The Asian Infrastructure Investment Bank (AIIB), founded in 2014, has also contributed a two-figure billion-dollar amount to the initiative. "China wants to use its surplus currency reserves and industrial overcapacity to secure food, energy and raw materials as well as open up new markets for investment and exports; that would allow it to secure its growth long term," political scientist David Arase told DW.
'Chinese Empire'
In March 2015, China's National Development and Reform Commission outlined its vision and action plan in a strategy paper - without, however, spelling out its plans in any great detail. Although the initial focus is on the building of streets, train lines, harbors and pipelines, the paper also shows that China's initiative extends beyond mere infrastructure projects. "OBOR is not just about infrastructure, trade, and investment," said Arase. "It is about a comprehensive plan to align the Eurasian region to suit Beijing's interests."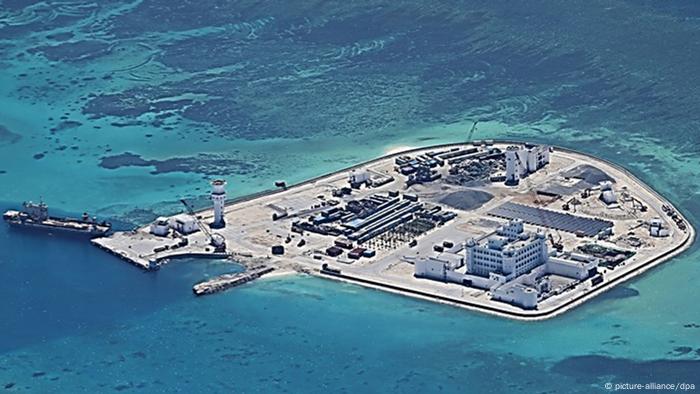 In 2015, China turned the Johnson South Reef of the Spratly Islands into a full-fledged base
For the professor at the Hopkins-Nanjing Center for Chinese and American Studies, the distribution of power within the planned economic corridor is clear. A China that is dominant both militarily and economically could put considerable pressure on partner governments and economies. "If all roads lead to Beijing, then China will have set up an unparalleled empire across Eurasia," Arase said.
Some 60 countries in Asia, Africa, the Middle East and Europe are already part of the Chinese initiative, and have signed bilateral declarations of intent. The European Commission has also signed a memorandum of understanding on the so-called EU-China Connectivity Platform. The institution, founded in late June of this year, is tasked with coordinating the European infrastructure program with the Silk Road initiative. During conferences and negotiations, China was careful to stress OBOR's integrative approach, inviting countries to get involved.
Skepticism in Japan
But more than a few countries view the initiative with distrust. It was almost palpable at an international symposium on the maritime Silk Road in the Vietnamese capital, Hanoi, held jointly by the city's University for Social Studies and Humanities and Germany's Konrad Adenauer Foundation at the end of November. Researchers, diplomats and representatives from the coast guards of countries on the South China Sea - particularly Vietnam and the Philippines, which are embroiled in a territorial dispute with China - were especially skeptical. They are of the view that China's words do not match its actions. China cannot talk about an integrative approach while simultaneously building artificial islands that are clearly meant to serve military purposes along the planned route, they say.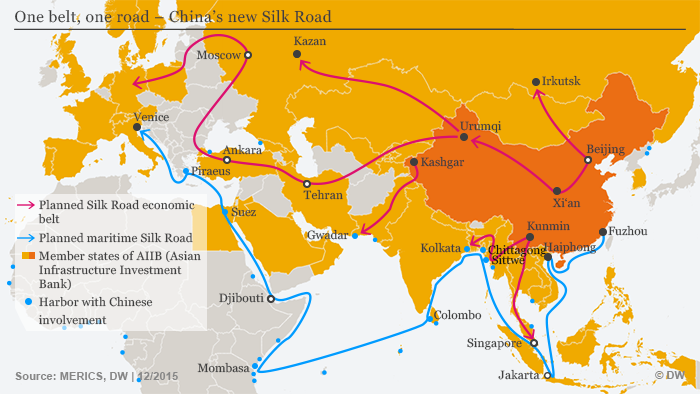 Seiichiro Takagi of the Japan Institute for International Affairs expressed his incredulity over the fact that the modern Silk Road ends in Beijing. If the initiative is first and foremost an economic one, then why are two of the world's largest economies - Japan and South Korea - being left out of China's plans, he asks.
Central Asia taking a positive view
In Central Asia, people are less skeptical, said Beate Eschment, an expert on Central Asian affairs. "Due to their economic situation, countries such as Tajikistan or Kyrgyzstan depend on whatever support they can get. In Kazakhstan, too, infrastructure investments are very positively received," she told DW. Central Asian countries are pleased that China's interest is not linked to any political demands. "For the Chinese, business always takes priority," Eschment said. That's not to say that Central Asia has no reservations about China, she says, but there are no concrete fears of political domination, and rather an underlying, diffuse fear of an excessive increase in the number of foreigners.
Existing global order under threat?
The United States is keeping a close eye on the Chinese initiative. "For the US, it's mainly about defending existing norms and institutions on which the global, liberal order is based," said Arase. American ideas of free trade and global economic actors stand in direct contrast to Beijing's state-controlled investment and trade flows. The political expert sees potential for conflict between China and the US in this regard.
The Silk Road initiative is just two years old. The first building blocks - such as the pipeline from the Bay of Bengal through Myanmar to Kunming, or the train connection from Beijing to Duisburg - are already in place. When it came to modernizing China, the Chinese government demonstrated an ability to move with great speed. Now, it appears to be similarly ambitious when it comes to projects outside its borders.